The 'significant intel' Adrian Newey has given other F1 teams to focus on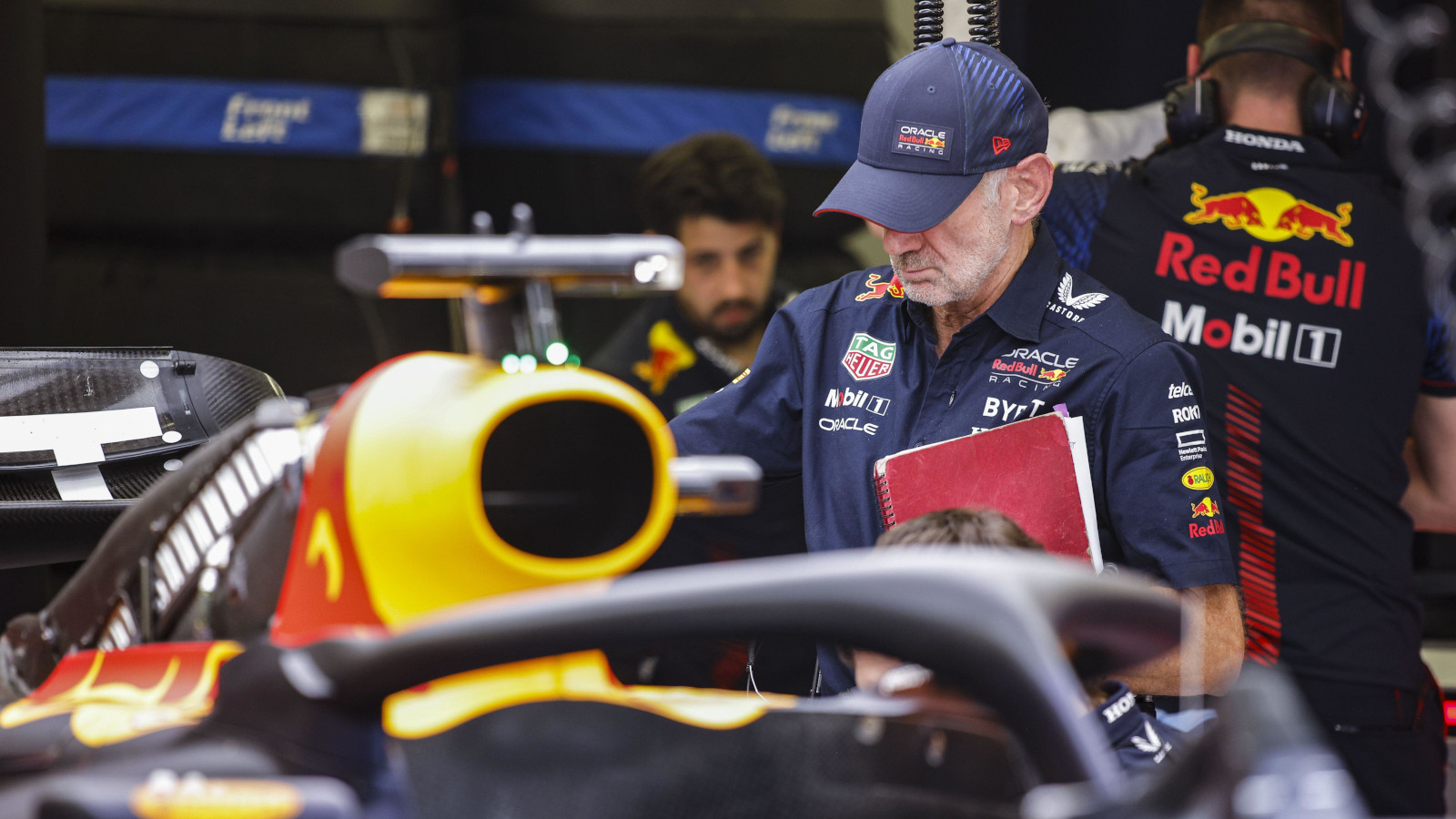 Tom Clarkson believes the F1 teams have been offered a hugely vital piece of information about the current ground effect regulations.
With Red Bull dominating the sport ever since the introduction of the current ground effect regulations, culminating in claiming both World Championship titles in 2022 as well as a comfortable lead in both tables this year, the other teams have been struggling to close the gap.
While Ferrari initially had the legs of Red Bull at the very start of the regulation set, their speed was dulled by the introduction of a technical directive mid-2022 that was aimed at reducing porpoising before a complete floor rule change for this season. Ferrari are yet to rediscover the speed they showed in the first half of last season prior to the directive.
Mercedes have also failed to nail the regulations, with the W13 and W14 seeing the Brackley-based squad set off in a direction team boss Toto Wolff has since admitted was the wrong on – they are set to introduce their first upgrade package aimed at moving away from that direction at this weekend's Monaco Grand Prix.
Tom Clarkson: The performance is in the suspension
Speaking about Red Bull's current performance level on the F1 Nation podcast, host Tom Clarkson postulated that the nine teams trailing Red Bull should pay close attention to the area that their chief technical officer Adrian Newey focused his efforts on the RB19.
"I maintain that Adrian Newey spending more time focused on the suspension of this year's Red Bull is such a hugely significant bit of intel," he said.
"That's where the performance is, it's all about maintaining a smooth ride height as low as possible with these cars. Red Bull have nailed it, no one else has, and that is the difference in performance between the cars."
Red Bull's Christian Horner has previously expressed surprise at the extent of his team's advantage, saying that he felt his squad had made what seemed like a normal step forward for 2023 – only to find the gap had widened as the likes of Ferrari and Mercedes fumbled the maturing regulation set.
As a result, Clarkson said he felt that the finger could be pointed at everyone but Red Bull for failing to maximise potential.
"You can throw that accusation at nine Formula 1 teams really, can't you, at the minute?" he said.
"Everyone apart from Red Bull is underperforming at the minute. You can see in the Red Bull what the ultimate performance in these regulations is, and no one else is [there]."
PlanetF1.com recommends
Christian Horner admits surprise at Red Bull's dominance: Where are the others?
How F1 genius Adrian Newey 'almost bankrupted' Aston Martin
Aston Martin doing a 'phenomenal job'
The team arguably closest to Red Bull's current performance level is Aston Martin, with the former Racing Point outfit seemingly reaping the rewards of signing ex-Red Bull aero chief Dan Fallows as their AMR23 has proven versatile and consistently fast since the first race.
As a result of their much greater wind tunnel allowance over Red Bull under F1's aero testing rules, Pinkham believes the gap between the two teams could close significantly by season end.
"To come as far and as quickly as Aston Martin have, they are doing a phenomenal job," she said.
"I think it's a matter of time – their trajectory is magnificent right now and, as long as they can keep that up, they will be there as a match for Red Bull hopefully, quite soon, before the end of the season.
"Hopefully, from an unbiased point of view, I say that it's because I want better competition, not because I support Aston Martin or Red Bull. I just like competition and I think I speak for all the neutrals when I say that we just want to see a fight at the top."
Concerns about McLaren being spread too thinly…
With Clarkson and co-host Natalie Pinkham speaking about McLaren's current performance level as the Woking-based squad have struggled with the start of the 2023 season, Pinkham suggested McLaren's racing programmes across IndyCar, Formula E, and Extreme E are perhaps diluting the company too much.
"That's interesting because it feels as if all the other projects are something of a distraction," she said.
"Even if, in an actual literal sense, they're not. Just the fact that they are running. You can't be all things to all men – you have to focus the hearts and minds of your workforce on one project alone.
"If you get Formula 1 right, the rest could follow. But, at the moment, they're not doing that bit as well as they could and should be. It must be hugely frustrating because they've got the talent, they've got the wherewithal, they've got the resources. But it's just not quite clicking yet."
Clarkson agreed, saying it could be some time before McLaren return close to the front of F1.
"Formula 1 is the core business," he said.
"I feel all of the programs suffer if F1 is not getting the job done – they've got to be succeeding in F1 to be almost able to get away with all of the other stuff they're doing.
"Because although he will, quite rightly, say 'No, nothing impacts another programme', I think there will be people thinking 'focus on F1, and sort that out. Forget all the Indy stuff'.
"So they need to get it sorted. It all seems to point in the right direction, but it's inconsistent. Baku was a step forward, Miami was a step back. Andrea Stella, the team principal who, back in the day, was a brilliant engineer, both at McLaren and Ferrari, has spoken recently about how difficult it is to set up these cars. You sense that it will yo-yo a bit before it settles down."