Alain Prost reflects: Ayrton Senna 'lost his bearings after I retired'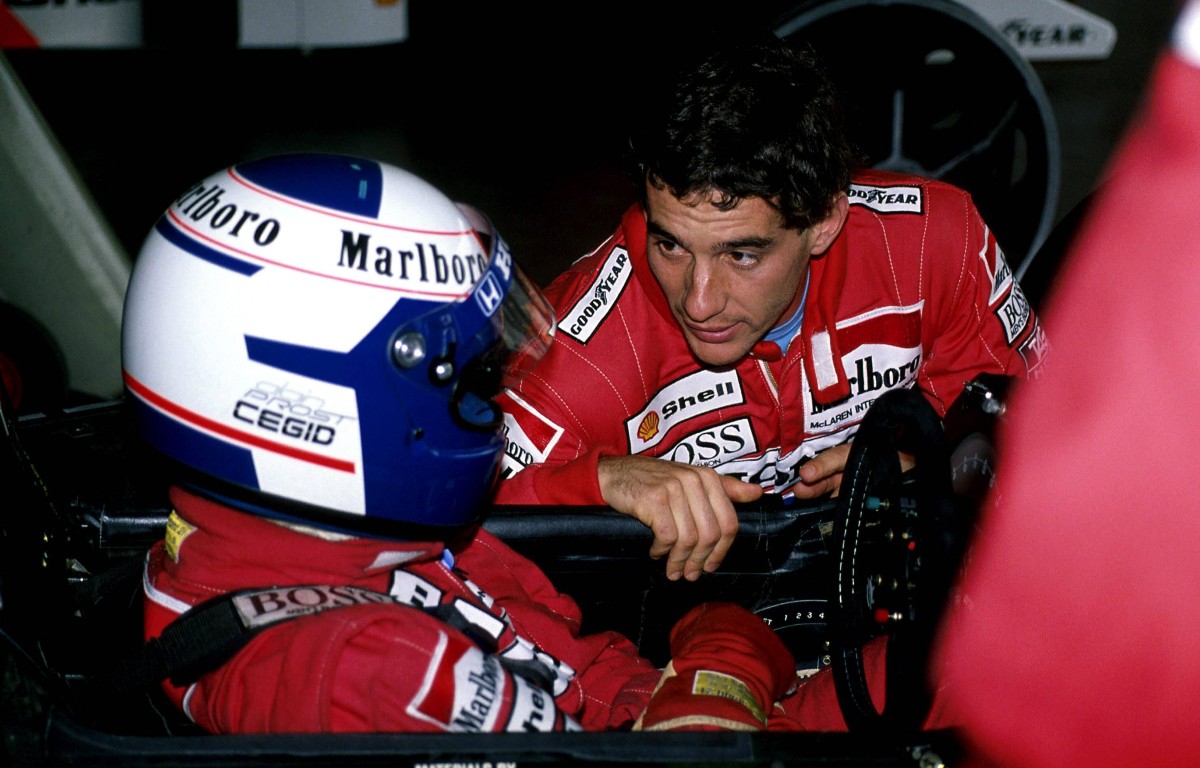 Alain Prost believes his F1 rival Ayrton Senna was at a loss for motivation in the immediate aftermath of Prost's retirement from the sport.
Prost retired from Formula 1 at the conclusion of the 1993 season, leaving the sport as World Champion as he sailed to the title with Williams.
While Prost cashed in on the dominance of the Williams, his closest rival was Ayrton Senna – despite the Brazilian driving a somewhat underpowered McLaren-Ford that still managed to finish in first on five occasions in Senna's hands.
Both stood on the podium together for the final time at the 1993 Australian Grand Prix, as Prost departed the sport for the peace of retirement, while Senna was to assume Prost's cockpit at Williams for 1994. Unfortunately, the move was met with tragedy, as Senna was killed just a few months later as he crashed out of the lead of the 1994 San Marino Grand Prix.
Senna and Prost's relationship is widely regarded as the epitome of just how bitter and spiteful an F1 rivalry can get, with the two titans of the sport gradually falling out while teammates at McLaren in the mid-late 1980s.
Famously, the pair would collide in the championship decider at Suzuka in 1989 – the sight of the two tangled McLarens at the chicane becoming one of F1's most famous moments. Prost would be the ultimate beneficiary on that occasion, leading Senna to get revenge a year later as he collided with Prost (now driving for Ferrari) into the first corner on the opening lap.
PlanetF1.com recommends
Senna, Schumacher and Alonso compared by the man who worked with all three F1 legends
Four-part biopic docuseries to be made about French 'national hero' Alain Prost
Toto Wolff in fresh swipe at Christian Horner: 'I live in his head rent free'
Alain Prost: I was probably Ayrton Senna's source of motivation
While the relationship was poisonous for the two rivals during their heady years, there were signs of thawing as Prost's career wound down. Senna would famously relay a message to Prost during his final weekend at Imola, radioing in from the cockpit to say: "A special hello to my dear…our dear friend Alain, in France. We all miss you Alain."
Prost himself has opened up on the final months of his relationship with Senna, commenting that he felt the Brazilian driver had been left a little lost by his retirement – Michael Schumacher's rise to the front of F1 would only begin in Senna's final races.
"We communicated so much with Ayrton the days after my retirement," Prost said in a special interview for French broadcaster L'Equipe.
"I felt he was not well. He called me often. Sometimes twice a week.
"He never phoned me while I was still racing. He had, without me, lost his bearings. I was probably his source of motivation. It's hard to understand…"
Prost would be a pallbearer at Senna's funeral in Brazil in May 1994, with the two rivals never quite reaching the point of being able to turn their common experiences into a likely friendship once the fires of competition had been extinguished.
Speaking from the vantage point of almost 30 years later, it's perhaps this knowledge of what might have been that means Prost looks back on his time with Senna with bittersweet pride.
"We both lived an incredible human and psychological story," he said.
"You have to stay on the beautiful memories."