Albon on Hamilton praise, 2020 and pressure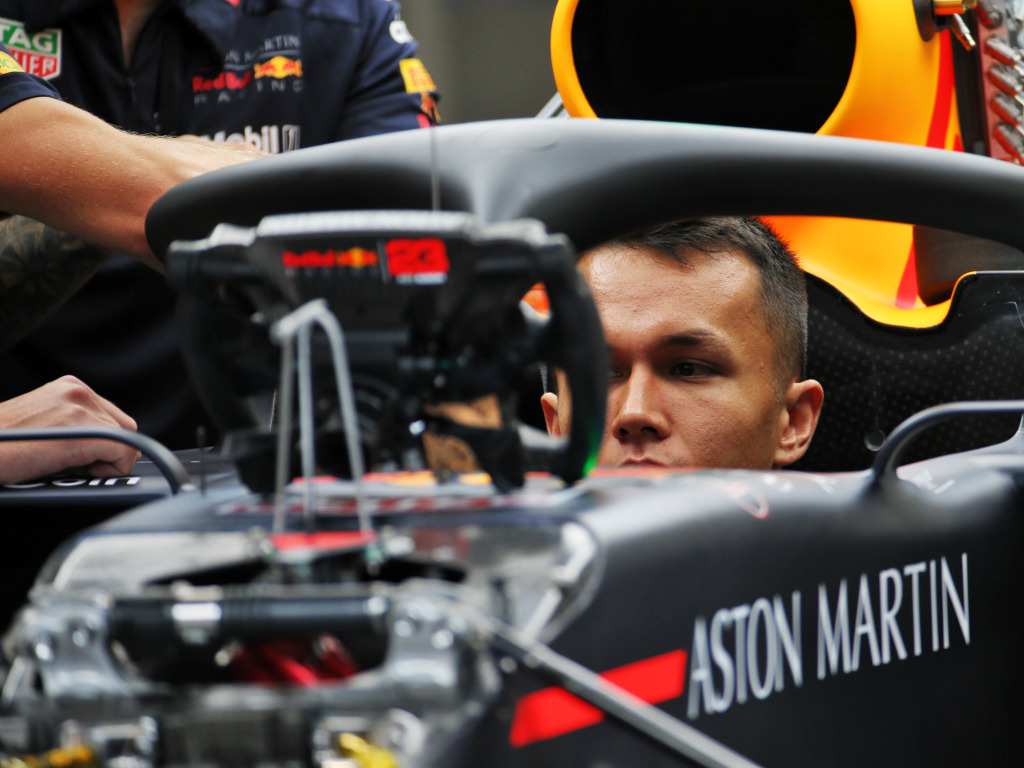 It is not every day that a driver gets a pat on the back from a six-time champion with Alexander Albon saying it was "very nice" to receive praise from Lewis Hamilton.
Hamilton recently gave Albon is seal of approval for the vacant 2020 Red Bull drive as he feels Albon has a "bright future ahead of him'.
The Mercedes driver urged Red Bull not to "spit" him out.
"I hope Red Bull give him the support over the years," Hamilton said.
"It's very, very important because they often spit drivers out pretty quick if they don't always do the job. I hope they're good to him."
Asked about Hamilton's comments, the 23-year-old told Sky Sports F1: "It was very kind of him.
"He is someone, I think, that all of us, especially people my age, have looked up to when we were going through our ranks so for Lewis to say that was very nice."
But while Hamilton is set to compete in his 14th season in F1 next season, Albon has yet to be confirmed for a second season.
Although he is expected to remain within the Red Bull family no matter what, the team has yet to inform him of whether he'll be a Red Bull or Toro Rosso driver.
"Of course it would be nice to have an answer but I'm not too worried about it.
"I'm still feeling comfortable enough to know that I will still be in F1 next year so we'll see how it goes."
So far Albon is doing everything right in the race to partner Max Verstappen next year.
The COTA climb 🎢 From P20 to P5 at the flag @alex_albon 💪 #USGP 🇺🇸 #F1 pic.twitter.com/tVydW0tbsA

— Aston Martin Red Bull Racing (@redbullracing) November 4, 2019
The Thai racer has outscored the much-praised Dutchman in their seven races together and admits the only real pressure on his shoulders if what he puts there.
"The pressure comes from myself," he explained.
"To be up against one of the quickest, if not the quickest driver in Formula 1 right now, it's never easy. The way I see it, it's more of an opportunity.
"I've been given a chance this year and, at the same time, I've got a very good team-mate to learn from.
"I'm trying to enjoy the process, my life here, as I know it won't last forever."
And it almost didn't happen.
Albon, dropped by Red Bull years earlier, had given up on Formula 1 and had signed with Nissan e.dams for the Formula E series.
They agreed to release him from his contract when Red Bull came calling. Albon was the very last driver confirmed for the 2019 F1 season.
"I think even 12 months ago, just how crazy it is to be here.
"Getting the call-up [to the senior team] from Toro Rosso was quite daunting actually because I do know the history of Red Bull and know they are a championship winning team, winning races already this year.
"In that first year you feel like you don't have much pressure but when you do get that call-up you are like 'ok here we go'.
"It has been a really good year so far, even with Red Bull, but I do feel like I'm improving every time I'm in the car.
"The consistency is there. I know the team wanted that and of course I do want to mix it a bit more with big boys. That's what the team want and that's what I want as well.
"Mexico was a good step in that direction. I think that was a race where I had the pace with them and was following them around.
"It's also just about bringing my qualy and race together. Mexico my race was very strong but Japan my qualy was very strong.
"There have been glimpses of speed but it's just bringing it all together in one weekend. Then consistently for the rest of this year and hopefully next year."
Follow us on Twitter @Planet_F1 and like our Facebook page.