Albon fire caused by 'incorrect switch position'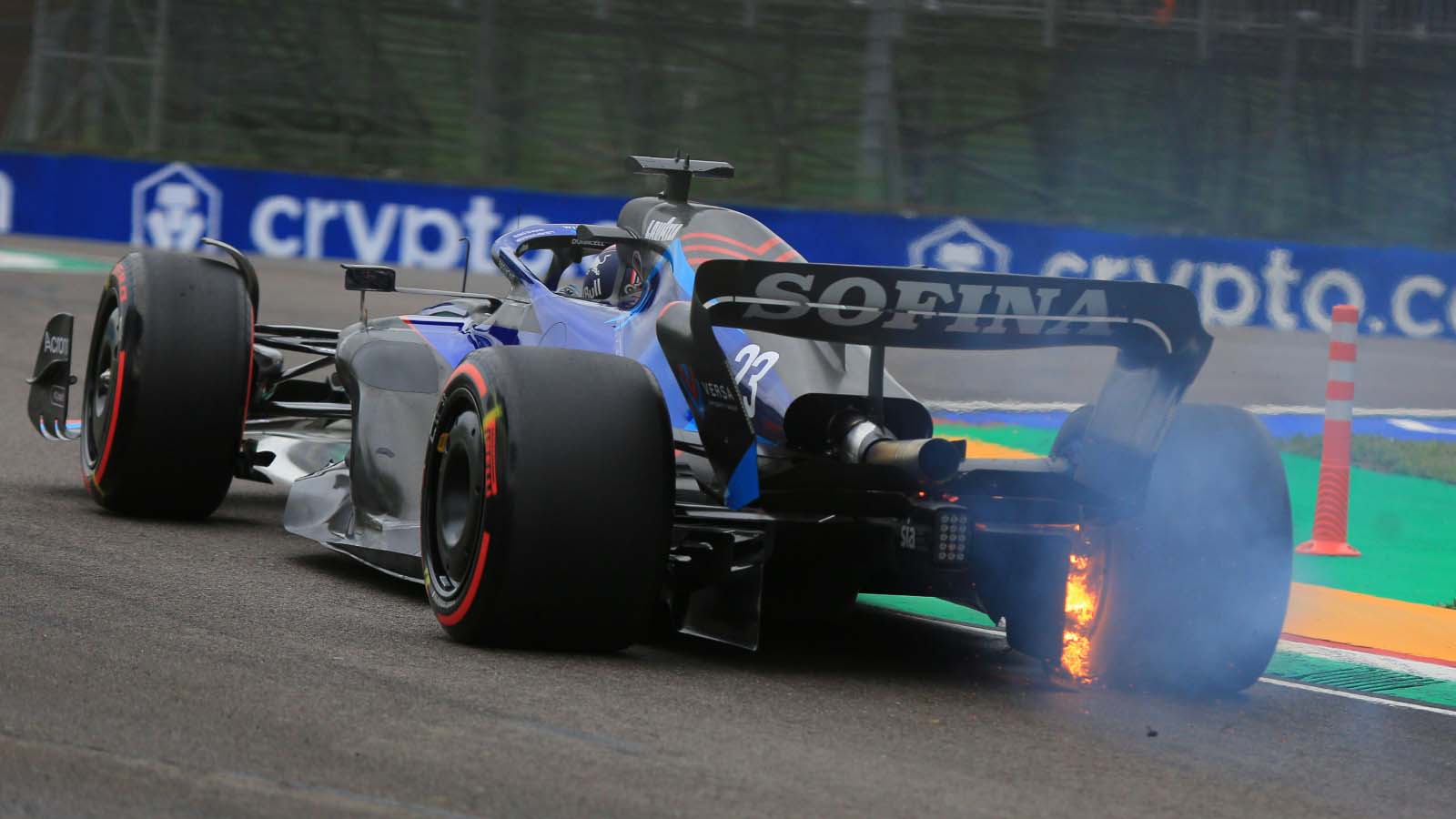 Williams' head of vehicle performance Dave Robson revealed an "incorrect switch position" caused Alex Albon to drop out of qualifying in dramatic circumstances.
The cameras caught the Williams driver trundling around Imola with a fire on the rear-right brake of his FW44, dropping flaming debris onto the track before an explosion blew his tyre out.
Albon was able to make it back to the garage safely, but with significant damage to that area of his car.
A panicked radio message of "holy ****, I just lost the brake pedal, it's just gone to the floor" was how he reported what went on, but Robson said the team did not step up to the plate in qualifying overall.
That was a pretty elaborate and dramatic way for Alex Albon to tell Williams he only has time for racing on those lovely, lovely hard tyres. #ImolaGP #F1

— PlanetF1 (@Planet_F1) April 22, 2022
"Alex suffered with a brake issue due to an incorrect switch position when switching to the slick tyres," Robson explained, quoted by Race Fans.
"The combination of mixed conditions and the sprint format is very tricky and today we didn't rise to the occasion."
"It was a bit scary," Albon admitted to Formula1.com after he had got out of the car. "It's not a place where you want to lose the brakes, but there was clearly something wrong.
"It's a shame. Obviously it's an early bath for us, but until we know better I think it's just one of those things that happens.
"At the moment to do it, it's actually not a bad race with the sprint race coming up."
The 21-lap dash on Saturday will give Albon the chance to work his way up the field, and he joked that a repeat of his Australia heroics on one set of tyres could come back into play on Sunday for him, hoping the car's straight-line speed also plays its part.
"In terms of set-up and everything, I think we've got a car that's pretty slippery down the straights," he added.
"Hopefully we can overtake some cars, do one stop and let's see."
Albon will line up on the back row alongside Esteban Ocon's Alpine in the sprint, with his team-mate Nicholas Latifi having spun in Q1 and only managed to put himself P18 on the grid for Saturday.