Alex Albon can relate to how Daniel Ricciardo was feeling during F1 struggles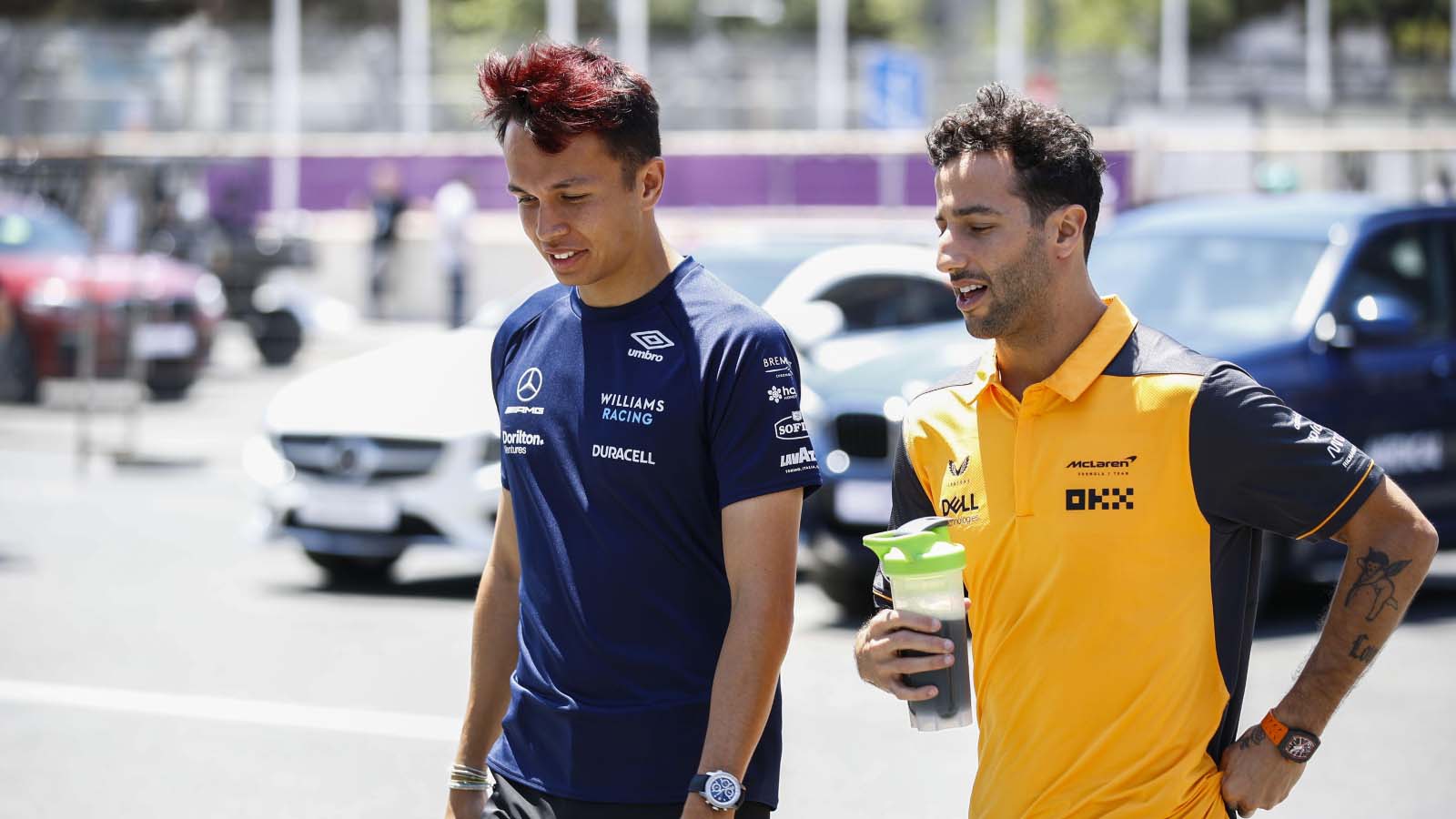 Alex Albon explained why he can relate to how Daniel Ricciardo felt under the pressure applied to him this season, given his own experiences at Red Bull.
Albon was facing pressure to match Max Verstappen as team-mates at Red Bull in the 2020 season, having impressed in his half-season stint after replacing Pierre Gasly in the senior team at short notice in 2019.
But he mustered less than half of his team-mate's points tally over the course of the year and, with the sudden availability of Sergio Perez emerging after the latter was to be replaced by Sebastian Vettel at Racing Point, which would become Aston Martin for 2021, this applied further scrutiny to Albon's position at Red Bull for the remaining races.
While he was unable to match Verstappen, a brilliant maiden win for Perez at the Sakhir Grand Prix ultimately turned the tide in his favour for 2021, with Albon dropped to a reserve role at Red Bull instead.
Ricciardo, meanwhile, saw his contract at McLaren terminated a year early as he continued to struggle alongside Lando Norris, and he will return to the Red Bull stable as third driver next season, feeling the need for a break rather than chasing a place on the 2023 grid.
The pressure mounted on the eight-time race winner to a degree which prompted McLaren to sign young compatriot Oscar Piastri instead, and Albon said he knows the frustration of what Ricciardo experienced on a human level.
"Well, I was in a slightly different position," Albon explained to media including PlanetF1.com about comparisons between his and Ricciardo's issues.
"I felt like I was hungry maybe a week after I left, or got taken out, but I can see what he means because when you have bad years in F1 – I can only talk about my experience [in] 2020 – it drains you massively.
"The noise in the paddock and of course more than anything, your own performances, you know, we're born to be competitive and hungry for it and when it's not that – that's what we live on. It's all about performance. It's all about doing a good job.
"So yeah, it's very heavy and I think it took me a couple of weeks to kind of get through the emotional impact of missing out on a seat, but because I was young, I think I kind of felt like it was never over, and I knew I could have a chance [of coming] back.
"I think it's possibly what also Mick [Schumacher] is feeling right now, it's that sense of 'okay, I feel like I've got much more to prove' and I'll be back, basically."
Ricciardo is looking to make a return to the grid in 2024 after a year out, with Albon having done the same by earning a drive with Williams this season – impressing upon his comeback year.
When asked by PlanetF1.com about where he feels like he has been able to improve within himself this year, Albon responded: "I believe so, the main thing is just confidence with the car, more than anything, it's the driving confidence.
"I feel like I've got that back, which is the most important because obviously, you've got to drive quickly.
"I feel like this year I've been on top of the car, I feel like I've been able to push it to the limit – and that was something which I struggled a bit with in 2020, just starting to lose that authority on the car and being able to get what I want out of it.
"I was a little bit reactive in that sense in 2020, just kind of letting the car do its thing and then reacting to that. Whereas this year, I just feel like I'm being able to put the car where I want it."
Read more – Martin Brundle on Ferrari boss change: 'If I was Mercedes or Red Bull, I'd be smiling'