Albon targeting Q2 in heavily revised Williams FW44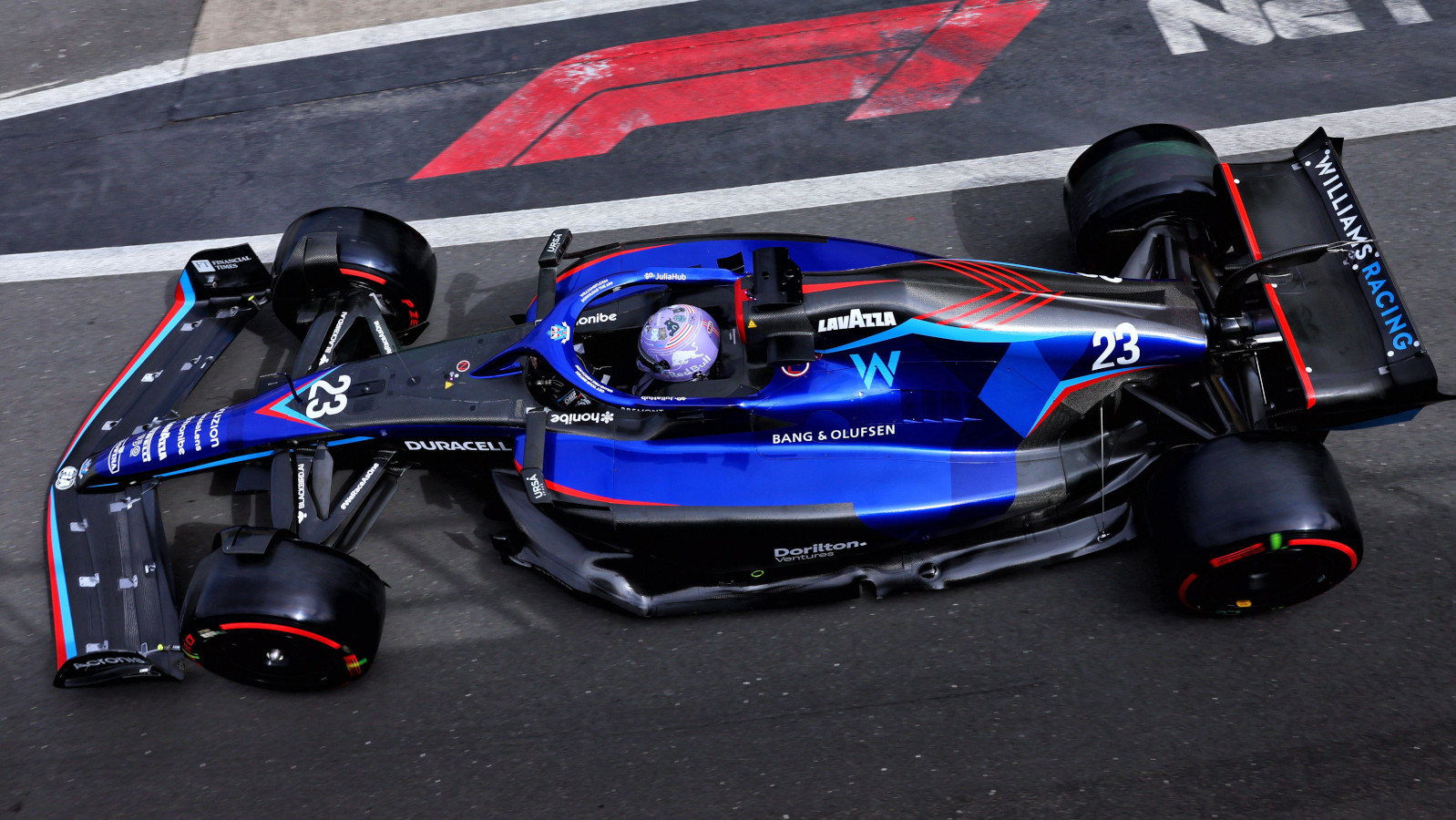 Alex Albon concedes Williams are lacking mileage with their updated FW44 but still believes Q2 is possible at the British Grand Prix.
Williams introduced their first big upgrade of the season at Silverstone on Friday, putting out a Red Bull-styled FW44.
While by no means a copy of the RB18, Albon said ahead of the session the car is more in line with the "direction" of the Red Bull race-winning car.
Rain in Friday's first practice meant his mileage was limited, Williams along with pretty much every team on the grid not wanting to risk damaging the car, while in the second session he managed only 14 laps due to an undisclosed problem.
He finished that session 14th fastest, his time 1.3s down on pacesetter Carlos Sainz.
But perhaps more encouragingly for Williams, it was a full second faster than his team-mate Nicholas Latifi who was running the old-spec FW44.
Ted breaks down Williams' upgrades on Alex Albon's car for the British Grand Prix 🔎 pic.twitter.com/qtl8Pi7h3M

— Sky Sports F1 (@SkySportsF1) July 1, 2022
"It felt okay," Albon told the official F1 website. "It was different. It's tricky because everyone didn't do much running in FP1 and when you have an update you require mileage so we haven't had much track time.
"We had a slight issue as well at the end of FP2 so we didn't do a proper long run. We did maybe six or seven timed laps and every time we were on track, at least we were looking pretty strong.
"It was good because sometimes updates require big set-up changes and we do need one, there are still things we need to work on, but it should be, hopefully, achievable overnight and we can get the car in a better window."
The British-Thai racer reckons the car has the pace to put him into Q2 in qualifying.
"Our hopes are we get the car in a good window," he added. "I think if we can get the balance in a place where I can use the car and push it and get confident in it, then that's in itself a good achievement.
"Of course, if you look at it on a more ones-and-zeroes point of view in terms of positioning, Q2 would be an obvious target for us so I think that would be a sensible place to hope for."
And while Latifi was not happy he was left with the old-spec car , Albon says running both at the same time was beneficial.
"Obviously we've got different cars out there. It's very wind-sensitive, just with these gusts it's been really tricky to drive.
"So it's actually been quite useful to have that kind of collation of data because I think if you had both cars on the same set-up you would have possibly gone 'okay, this feels a bit tricky, this is a tough one to drive'.
"But Nicky's saying the same thing and I'm sure it's the same down the paddock. So it's one of those things which has been quite a good thing to have."
Torquing Point: Changes in the standings to come
Henry and Sam speculate how the busy month of July could change the landscape of both the Drivers' and the Constructors' Championships.