'Talk comes from unfair perception of Red Bull'
Constantly dogged by speculation that he could lose his seat, Alex Albon says that comes from an "unfair" perception of "Red Bull kind of being Red Bull".
Twice in the past four seasons Red Bull has finished the championship with a different line up to the one that the team had at the start of the campaign.
Daniil Kvyat was dropped in favour of Max Verstappen in 2016 while last season Pierre Gasly lost his seat to Albon.
Now it's Albon who is facing the firing squad, at least according to speculation.
Failing to match Max Verstappen during their brief time together, former drivers turned pundits, such as Ralf Schumacher, are calling for the driver to be dropped and Red Bull to sign Sebastian Vettel in his stead.
While Verstappen has scored five podiums this season, including a race win at the 70th Anniversary Grand Prix, Albon has yet to spray champagne with his best result a P4 at the Styrian GP.
Official F1 Shop: Black and white face coverings
If it was any other team, chances are the speculation about his future wouldn't be as rampant as it is now.
Albon says it is all a bit "unfair" on Red Bull.
"I think it's just the way racing is," he told The Race. "I think it's never going to change.
"I see they're always going to be talking about the Red Bull second seat. I think that's almost an inevitability.
"I don't think it's even so much coming from Red Bull, it's just coming from the perception of Red Bull kind of being Red Bull. Which I think is unfair.
"You read stuff but then you know what's really going on and there's no kind of…Yeah, it's just different.
"It's new, obviously, I haven't been under fire in my racing career until pretty much the last few races.
"It's been OK. At the end of it, everyone's going to talk, that's kind of expected.
"I'm guessing especially with lockdown and everything, there's always going to be a bit more talk than other times.
"But it's OK, I just get on with it really."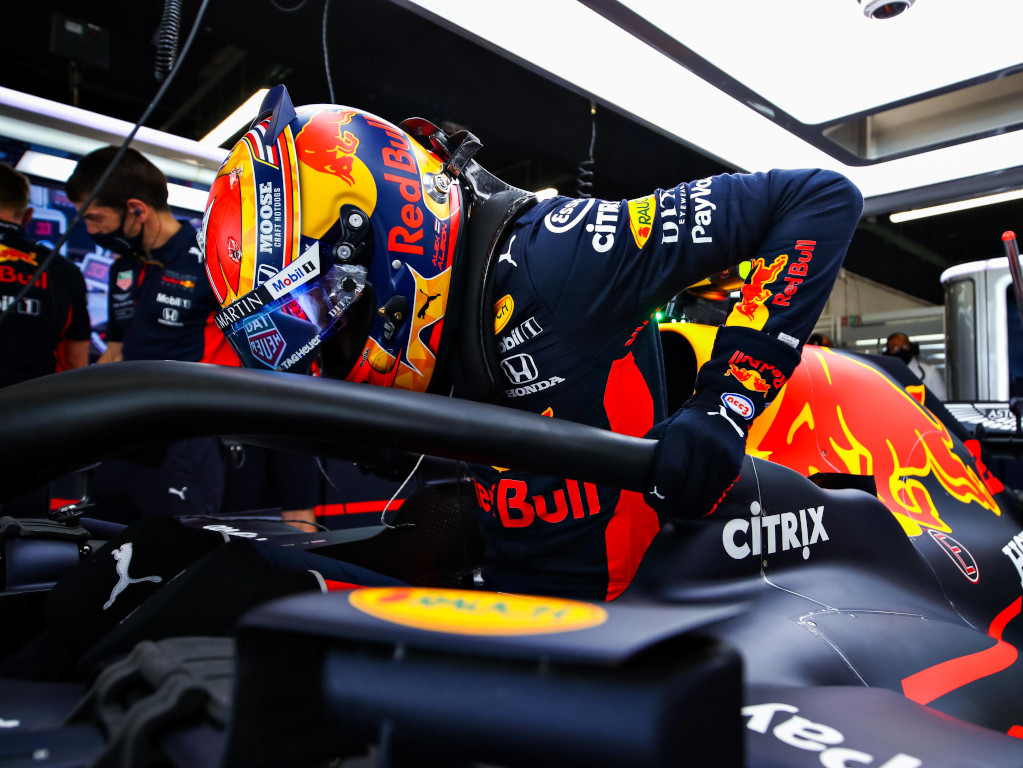 Another former driver turned pundit, Jolyon Palmer, says he feels Albon is "offering nothing" in the fight against Mercedes.
Asked about the negative comments, Albon replied: "You pick up the phone, it's going to be there so, there's not much you can do.
"But it's very much working with the team, working with my crew, but also with the factory as well.
"There's obviously areas that we want to work on, and areas that you don't feel as comfortable in the car or just not quick enough, but that's the only focus.
"At least, I really don't care about what the other stuff is going on around."
This season Red Bull is once again having to chase Mercedes out on track with the Brackley squad taking five of this year's six wins.
And with Albon yet to out-qualify Verstappen this season or beat him on a Sunday, the 24-year-old says first and foremost he needs to up his own game.
"I think you can always stress yourself," says Albon.
"Our careers, our performances, are always done by the stopwatch and also by comparisons from your team-mates so it's very much about focusing on yourself and looking at your own improvements, looking at areas you want to improve in the car and feel more comfortable.
"That's where you have to ignore the talk, all the background noise. You have to have your own self-belief that what you're doing is right and we are making steps.
"And that's it really, you've just to just take your version of how everything's going and focus on the areas you want to work on.
"In previous years there's always been that very normal thing where there have been the top three teams and then everyone below it. Now it's pretty much you've got Mercedes, and then everyone else in that sense.
"Of course with Racing Point making a huge step forward, they're up there, they're extremely fast.
"So it is very tight in that kind of second phase. Of course that's when you got to be close to your team-mate, you've got to make the most of your car because times are tight now. It just means that we have less headroom."
Follow us on Twitter @Planet_F1 and like our Facebook page.