Alfa Romeo condemn 'race' in damning statement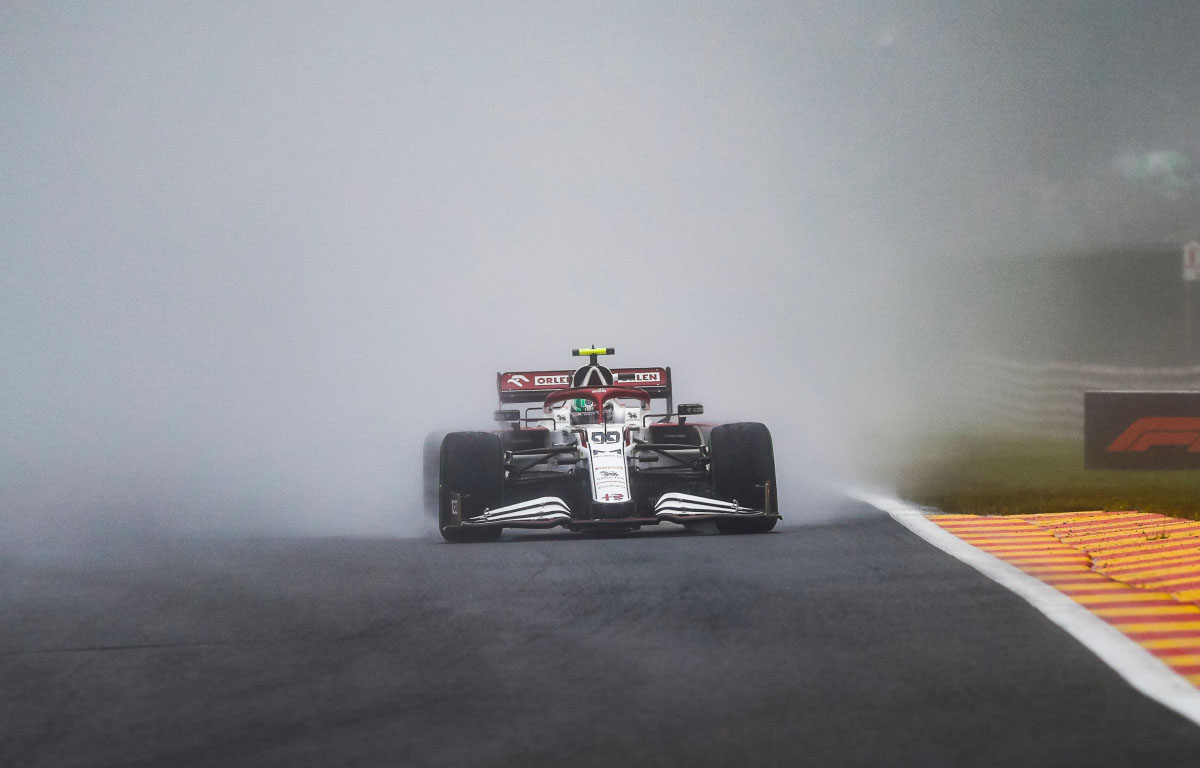 Alfa Romeo have issued a statement saying the outcome of Sunday's events at Spa "hurts us all", given the lack of on-track action.
The team did not mince their words in saying that the confusion surrounding the Belgian Grand Prix at the weekend, hoping that lessons can be learned after the race was eventually called off.
There has already been widespread disagreement with the FIA's decision to run a couple of laps behind the Safety Car in the wet, which enabled a race classification to be calculated – despite no 'racing' taking place on Sunday afternoon.
Drivers inside the top 10 were awarded half points as a result, and an official podium ceremony took place after Max Verstappen was awarded the race victory.
Teams and drivers, Alfa included, agreed with the decision to not race on Sunday due to the inclement weather conditions at Spa, but the likes of Sebastian Vettel and Fernando Alonso felt points should not have been awarded at all, and Lewis Hamilton thinks the fans deserve their money back after no racing in anger took place.
Alfa Romeo joined the wider Formula 1 community in saluting the fans in attendance for waiting around in the wet all afternoon in the hope of a race taking place, but feels they were left short-changed by the farce on show in Belgium.
Imagine being a Red Bull mechanic coming to the back of the garage and just seeing Kimi sat there 😂 #BelgianGP 🇧🇪 #F1 pic.twitter.com/WRi8ZVWzil

— PlanetF1 (@Planet_F1) August 29, 2021
Check all the latest 2021 teamwear via the official Formula 1 store
"A huge thank you to all the incredible fans that spent hours in the elements for the race to start: with your patience and determination, you are the true Drivers of the Day," read the statement from the team.
"For months, we have been looking forward to having the stands full of fans supporting our team and our sport: unfortunately, we weren't able to put up a show for you yesterday.
"The decision not to race in these conditions was the right one, in the interest of protecting the safety of the drivers, the marshals and the spectators themselves.
"However, the situation would have been dealt with a lot more appropriately by not having at all the "race" we witnessed yesterday: this outcome hurts us all, but in particular it hurts fans of the sport, who didn't get the show they came to see.
"We hope lessons were learnt yesterday, lessons that will improve the way we operate in the future and that put the supporters of our sport in the position they deserve to be.
"Once again, our genuine thanks go to all the fans – you were the ones to truly shine yesterday in Spa."