As McLaren officially launched their MCL34 to the world, Alfa Romeo quietly got on with some on-track business.
The team formerly known as Sauber are officially launching their new car in the pit lane at the Circuit de Catalunya just before the first pre-season test gets underway on Monday.
Alfa Romeo were using the Fiorano track as part of a filming day, where cars are permitted to rack up to 100km of running.
The car was sporting a broody red camo livery…
Seems is going to be a vibrant Valentine's Day.. 💨😍#ALoveStory #RomeoAndGiulia#AlfaRomeoRacing pic.twitter.com/CcdxVH6FSo

— Alfa Romeo Racing (@SauberF1Team) February 14, 2019
And was sporting a rather curious looking front wing compared to others we have seen so far…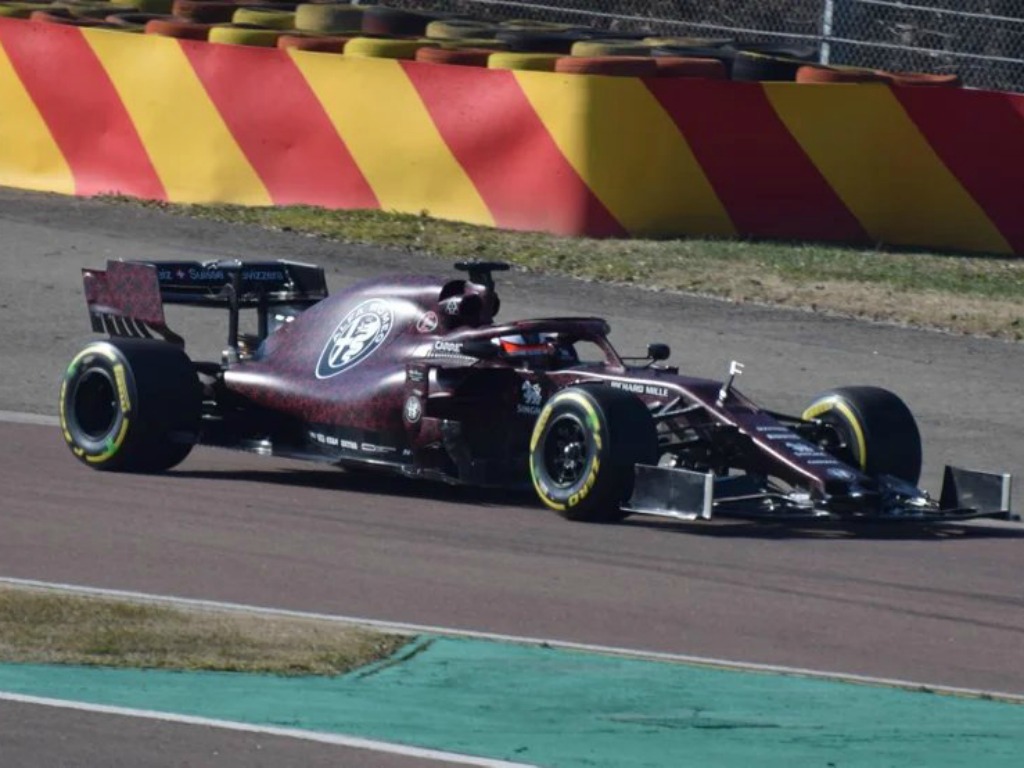 Kimi Raikkonen took to the wheel…
If it's legal, that's a very clever front wing arrangement.
Also, love the sidepods, reminds me of the dropship in Aliens. https://t.co/4IdYcuPbnz

— Jonty Beard (@Jontys_Corner) February 14, 2019
Some more cheeky snaps…
Fiorano circuit shakedown: @SauberF1Team hi res pictures!#ALoveStory #RomeoAndGiulia #AlfaRomeoRacing #AlfaRomeoRacing #F1 #F1Testing #Fiorano #giovinazzi #Raikkonen #alfaromeo

Foto by Federico Basile, FP Photo-Images pic.twitter.com/ahKs9KdvJ5

— Andrea Gallazzi | CircusF1.com (@CircusFuno) February 14, 2019
Some on-track footage also emerged…
The 2019 Alfa Romeo Racing car and the 2019 Ferrari PU in action 😍https://t.co/RYj75tE36r#F1 pic.twitter.com/jcoY29oYwW

— tami. (@Vetteleclerc) February 14, 2019
with the sound of that Ferrari engine purring away…
SOUND ON. Another video of the 2019 @SauberF1Team 😍

Video: enricopizzo16#F1 pic.twitter.com/nAhijk7SEq

— tami. (@Vetteleclerc) February 14, 2019
Looking forward to seeing what is hiding under the camouflage next week!
Follow us on Twitter @Planet_F1 and like our Facebook page.