Alfa Romeo want to regularly fight Merc, but aren't there yet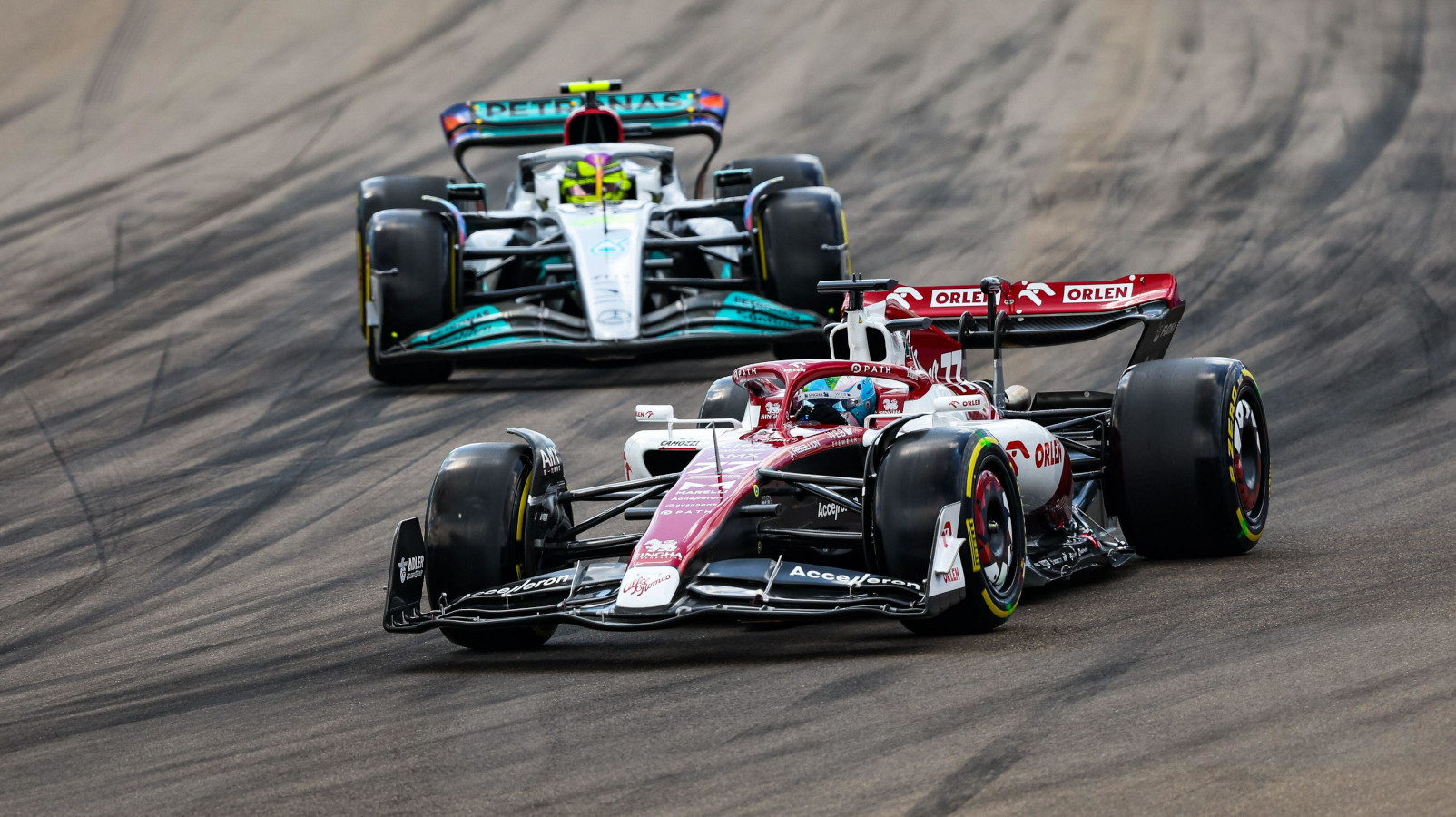 Although Alfa Romeo believe McLaren, Alpine and AlphaTauri are their main rivals, Xevi Pujolar is enjoying the occasional fight with Mercedes.
Until this season, Mercedes have been a lot further up the road from Alfa Romeo, the Brackley squad fighting for World titles while Alfa Romeo have been in a battle to avoid last place.
This year, it is a very different story.
The all-new cars have boosted Alfa Romeo to the front of the midfield, while Mercedes have fallen to the back of the front-runners so much that Valtteri Bottas has found himself racing against his former team for position.
He lost that fight in Miami, a mistake from the Finn after the restart dropping him from fifth to seventh as he was overtaken by George Russell and Lewis Hamilton.
But while Alfa Romeo were disappointed with the result, team principal Fred Vasseur saying that shows how much progress they have made, Pujolar says in truth they are battling McLaren, Alpine and AlphaTauri, not Mercedes.
"For us, our rivals in this race, we were mainly focusing on McLaren, Alpine and AlphaTauri," said the head of trackside engineering, quoted by GPFans.
"But obviously if Mercedes were on target, as far as we can keep under control these other three competitors and don't expose ourselves against them, we are happy to fight Mercedes on top of that as well for this race.
"For the championship, it is a different story. For the championship, our competitors at the moment are who I said.
"We are looking at Alpine, AlphaTauri and McLaren. These guys are still on a reasonable, realistic target."
Alfa Romeo are P5 in the Constructors' Championship with 31 points, 15 behind McLaren and five ahead of Alpine. Mercedes are a lonely third, 49 points ahead of McLaren and 56 behind Red Bull.
Pujolar says reaching the point where they can fight Mercedes on a regular basis is, of course, the big goal for Alfa Romeo this season.
"That is our aim and we will try it," he said.
"For sure now everyone will bring updates and I can say we are in a more comfortable position because we have some advantage to them. Now it will be who brings the more efficient or bigger updates.
"At one point, probably it will be difficult. You can expect teams like Mercedes and McLaren will do bigger steps. We have to see.
"But at the end of the day, we have the budget cap as well.
"It's the same for everyone, so we will have to see who can be more efficient. But there are also other factors that can play into that with the budget cap and other things that can happen that can cost you some budget as well."
Valtteri Bottas 5/10 - Miami GP Driver Ratings
Valtteri Bottas' race was going well, starting in front of his former teammate Lewis Hamilton in the Mercedes. He held him off as well as his replacement, George Russell, but a mistake in the end cost him a finish ahead of them.