Alonso disagrees with career 'bad luck' assumption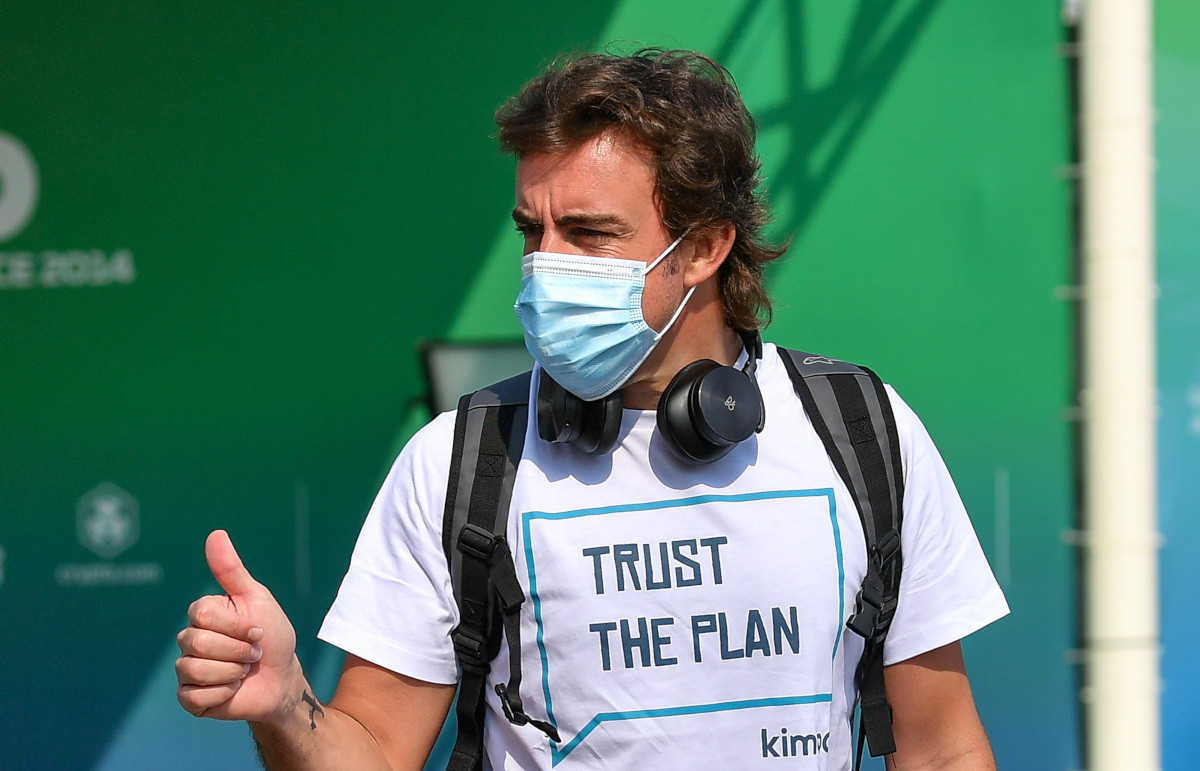 Fernando Alonso has downplayed a fan's claim that he has had "bad luck" with his Formula 1 teams, saying he does not feel "unlucky".
Although the Spaniard has claimed two World titles and 32 grand prix wins, Alonso's career may go down a story about 'what if'.
Bouncing from Renault to rivals teams and back again, after his first stint Renault, never quite got himself in the position to mount a serious title challenge.
He fell short with McLaren, missing out on the 2007 title by a single point, while three times in his Ferrari career he was runner-up.
His second stint with McLaren, 2015 to 2017, was the worst of his career, Alonso finishing 17th, tenth, and 15th in those three seasons prompting him to walk away from F1.
But after two years away, he's back, and again with Renault, now branded Alpine.
Asked in fans' questions for the Qatar GP driver's press conference, why he had returned to F1 after 'all the bad luck you've had with teams', Alonso said he doesn't feel unlucky.
"I came back because I love racing," he replied. "I love competing, and I think Formula 1 was the best challenge that I had on the table.
"To come back to Formula 1 and try to win again was a huge challenge, and I was attracted by that.
"And I will not agree probably with the bad luck that I had with teams.
"I'm super happy and privileged to accomplish a few things that I did in Formula 1, and that was only thanks to luck as well, the good luck.
"So, I'm not feeling unlucky."
Wouldn't be a #MEDIAday without a press conference shot, would it?#QatarGP pic.twitter.com/g09ijHwwJt

— Alpine F1 Team (@AlpineF1Team) November 18, 2021
This weekend Formula 1 is racing in Qatar for the first time, the inaugural grand prix, which is replacing Australia on the calendar, taking place at the Losail circuit.
While there are some concerns that the nature of the track and its high-downforce middle sector could limit overtaking, Alonso reckons it should at least by "fast" and "enjoyable" to drive.
"It looks nice, it looks fast," he said.
"I think quite enjoyable, the lap will be to drive, so looking forward [to it].
"I don't know why this year seems like we are competitive on Sundays and missing a little bit on Saturdays.
"So that's how the car also works. Maybe our weekend priorities are all focused on Sundays as well, race preparation. But that's the way it is.
"I think we have to be open and treat this weekend like a normal weekend, not focusing too much on AlphaTauri.
"Being at a new circuit, anything can happen, so let's try to be as high as possible."
Alpine head into the Qatar weekend P5 in the Constructors' Championship but tied with AlphaTauri on 112 points.
PlanetF1 Verdict
Alonso refutes claim of 'unlucky' F1 career
Fernando Alonso doesn't think that his F1 career has been unlucky.