Alpine boss issued replacement threat to Fernando Alonso and Esteban Ocon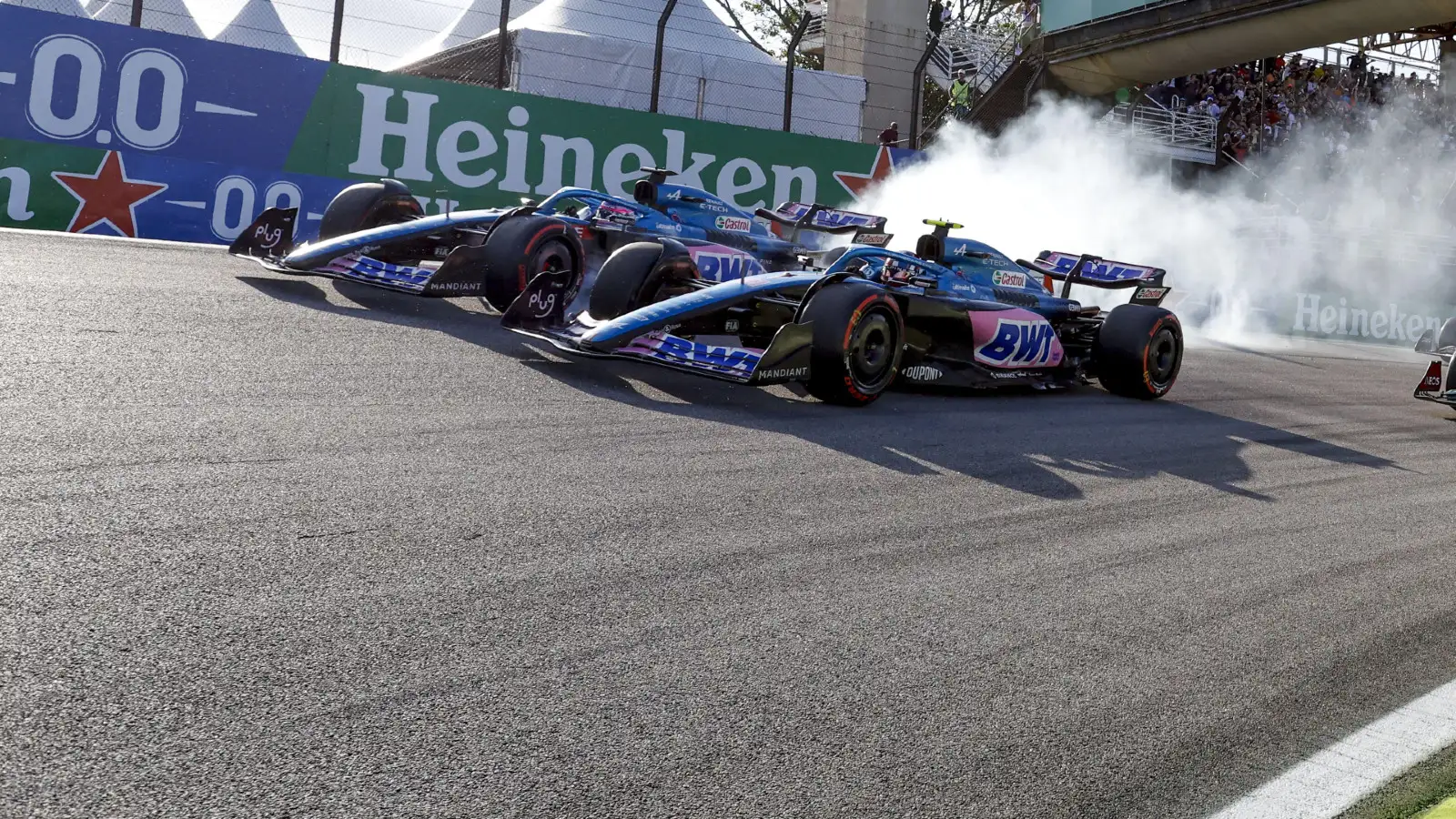 Alpine CEO Laurent Rossi reminded Fernando Alonso and Esteban Ocon of their responsibilities to the team following their Brazil clash.
Alpine had a self-inflicted disastrous race at the sprint in Sao Paulo, due to Alonso and Ocon clashing twice in the early stages.
On the first lap, Alonso attempted a move around the outside of Ocon through Turn 4. But when the French driver closed the door to push Alonso wide, the Spaniard briefly lost the rear of his car and clipped Ocon's sidepod – resulting in damage to Ocon's car.
Moments later, Alonso clipped the back of Ocon as he swooped out to pass his team-mate along the pits straight, damaging his front wing in the process.
Due to their damage and pit-stops, neither Alpine finished in the top 10 – a result that met with a stern reaction from team boss Otmar Szafnauer.
Sunday went far more smoothly for the Enstone-based squad as the pair worked far more co-operatively as Ocon released Alonso due to differing strategies. Alonso went on to finish fifth and Ocon eighth, solidifying their P4 advantage over McLaren in the Constructors' Championship heading to the final race in Abu Dhabi.
Speaking at the press conference at Yas Marina, Rossi revealed there had been ultimatums laid down in front of Alonso and Ocon in order to ensure their co-operation.
"I told the drivers as long as they behave as adults I'll treat them as adults, so they can race until the team is worse off, which happened last weekend," Rossi told media, including PlanetF1, on Saturday.
"So I reminded them of that fact and I reminded them of the fact I have plenty of drivers that are longing to race in their place.
"It would have been a shame to finish the year with two other drivers, even if it costs me a lot. They took heed of their responsibility and they did a brilliant job.
"So it happens to everyone, I guess. This is what makes those drivers incredible champions, that these killer instincts…sometimes it goes a bit too far. So that's my role as well, to bring them back into a better space."
Alonso departs Alpine for Aston Martin at the conclusion of this season and is set to make his debut for his new team in next week's test at Yas Marina.
While there have been apparent tensions between Alpine and Alonso as their relationship comes to an end, Rossi explained team orders had not been imposed on either driver – despite Ocon being their long-term signing as he remains with Enstone for another two seasons.
Rossi outlined the drivers were told to ensure the best possible result for the team, regardless of where their respective strategies took them.
"We told them that if we have to, they have to follow the orders," he explained.
"But there were no team orders. We had two different strategies, we could not predict which one would yield a better outcome because it depends on the race conditions. But based on the pace and the circumstances we told them that if we have to, we will impose swaps or things like that and they would have to comply – which they did, which is perfect."
Read More: Christian Horner sidesteps questions about Sergio Perez's Monaco crash