Alpine damage was 'like something out of a movie'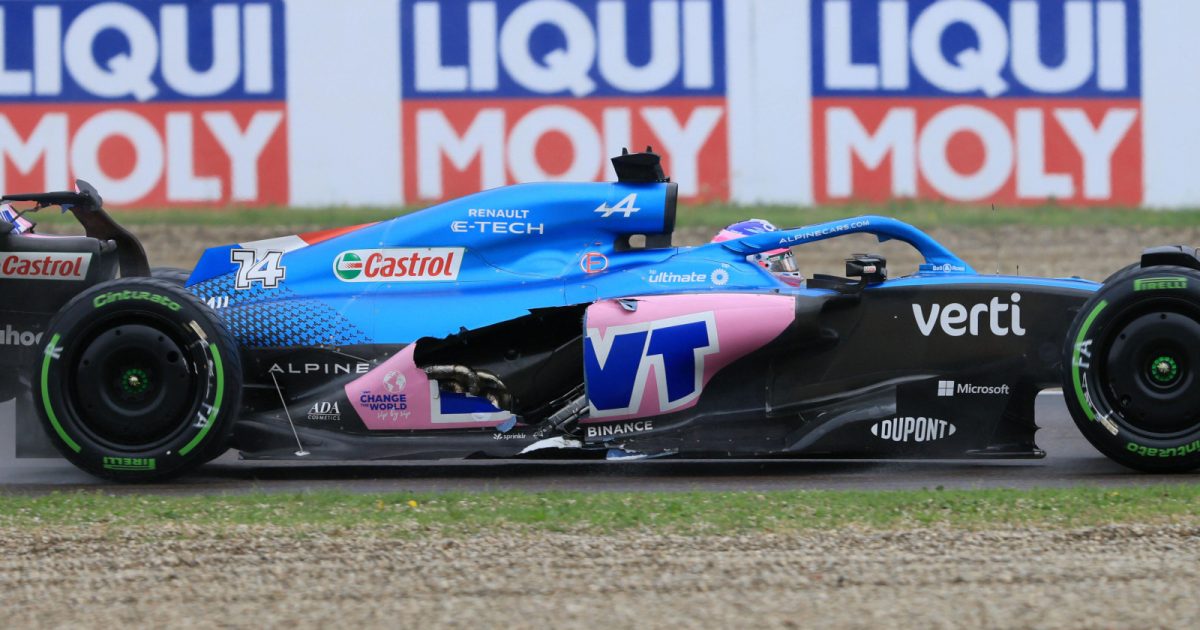 Fernando Alonso was "unlucky" at Imola as a mere "caress" from Mick Schumacher caused major damage to his Alpine's sidepod.
So much so he was forced to retire from the grand prix as a chunk of his sidepod tore away from his A522.
Starting P9 and 10 on the grid with Alonso ahead of Schumacher, the two fought for position through the opening corners only for the Haas driver to put a wheel on the grass and squiggle his rear left tyre into Alonso's car.
The Spaniard continued, seemingly without any damage, before a few laps later a sidepod went flying off down the main straight.
Pulling into the pits, hoping for his car to be repaired, Alonso was told the damage is "quite bad mate, quite bad" and the car was retired.
After a collision with Schumacher at the start, part of Alonso's sidepod flies off down the main straight 👀#ImolaGP #F1 pic.twitter.com/ZZqpcPxUyK

— Formula 1 (@F1) April 25, 2022
"Again we were quite unlucky," Mundo Deportivo quotes him as having told DAZN F1 in the immediate aftermath of his retirement.
"I think, because for factors that were not in our hands… that Mick spun and touched us or caressed us, because it was also not a strong blow, it destroyed our entire car.
"These are things that look like something out of a movie.
"They are all happening to us at this start of the season, so we have to think about the next one."
The result of the Emilia Romagna Grand Prix means Alonso has scored just two points this season, a disappointing tally give that his Alpine appears to be a quick car.
He however didn't finish in Saudi Arabia due to a water pump issue, had tyre troubles in Australia and then crash damage at Imola.
"19 races left," he said. "Last year, after Imola we had only one point and the year had started a bit negatively, and we finished the year super well, super strong.
"So I hope we can repeat that."
Distracted as Charles Leclerc spun his Ferrari tagged the barriers but was able to continue, Alonso then added: "We saw yesterday that everyone touches each other at the start, everything happens and normally they are indestructible cars, except ours, which ends up breaking into pieces.
"But as I say, nothing can be done now, we have to think positive and Miami will be a better race."
Another missed opportunity for Alonso and Alpine
A struggle once again for Alpine on Sunday, as Esteban Ocon came home outside the points, and Fernando Alonso not even finishing.