Alpine don't 'want to lose' juniors, need to 'compromise'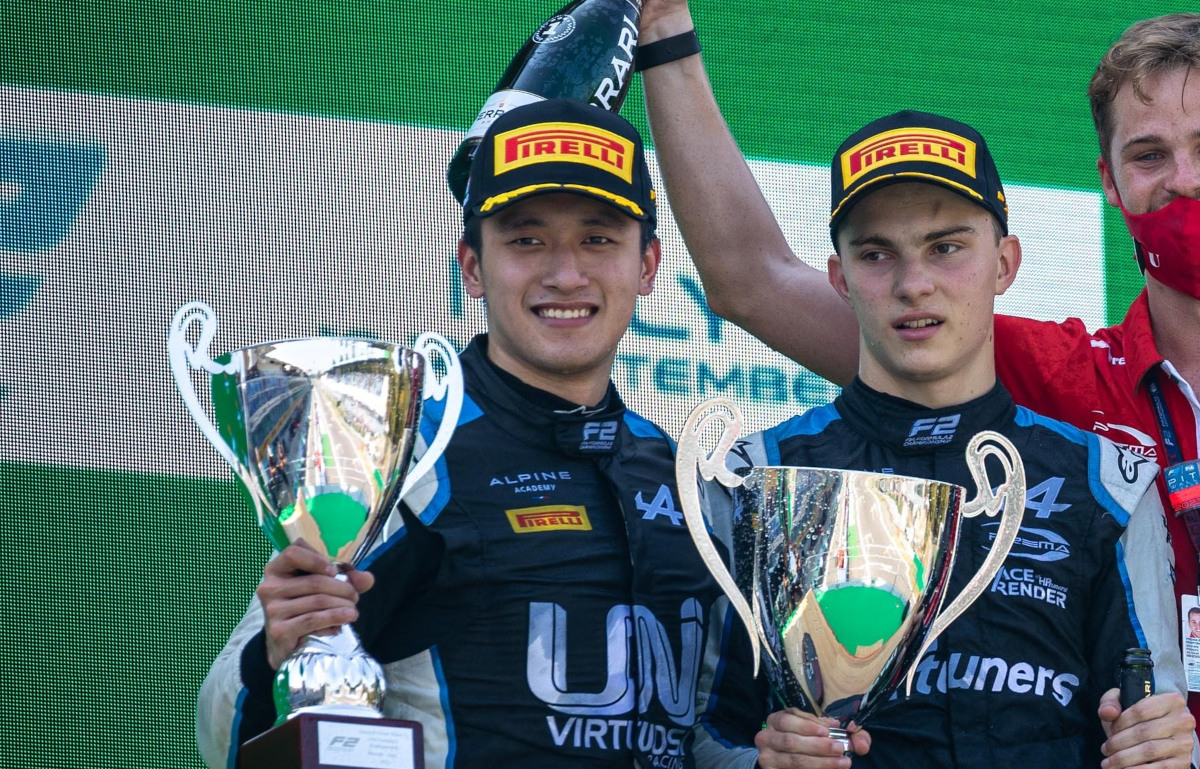 With Guanyu Zhou linked to an Alfa Romeo seat, Alpine don't "want to lose" their junior driver but concede they don't have a place for him in F1.
Zhou is currently competing in his third season in Formula 2, a rarity for many drivers as they either move up into Formula 1, or seek pastures new.
The Chinese driver has of late finally been linked to a Formula 1 race seat, on Alfa Romeo's short list to replace Antonio Giovinazzi as Valtteri Bottas' 2022 team-mate.
But he's not the only Alpine junior driver knocking on F1's door.
Oscar Piastri, although only in his first season in F2, is already been touted as a future F1 driver, the Aussie leading the F2 standings ahead of Zhou.
But when either will make it into Formula 1, if ever, is not known – and it definitely won't be with Alpine for 2022.
The team has already confirmed Fernando Alonso as Esteban Ocon's 2022 team-mate with the latter also signed for 2023.
As such Alpine's executive director Marcin Budkowski admits that while the team doesn't "want to lose" the drivers they have invested it, they may yet have to find a "compromise" to the situation.
🧐 @gyzhou_33, @OscarPiastri and @DanTicktum have a few things in common…

Not only did they share the podium at BOTH of our last two Feature Races, they're also the only drivers who haven't left a single race weekend without silverware this season! 🤯👏#F2 #RoadToF1 pic.twitter.com/OI2cv0ATnV

— Formula 2 (@Formula2) September 13, 2021
Get the new look Alpine merchandise via the official Formula 1 store
"We have an academy and we've had it for years, and we've developed a number of drivers," Budkowski said, as quoted by  Motorsport Week.
"Now we have drivers successful in the highest category just before Formula 1, it shows that our academy has been good at developing good drivers.
"Unfortunately, if I may use the word, they are coming to maturity at the same time and we have the problem generated by having too many good drivers performing well.
"The success of the academy is also judged by its output, if your academy never gets a driver in Formula 1 then you've wasted your time and your money in supporting these drivers, so in one way running a successful academy is getting them to Formula 1.
"On the other hand we're doing this for ourselves to develop the next drivers we're going to use at Alpine but at the moment we don't have a seat free.
"We don't want to stand in the way of the drivers we've helped develop for many years.
"Equally we don't want to lose them completely from our pool of drivers, so that's the compromise you have to reach. But it just shows it's a successful academy we're running."
Williams and Red Bull found a compromise when it came to Alex Albon, the Thai-British racer cutting ties with Red Bull to join Williams for 2022. Red Bull, though, retained an option on him for the 2023 season.