Alpine had no safety concerns about Ocon's strategy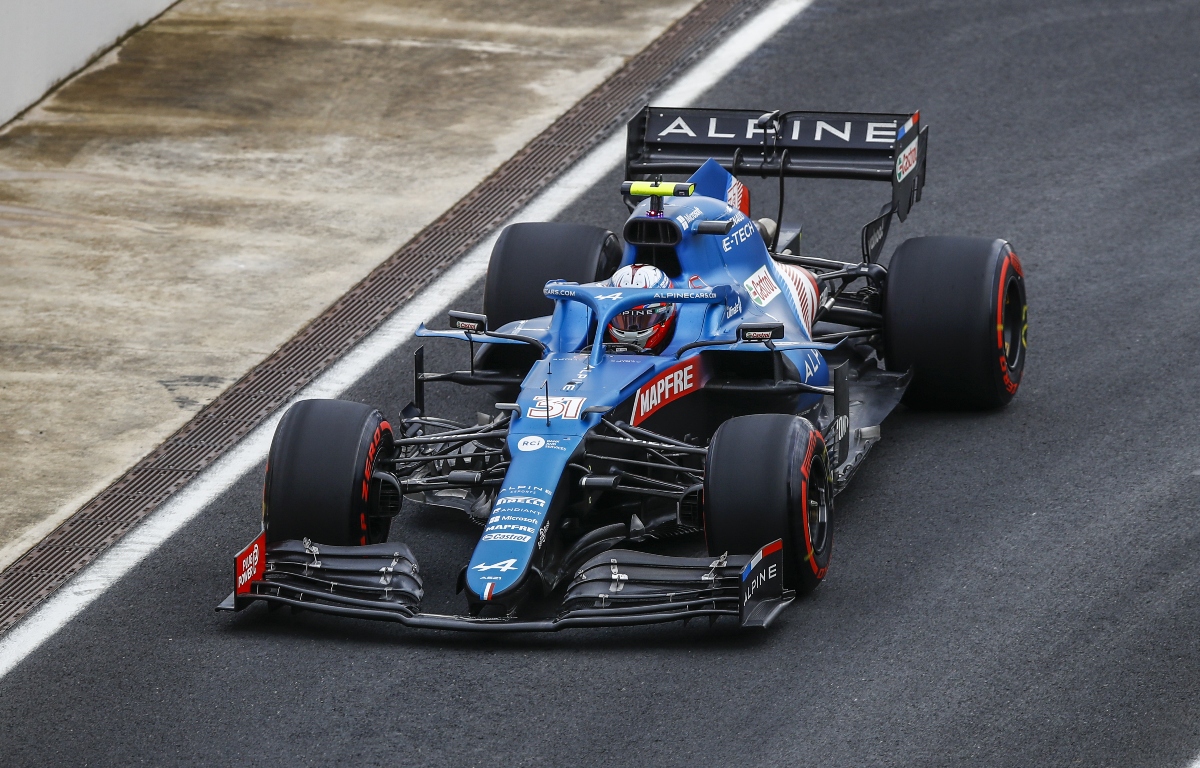 Marcin Budkowski says Alpine had no safety concerns when deciding not to pit Esteban Ocon at the Turkish Grand Prix.
With a pit-stop not mandatory at Istanbul Park as it was a wet race, Ocon along with Charles Leclerc and Lewis Hamilton decided to try to make it to the end of the race on the set of intermediate tyres he started on.
While Leclerc and Hamilton both ultimately pitted, the Frenchman did indeed finish the race and scored a point, crossing the line in P10 just before the Alfa Romeos passed him.
His front-right tyre in particular was in terrible condition by the end, so much so that he wants to hang it in the team factory.
"I don't know when is the last time that nobody had a pit stop," said Ocon.
"It was a risk today that we took. It paid off in the end because we got a point out of it.
"It doesn't look great in the end, that tyre… I think we'll hang it on the wall in the factory.
"It's good because, as I said, it paid off."
Esteban Ocon was the only driver to go the whole race without stopping, but he probably wouldn't have got much further from the looks of it 🧐#TurkishGP 🇹🇷 #F1

(📸 @OconEsteban) pic.twitter.com/B9Tf0bt4T3

— PlanetF1 (@Planet_F1) October 10, 2021
Get the new look Alpine merchandise via the official Formula 1 store
While there was a huge chunk of rubber missing from it though, the team apparently never had any concerns about the safety of the strategy.
"Up until a few laps towards the end, we didn't know if we would make it," said Budkowski, executive director of Alpine.
"The reality is at some point, it was clear that stopping him in the middle of the race wasn't necessarily going to be quicker because we would have had to go through the graining phase on the inters anyway.
"We decided to leave him out based on what other people were doing but also on his feedback, he was quite happy with his tyres at that stage, and waiting for a safety car or the track to dry enough to put on dry tyres, not knowing if we would make it to the end.
"As he went on, we were looking at the data very closely, we were getting his feedback looking at the onboard cameras thinking 'Actually, we can push this to the end. Let's do it'.
"Obviously, we wouldn't have left him out on track if it was a safety concern but he was there or thereabouts. It was feasible to do that."
Eventful weekend for Alonso and Ocon at Alpine
The Turkish Grand Prix was very eventful for Fernando Alonso and Esteban Ocon at Alpine.