Shovlin: Red Bull's tone show they know Max was at fault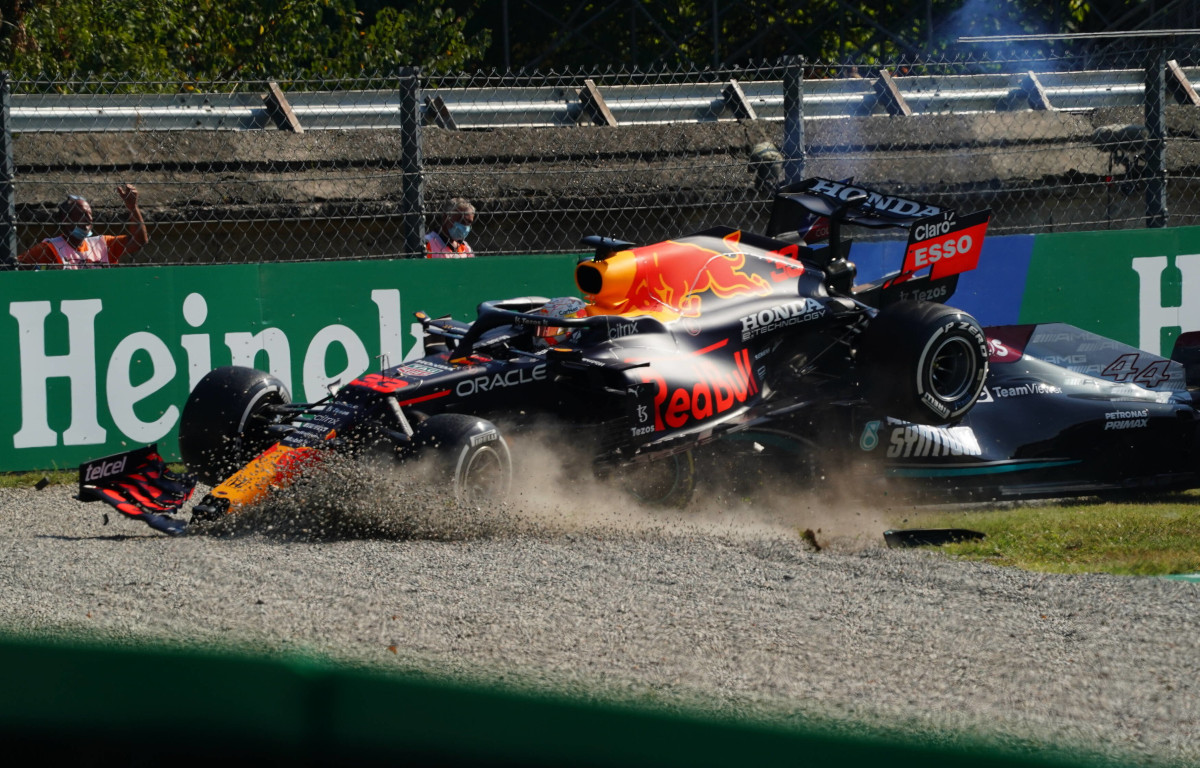 Andy Shovlin believes Red Bull were damned by their own words on Sunday, showing even they felt Max Verstappen was to blame by not criticising Lewis Hamilton for their crash.
The title protagonists had another one at the Italian Grand Prix, the duo colliding as they fought for position through the Rettifilo chicane.
With Verstappen running out of room up the inside, he bounced over the kerb with his Red Bull landing partially on top of Hamilton's Mercedes.
Both drivers were out of the race.
Red Bull immediately called it a racing incident, very different to the words they used back at the British Grand Prix.
Mercedes trackside engineering director Shovlin says that's because this time they knew their own driver was the one in the wrong.
"I mean, we obviously felt strongly that Lewis had done absolutely nothing wrong and that Max was the one predominantly to blame," Shovlin said via The Race.
"I think if you look at the fact even Helmut and Christian weren't trying to blame Lewis, it sort of feels like they know Max was in the wrong, because they will try and blame Lewis at any opportunity."
Glad the Halo was there 🙏 #F1 #ItalianGP 🇮🇹 pic.twitter.com/VmYiIUhyRa

— Jean Todt (@JeanTodt) September 12, 2021
Check out all the latest Mercedes merchandise via the official Formula 1 store
Shovlin reckons had Verstappen not crashed into Hamilton, the Brit would have spent the second half of the Italian GP racing Daniel Ricciardo for the win and the 25 points.
"If you take the incident with Max, put it to one side, for Lewis it would've been a race against only Daniel," he said. "And the issue in the sprint race [when Hamilton couldn't pass Norris] was Lando had some tow from the car ahead.
"So really it would've been a question of whether Lewis could've got by Daniel.
"You know that kind of zone that Lewis goes into when there's a win on the table and he can see it, but it would've been a good little battle in the end – but it would've needed that pass on track to turn it into a win."
The Brit, and likely the rest of Mercedes, isn't impressed that Verstappen was only given a three-place penalty for the Russian Grand Prix.
"So you'll always feel that three places [grid penalty] is relatively easy to overcome if you've got a competitive car," he said.
"But that's all in the past now, we need to make sure we put a good weekend together in Russia."
PlanetF1 verdict
Did Max Verstappen deserve his penalty or racing incident?
Did Max Verstappen deserve a penalty for his crash with Lewis Hamilton?