Sebastian Vettel dropped another clanger in front of the Tifosi, but his 2019 attempt will take some beating.
Here is how race day unfolded at Monza…
Alfa Romeo paid tribute to Juan Manuel Correa before the Italian GP who remains in a "critical but stable" condition following the injuries he suffered in the Belgian F2 Feature Race.
— Planet F1 (@Planet_F1) September 8, 2019
Carlos Sainz was getting the mindgames in early against Lando Norris.
Thank you, Carlos! #ItalianGP #F1 pic.twitter.com/3vAV0nW1dY

— Mattzel89 (@Mattzel89) September 8, 2019
The skies were clearing and the heat increasing, but it wasn't a good idea to pack away the radars just yet.
Clouds are hovering over Monza as the countdown to lights out continues 👀🌥️#F1 #ItalianGP 🇮🇹 pic.twitter.com/mPNLnvjoEi

— Formula 1 (@F1) September 8, 2019
Charles Leclerc kept the lead out of Turns 1 and 2 ahead of Lewis Hamilton.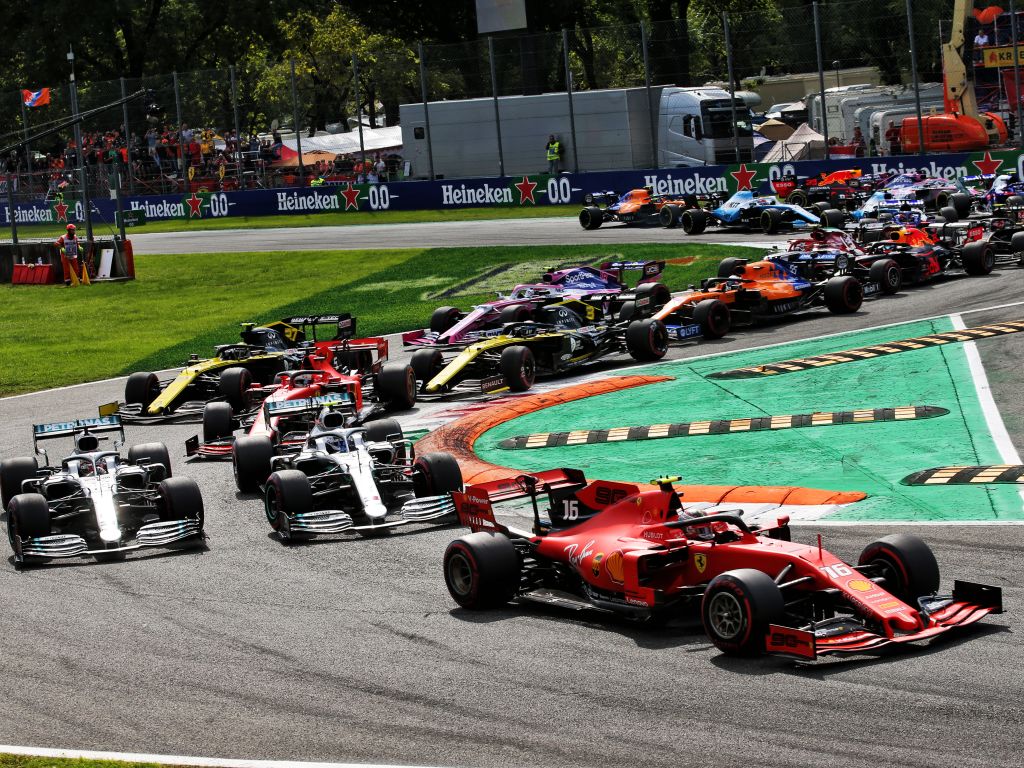 Meanwhile Max Verstappen got caught up in the drama at the back and emerged with a broken front wing.
Rosberg seeing that Verstappen broke his front wing pic.twitter.com/COcXrEqr0J

— WTF1 (@wtf1official) September 8, 2019
Nico Hulkenberg decided to make an early move on Vettel for P4, but that didn't last long.
Fine. VET takes the position back. But that was fun.
Nico 5th, Daniel 6th. #RSspirit #ItalianGP

— Renault F1 Team (@RenaultF1Team) September 8, 2019
Vettel would set off a comedy of errors after spinning his SF90 at the Ascari chicane.
The incident would earn Vettel a ten-second stop-go penalty and Stroll a drive-through penalty. Sit back, watch and cringe.
Oh dear…what are we going to do with you, Sebastian? #ItalianGP 🇮🇹 #F1pic.twitter.com/XatIdJCUri

— Planet F1 (@Planet_F1) September 8, 2019
Alex Albon was next to meet trouble – a five-second penalty came his way for compromising Kevin Magnussen as he rejoined the track.
Kimi Raikkonen then got his own stop-go penalty for starting the race on the wrong tyres.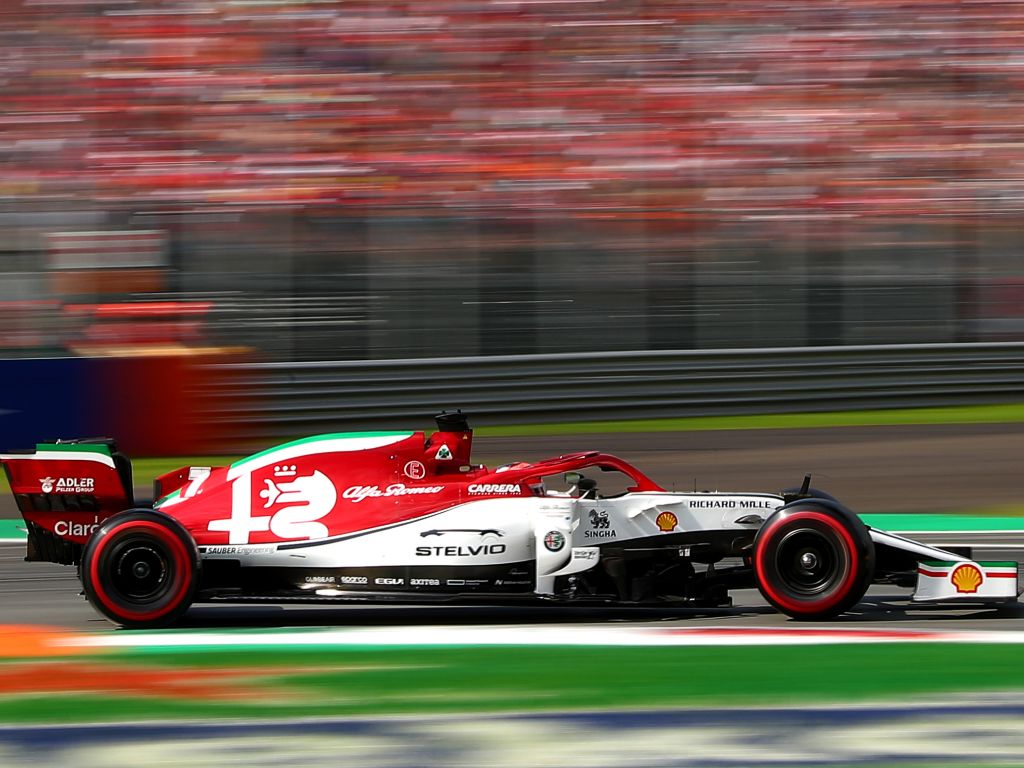 Mercedes went for the undercut with Hamilton on Leclerc by pitting him on Lap 20 to fit the medium tyres, Leclerc followed on the next lap and just about kept the net lead, but he went for the hard compound.
Soon after Leclerc was shown the black and white flag for some very robust defence against the flying Hamilton.
LAP 23/53

Leclerc and Hamilton overtake Hulkenberg

Hamilton then tries to overtake the Ferrari but runs out of room!

Leclerc is shown a black and white flag#F1 #ItalianGP 🇮🇹 pic.twitter.com/QlkuOea7Cy

— Formula 1 (@F1) September 8, 2019
Disaster struck for Sainz at his pit stop after the Spaniard left his box with a loose wheel. The VSC made its first appearance of the afternoon while the stewards confirmed they would investigate the incident after the race.
LAP 29/53

We have the virtual safety car as Sainz comes to a stop, after leaving the pits with a loose wheel

He parks at the end of the pit lane#F1 #ItalianGP 🇮🇹 pic.twitter.com/E0ThTVKe9E

— Formula 1 (@F1) September 8, 2019
Daniil Kvyat's race came to an end courtesy of his smoking Toro Rosso.
LAP 31/53

The Virtual Safety Car returns as Kvyat suffers an engine problem shortly after leaving the pits

He becomes the second retirement, after Sainz#F1 #ItalianGP 🇮🇹 pic.twitter.com/tENYyIGpYf

— Formula 1 (@F1) September 8, 2019
Leclerc was testing the stewards' patience again after cutting the opening chicane, but while Leclerc and Hamilton squabbled, the other Mercedes of Bottas was slowly closing in on tyres that were seven laps younger than the leader's.
LAP 36/53

Leclerc locks up into Turn One under pressure from Hamilton, and misses the apex

He recovers back onto the track and stops the championship leader from overtaking on the outside#F1 #ItalianGP 🇮🇹 pic.twitter.com/M5gNyit2Te

— Formula 1 (@F1) September 8, 2019
It was Hamilton though who came up with a serious error after taking the escape route at Turn 1.
Up into P2 went team-mate Bottas.
😩 LH snatches the left front and has to weave his way around the escape road at Turn 1!

Valtteri slots into P2 – your up VB! pic.twitter.com/FsFe0dP4vn

— Mercedes-AMG F1 (@MercedesAMGF1) September 8, 2019
With his tyres done for, Hamilton boxed with four laps to go as he chased the fastest lap.
Hamilton pits for softs. He's after the fastest lap that Bottas currently has #F1 #ItalianGP

— Chris Medland (@ChrisMedlandF1) September 8, 2019
Bottas finally made it into DRS range after a Leclerc error, but the Finn saw that chance slip away.
Cursed him! Sorry 🤷🏻‍♂️ #f1 https://t.co/UENKMfuLXL

— Damon Hill (@HillF1) September 8, 2019
Job done for Hamilton.
Hamilton grabs the fastest lap of the race with his fresh tyres.

Getting that extra championship point.#F1 | #ItalianGP 🇮🇹 | #RaceDay

— Motorsport Week (@MotorsportWeek) September 8, 2019
As was Leclerc's – a solid drive from the 21-year-old in front of the Tifosi as he made it back-to-back wins after his first victory in Formula 1 just a week ago at Spa.
This was also the Scuderia's first win on home soil since Fernando Alonso in 2010.
He's done it!

Charles Leclerc claims Ferrari's first win at the #ItalianGP since 2010! #F1 pic.twitter.com/PlGvuEJSZu

— Planet F1 (@Planet_F1) September 8, 2019
Follow us on Twitter @Planet_F1 and like our Facebook page.