Antonio Giovinazzi says he hopes to show his class over the course of a season and book his place on the Formula 1 grid next year.
Giovinazzi, 27, sees his contract run out at the end of the year but he believes he has made significant improvements in his time in F1, with Alfa Romeo technical director Jan Monchaux dubbing him "one of the most underestimated drivers on the grid."
The Alfa Romeo driver has had issues in three out of four races that have been out of his control, including team-mate Kimi Raikkonen ploughing into his car in Portugal, a pit stop issue in Bahrain and an unexpected stop for a tear-off visor being lodged in his car at Imola.
Although Giovinazzi has had problems, he believes there is more potential in his car for 2021 than in previous seasons.
Despite their coming together in Portimao, the Italian says Raikkonen is possibly the best person on the grid from whom to learn his trade, but the required change in approach to driving a Formula 1 car compared to in feeder series took time to get used to after he moved up to F1.
"You touch the right point," Giovinazzi told The Race when presented with the idea that his driving style has had to change over time. "The problem is beside me, I think I have one of the best men in the race there [is]. Kimi is really strong from lap one, managing the tyres, fuel, the car, the race in general so you learn a lot from him – especially in Formula 1, which is really complicated.
"It's not like the lower categories where you just need to push. Here, during a race you need to understand when is better to push, when is better to save. So it's not easy and with Kimi beside me it was really good for me to learn a lot of these things.
"If I watch my first season in Formula 1, was not ideal because the competition was too big from him. But now I am improving a lot, especially in race pace where I was missing compared to Kimi in the first season and I think the pieces are coming together. In qualifying, I was always there and now in the race I am much better – and I can still improve."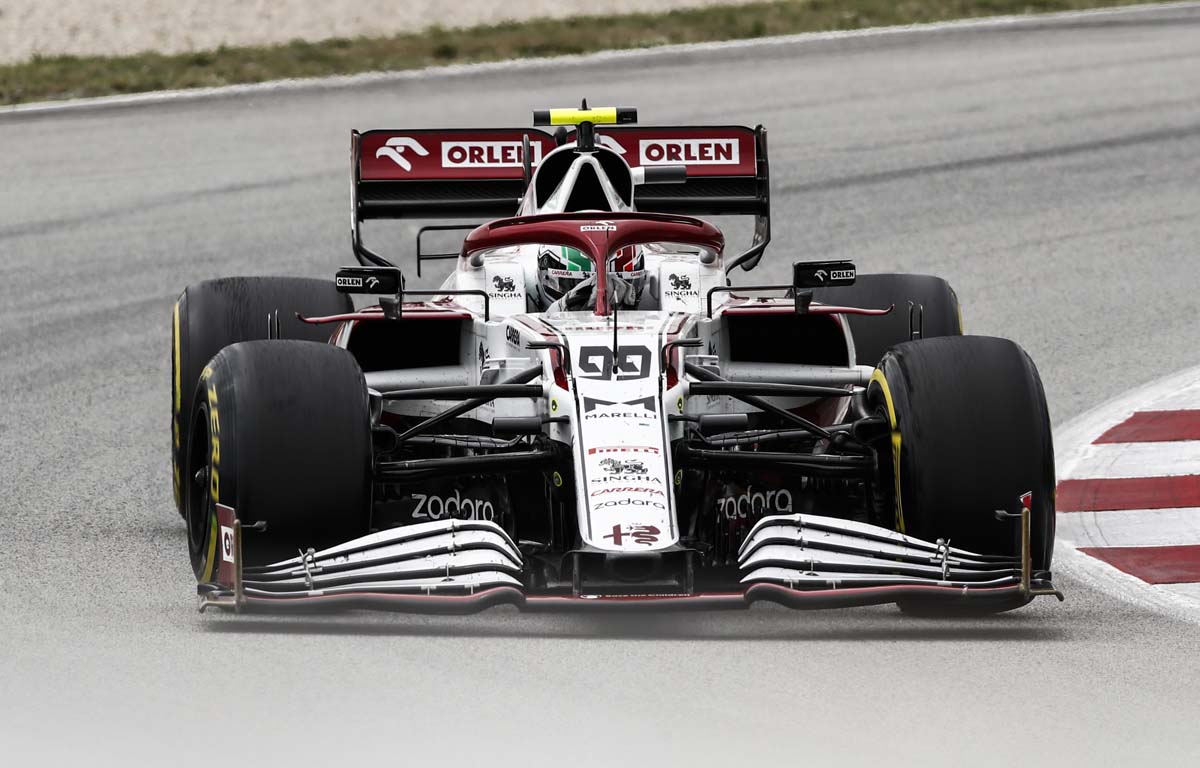 Check all the latest 2021 teamwear via the official Formula 1 store
With his future in Formula 1 not decided beyond the end of the season, Giovinazzi hopes he can put his name in as good a light as possible by overcoming his World Champion team-mate over the course of the year, which will help him secure a place on the grid for 2022 and beyond.
He's out-qualified Raikkonen 3-1 in the opening races of the season, so the Italian says he is looking to keep improving and keep his name "raised up" in people's minds.
"I've felt the same pressure since my first season in F1," Giovinazzi added. "Every season is important to stay here and I know that to stay here I need to show that I am fast and a good driver – and this is what I'm doing.
"I'm just improving myself season after season. Also, I have a target – try to be more in front of Kimi in qualifying and the race and this is what I'm doing. So we will see what happens, but I don't think about the future for now. I will do my best to keep improving and stay next year.
"Formula 1 is like this, the main thing is the results, so if you have a great result, your name is going up, so I just need to do my best and hope that I can be raised up.
"Just a few people know when you are in the best level, what you are doing. I have great support for me from Alfa Romeo and also Ferrari, they know what is happening to me and if I am growing up as a driver. The top people know."
Follow us on Twitter @Planet_F1, like our Facebook page and join us on Instagram!