Giovinazzi mentioned as possible Mazepin replacement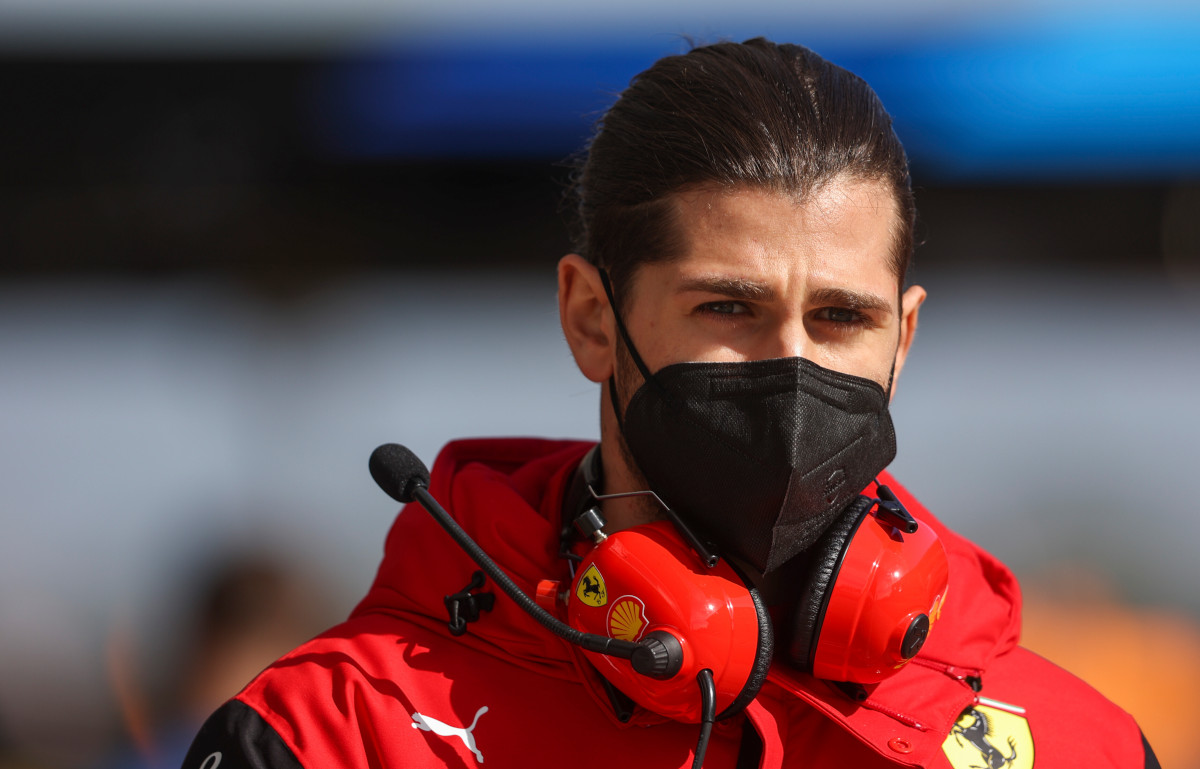 Antonio Giovinazzi could find his way back onto the Formula 1 grid this season, the Ferrari reserve driver linked to Nikita Mazepin's Haas seat.
Mazepin's place on the 2022 grid is in doubt after Russia invaded Ukraine.
That prompted Haas to remove the Uralkali branding from their cars on the final day of the Barcelona shakedown, the Russian sponsor's logos disappearing from everything except Mazepin's fireproofs.
Haas have yet to reveal whether Uralkali will be back on the car at the next test, which begins in Bahrain on 10 March. And if it isn't, the questions continue, does that mean the sponsorship deal is null and void, and how would that impact Mazepin and his place within the team.
The Russian driver is backed by Uralkali, a Russian company that is owned by his father Dmitry, paying for his Formula 1 drive.
Speaking to the BBC at the Barcelona test, Haas team boss Guenther Steiner admitted that Mazepin's future needs to be "resolved", saying there are "governments involved and I have no power over them and we need to see how the situation develops in Ukraine".
He later added that should the Russian driver not drive for "one or another reason, the first call would go to Pietro. Obviously, he is with us for a few years, and then we will see what we do next.
"He knows the team, he knows the car. To jump in for one day to the other, there is nobody better than Pietro around at the moment."
Nikita Mazepin's #F1 future has been cast into doubt, with Guenther Steiner admitting it's something that "needs to be resolved."https://t.co/owLOfuj8U7 pic.twitter.com/cx8tuhdh11

— PlanetF1 (@Planet_F1) February 25, 2022
Fittipaldi had two outings with Haas, replacing Romain Grosjean at the 2020 Sakhir and Abu Dhabi races. He was last in both races.
That has pundits speculating that while Fittipaldi was mentioned by Steiner, he may not be their only option.
According to the Italian edition of Motorsport.com, Ferrari reserve driver Giovinazzi could step in.
The 28-year-old Italian is currently racing in Formula E with Dragon/Penske Autosport but has an exit clause in his contract that allows him to return to Formula 1 if a seat becomes available.
That is "much more likely" reports Motorsport.com with Italian jumping to the front of the Haas replacement queue with the "support of Ferrari".
The report adds that while "Giovinazzi has recently started his Formula E program with the Dragon team, there is always an exit clause that would allow him to close contracts and seize the opportunity quickly."
Giovinazzi has significantly more F1 experience than Fittipaldi having competed in 62 races, scoring 21 points.
But for now Haas have yet to make a decision about Mazepin, never mind his potential replacement.
PlanetF1 Verdict
Giovinazzi joins Fittipaldi on Haas short list
Could Antonio Giovinazzi or Pietro Fittipaldi replace Nikita Mazepin at Haas?