Giovinazzi 'thoroughly deserves' new Alfa deal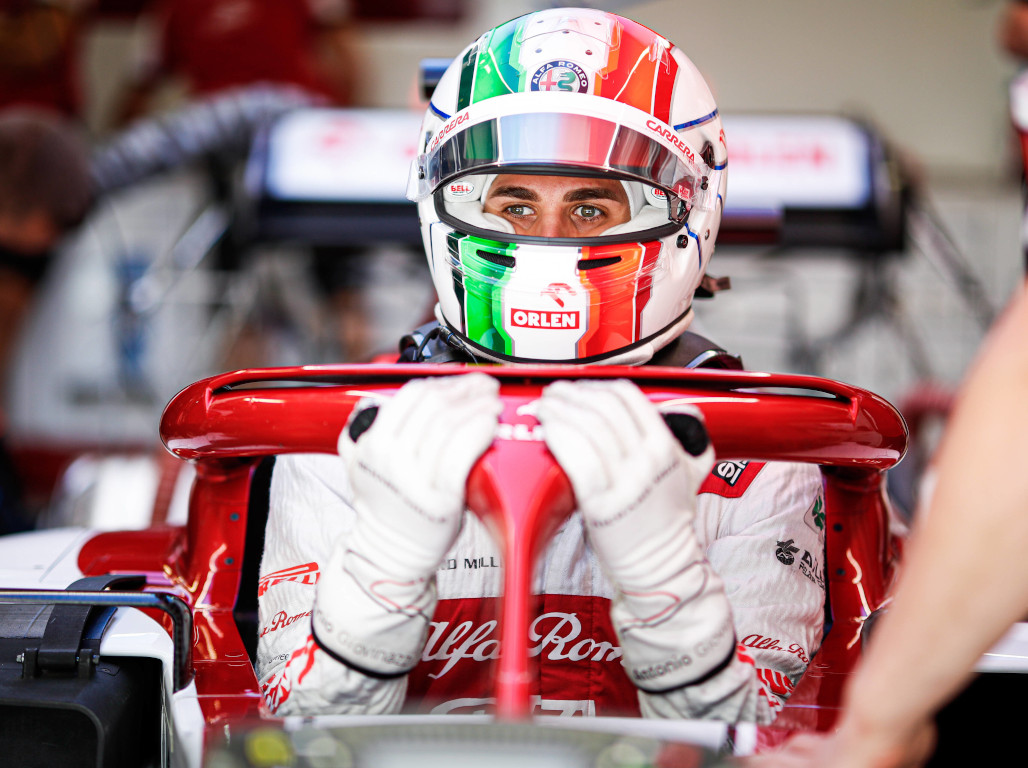 Alfa Romeo team principal, Frederic Vasseur, has said Antonio Giovinazzi "thoroughly deserves" his new one-year deal with the team.
On the eve of the Emilia Romagna Grand Prix weekend at Imola, Alfa Romeo confirmed that Raikkonen and Giovinazzi will form their driver line-up for what will be a third year together in Formula 1.
The suggestion from Alfa Romeo has consistently been that one seat belongs to Raikkonen for as long as he wants it for, but Giovinazzi's place has regularly been in doubt.
Stronger performances in the second half of the 2019 campaign helped the Italian keep his Alfa Romeo seat for 2020, but the mixed displays have returned in 2021 albeit in a car that is not very competitive.
I've always been seeking the thrill of speed because it gives meaning to my life. Whatever is your thrill, hold it 💪
Together again, even more a TESTA ALFA 💙 #AG99🐝 #tuttipazzipergiovinazzi #F1 #AlfaRomeoRacing #ORLEN #AlfaRomeo pic.twitter.com/ZlCZsj8jT4

— Antonio Giovinazzi (@Anto_Giovinazzi) October 30, 2020
Even though Giovinazzi is slightly above Raikkonen in the World Championship standings with three points to Kimi's two, there was some hope, even expectation, that Formula 2 World Championship leader Mick Schumacher would be the next Ferrari-backed driver to arrive at the customer team.
But, while some question Giovinazzi's new deal, Vasseur said in his confirmation statement that the 26-year-old is well and truly deserving of his place.
"I am very pleased for the team to continue working with Kimi and Antonio for another season," Vasseur said.
"Kimi is a driver who needs no introduction: his talent has been clear to everyone since 2001 and I still see the passion and motivation in him every time I see him at work.
"He can be trusted to deliver 100% of what the car can produce and he is a true leader for the people working around him.
"Antonio finished last year's campaign strongly and he picked up where he left off and kept improving throughout 2020.
"From the track to the engineering briefings, Antonio has played a crucial role for our team and he has thoroughly deserved a new contract for 2021.
"His work ethic, commitment to the team and contagious enthusiasm are a huge asset for Alfa Romeo Racing ORLEN."
Now that Giovinazzi's place with Alfa Romeo has been confirmed for 2021, it is now widely expected that Ferrari are going to find a place for Mick Schumacher at another customer team in the form of Haas.
Nikita Mazepin is strongly rumoured to be taking the seat on the other side of the Haas garage after the American outfit decided  not to renew the contracts of both Romain Grosjean and Kevin Magnussen.
Follow us on Twitter @Planet_F1, like our Facebook page and join us on Instagram!