Aston Martin, Alpine fined for scary pit-lane moment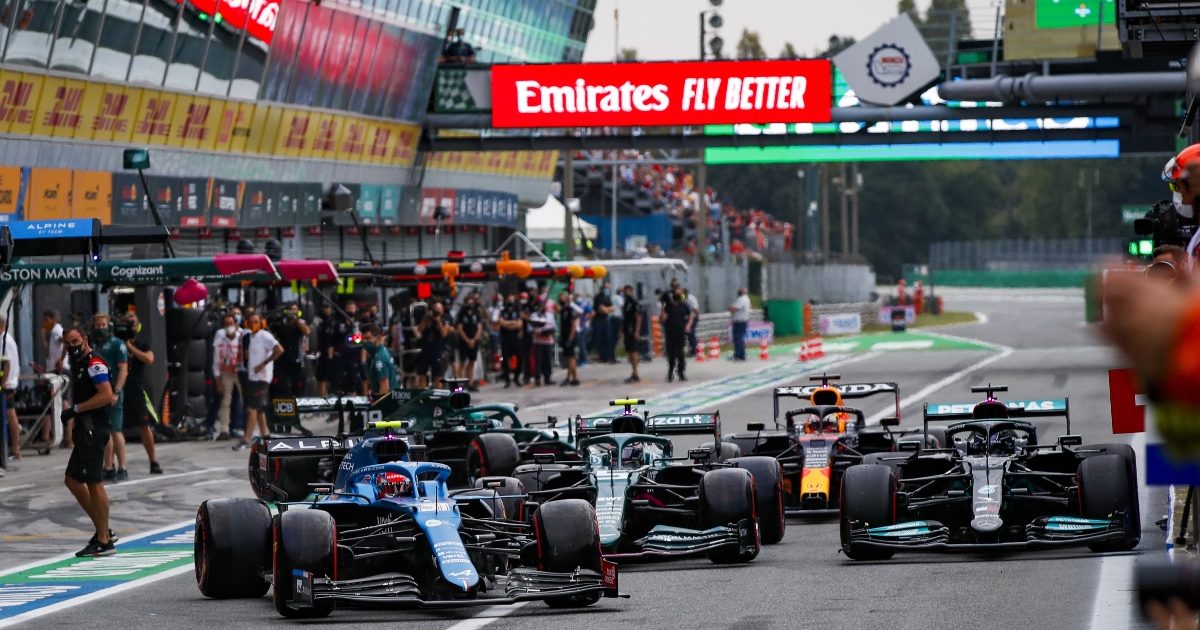 Aston Martin and Alpine have both been fined for the pit-lane incident that took place towards the end of Q2 at Monza.
As is always the case at the circuit given how important getting a slipstream is, no team wanted to be the first to send their driver out for their final run, causing something of a waiting game.
Once the first driver did leave the pits, the rest of the teams were keen to get cars out as quickly as possible, and it led to a scary moment.
The Aston Martin of Sebastian Vettel was released straight into the path of Lewis Hamilton, causing the two cars to make slight contact.
Unsurprisingly, the British team have been fined 5000 Euros for the unsafe release.
"Several cars were released into the pit lane at the same time," an FIA statement reads.
"The driver of Car 5 was released by his team, but at the same time the team's other car was also being released.
"This caused Car 5 to move towards the fast lane when Car 44 was passing and Car 44 had to take avoiding action to avoid an incident."
Tension mounting in the pit lane as the cars exit

Vettel comes out as Hamilton is going past and the two world champs almost touch! #ItalianGP 🇮🇹 #F1 pic.twitter.com/rUNMRKLZ9h

— Formula 1 (@F1) September 10, 2021
F1 TV are offering PlanetF1 readers 10% off both monthly and annual subscriptions! ! In order to claim this fantastic discount, click the following link and use the promo code PLANETF10 at checkout!*
*The offer ends at midnight on September 12 and excludes Netherlands
Just ahead of those two drivers was the Alpine garage, and after almost hitting Hamilton hard, Vettel had to take avoiding action so as not to avoid a staff member from the French team who was waving Esteban Ocon out of the garage.
The stewards deemed the actions of the staff member to be unsafe and in breach of 12.2.1h of the FIA International Sporting Code.
Therefore, a 5,000 Euros fine has also been given to Alpine.
"Several cars were released into the pit lane at the same time. The team member of Car 31 who was responsible for releasing Car 31 stepped back into the pit lane, close to the fast lane into the path of Car 5," said the FIA.
"While the Stewards accept that members of other teams also stepped this far into the pit lane, they did not obstruct another car and were not in a particularly dangerous situation.
"In the case of Car 31 the Stewards determined that this was an 'unsafe act.'"