Aston Martin find 'small loophole' to place 'clever innovations' on AMR23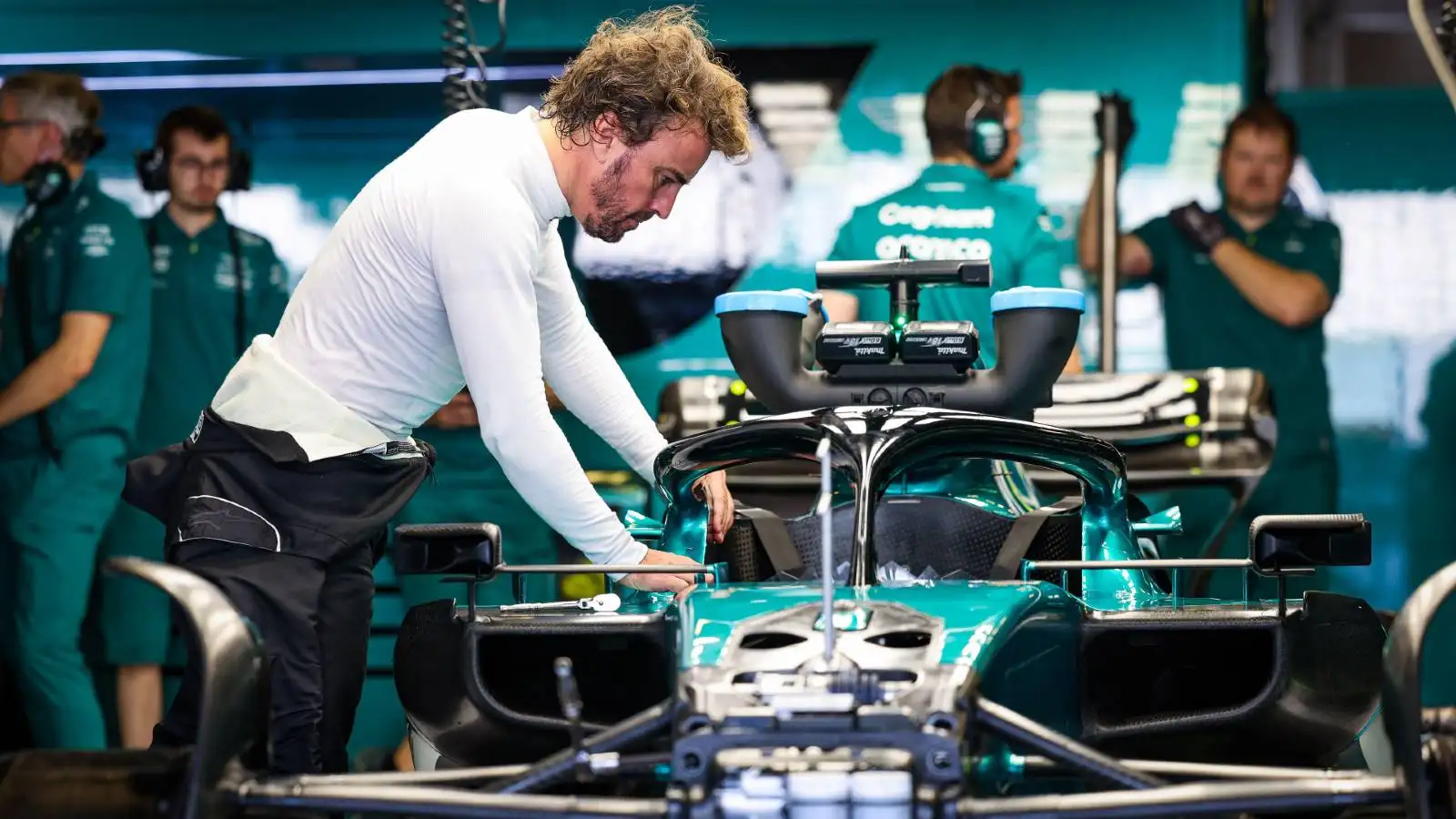 Aston Martin deputy technical director Eric Blandin has said there are "a few clever innovations" on the AMR23, which could help them on their way forward in the year ahead.
The team finished seventh in the Constructors' Championship in 2022, but drew attention in Barcelona in particular when they arrived with a radically overhauled concept that was quickly dubbed the 'green Red Bull' – though they were cleared of any wrongdoing amid copying allegations from the Formula 1 front-runners.
Their 'armchair' high-downforce rear wing concept also caught the eye in Hungary, though that has been outlawed for 2023.
Blandin was one of many marquee signings brought across to Aston Martin as they began expanding their team, leaving his role as head of aerodynamics at Mercedes last year to take up a new challenge at Silverstone.
Now he has settled into his role, the former Red Bull and Ferrari aerodynamics chief will work under Dan Fallows once again as Aston Martin look to assert themselves as contenders in Formula 1 moving forward.
Blandin confirmed the team would be doing a full car launch on February 13 and would not "disappoint" fans by simply unveiling their livery, but he revealed there has been progress on their new concept.
"We've implemented a few clever innovations on the new car – they're the icing on the cake. They're a nice-to-have, but not a must-have," Blandin explained to Aston Martin's official website.
"It's great when you find a small loophole and can use it to your advantage, but it's not often you can base an entire car around it. Instead, it's essential to get the basics right, and then you can add things.
PlanetF1.com recommends
The five most entertaining drivers on the F1 2023 grid
Where are they now? The F1 2008 grid for Lewis Hamilton's dramatic first title
F1 2023 predictions: Which driver will win each team-mate battle in 2023?
"When you start a new car project, you identify what your limitations were the previous year – and how you can overcome them with the new design – and you define the architecture that will give you the most potential for the future.
"If you pursue the wrong concept, you can end up boxing yourself in – you run out of road for development – and that's a very difficult situation to get out of."
With the 2023 regulations remaining relatively stable compared to 2022, there is speculation as to whether or not teams would converge on a Red Bull or Ferrari-style design, given the success those two teams found when the new cars hit the track last year.
Blandin does not expect to see this throughout the grid, however, and thinks every team can make improvements – though just how much is unclear.
"It's wide open," he said. "Every team has an opportunity to make significant progress with their new car. We want to make a big step forward with the AMR23.
"But it's all relative, how much of a step have the others made? We don't know yet, but I'm confident we have a good package.
"There will still be differences between the cars. There were two very different philosophies in 2022 and I imagine this will still be the case in '23."
Aston Martin could be big movers of 2023
With a new factory taking shape and team members set to work from new and improved surroundings from May, and their myriad high-profile signings having had time to bed in, it is perfectly possible that Aston Martin could make a big step forward in 2023.
It's unlikely that they are going to be challenging for race victories in the main, given the stable regulations and the sizeable gap Red Bull and Ferrari had to themselves at the head of the field, but 'Team Silverstone' could feasibly put Alpine and McLaren in their sights for the year ahead.
With Alonso behind the wheel, they will certainly have a driver capable of wrangling everything out of the car that is underneath him, and Lance Stroll also showed alongside Sebastian Vettel in the past two seasons that he is able to stand up reasonably well to the test of having a multiple World Champion next to him.