Aston Martin will 'develop the hell out of' AMR23 to close gap to Red Bull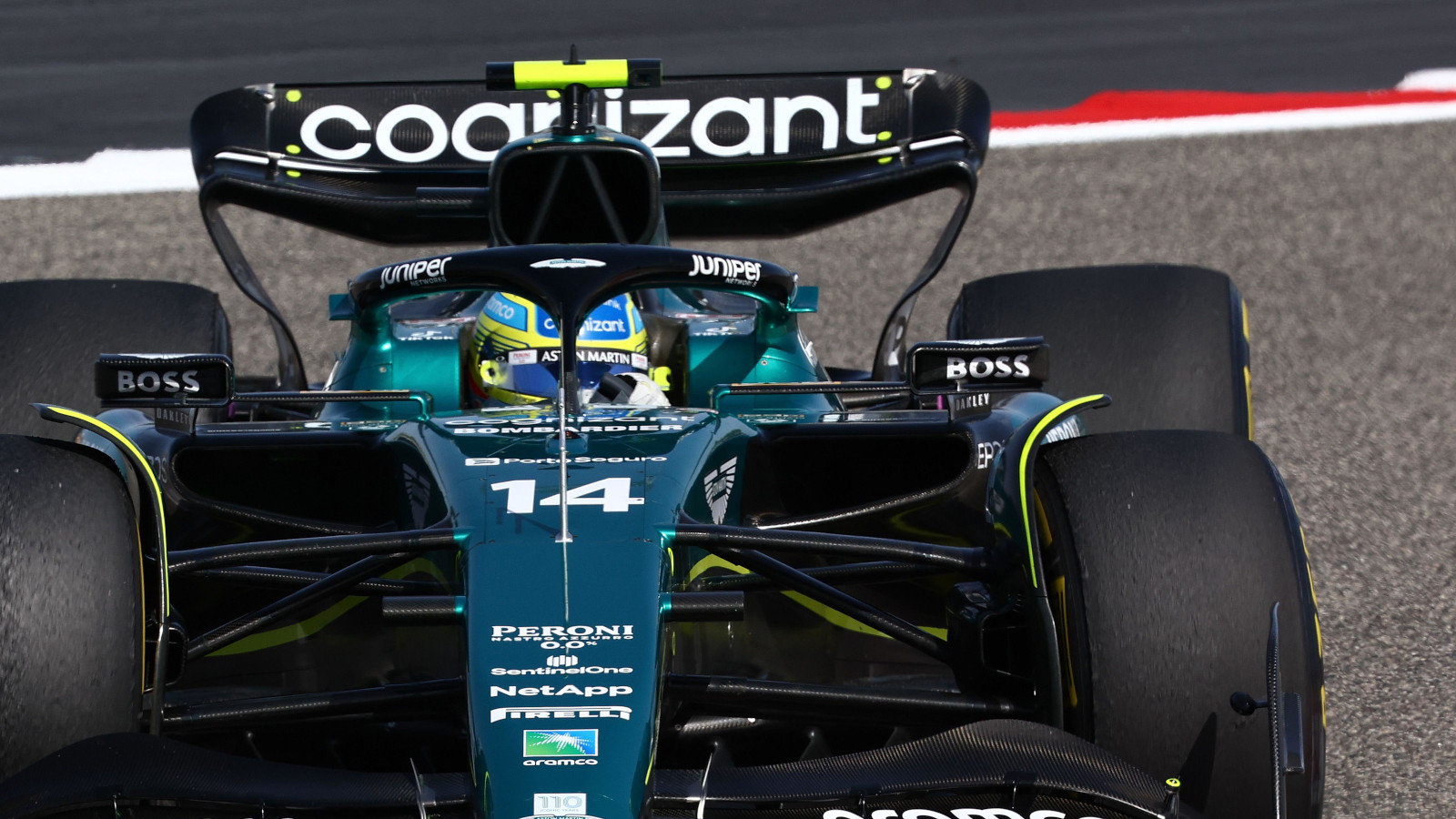 Aston Martin intend developing "the hell out of" the AMR23 with performance director Tom McCullough highlighting the rear wing as one area they need to improve to close the gap to Red Bull.
But, he concedes, that's not so easy with the sport operating under a budget cap.
Aston Martin have been the surprise of the 2023 championship, the AMR23 the only car to join the Red Bulls on the podium with Fernando Alonso recording back-to-back P3 results.
Second in the Constructors' Championship, it has been a dream start to the season for the Silverstone team, but while they're flying high, they're also well aware of their deficit to Red Bull.
While the AMR23 is good in the corners, Fernando Alonso has spoken of its straight-line deficit, one that led to him making a few passes in unusual places at the Bahrain Grand Prix as he didn't have the speed to attack down the straights.
That's something Aston Martin intend on working on, McCullough revealing they'll be evaluating the wings after the Australian Grand Prix before deciding on a way forward.
"We have sort of said," he said as per Motorsport.com, "let's get through the first three races and then have a think going forward, whether we need to change what's in our plan already at the moment.
"I can't stress the cost cap thing enough. It's very easy to sit and say: 'I'll make seven or eight different rear wings to be globally optimised for qualifying with DRS and racing'.
"But to do that is quite difficult when you are in a cost cap environment."
Make no mistake though, he continued, Aston Martin's "aim is to develop the hell out of this car and get as close as we can to them.
"But they are not going to stand still. They have a good margin, especially over one lap with how fast their car is.
"With Ferrari and Mercedes, it will be very hard to maintain the development rate with those teams this year, never mind Red Bull. But we are sat here week in and week out trying our damnedest."
PlanetF1.com recommends
Ranking Fernando Alonso's F1 career moves from worst to best
Eddie Jordan: 'I actually blame Fernando Alonso' for not winning more titles
Jeremy Clarkson's most outrageous F1 quotes: Lewis Hamilton and Max Verstappen be warned
McCullough reckons his team's disadvantage when it came to their wing was evident at the Saudi Arabian Grand Prix.
But, he explained, that was the result of Aston Martin having to weigh up designing specific wings for every type of track against balancing the budget under the cost cap.
"In qualifying, for sure, the Red Bull is very strong with the DRS," he said. "I think, in a race situation, we have come from a cost cap side of things that you can't have every wing that you want at every track.
"So we sort of prioritised what we thought was the right thing to do.
"We knew [in Saudi Arabia] that the wing that we designed and made would be a little bit not as fast in a straight-line as we wanted.
"But we have to balance out over 23 races the amount of wings we are trying to make."
Arriving in Melbourne for round three, Alonso has 30 points on the board to sit 14 behind championship leader Max Verstappen with Aston Martin 49 adrift of Red Bull.