Aston Martin have 'lost in the regulation change'
Aston Martin team boss Otmar Szafnauer says they're not giving up on this season despite losing "about a second a lap" to their high-rake rivals.
Aston Martin and Mercedes were two of the biggest losers in lap time at the season-opening Bahrain Grand Prix.
Both teams run low-rake cars which, according to Mercedes motorsport boss Toto Wolff, are feeling the 2021 regulation changes more than their high-rake counterparts.
This season Formula 1 tweaked the rule governing the car's floor with a small piece being cut away just in front of the rear tyres.
The small change was aimed at reducing downforce, and speed, to ensure that the Pirelli tyres, now in their third season, can cope with the teams' year-on-year search for more downforce.
It was a decision made with safety in mind but one that has impacted Aston Martin and championship favourites Mercedes the most.
"I think where we've lost is the regulation change," Szafnauer said, "it looks like the low-rake runners have lost about a second a lap to the high-rake runners.
"If you look up and down [the grid], compare us to Mercedes, I think we're a tenth [closer], but when you compare [it] to high-rake runners they've gained seven, eight-tenths or even a second a lap."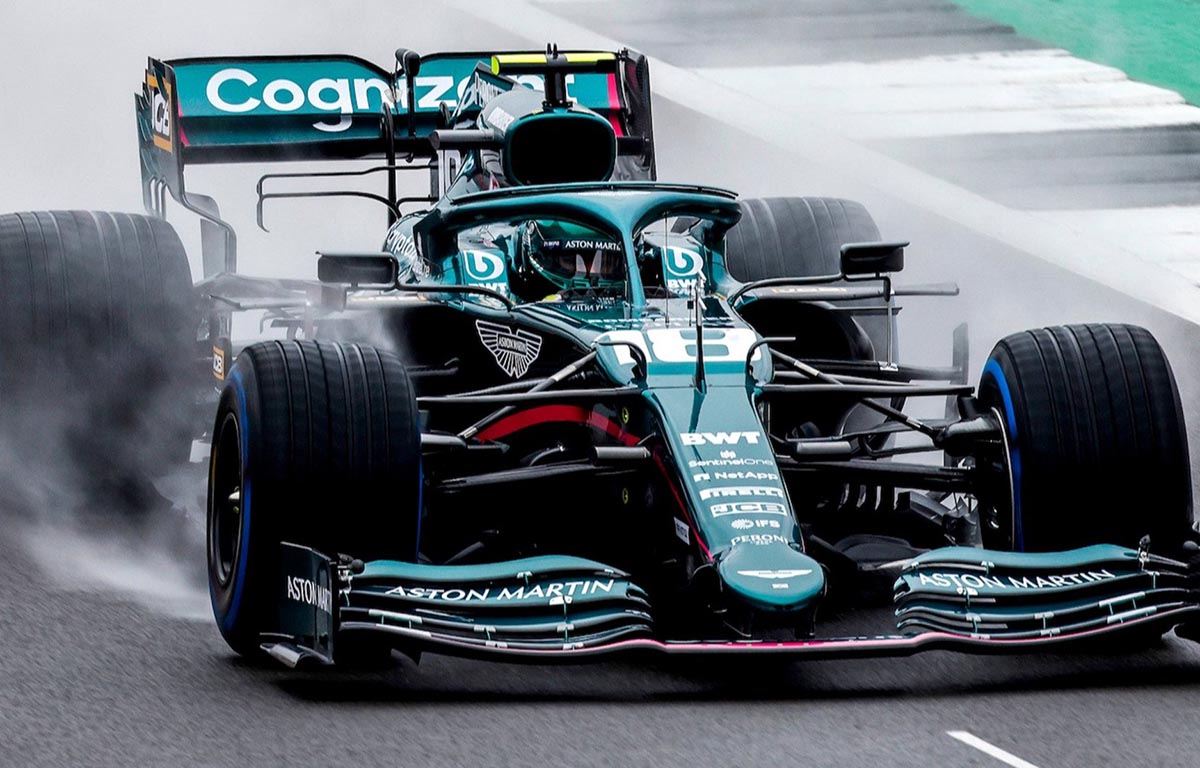 Deck yourself out in Aston Martin green via the official Formula 1 store
Aston Martin scored a single point in the Bahrain Grand Prix with Lance Stroll P10 while his new team-mate, Sebastian Vettel, had a weekend to forget.
Szafnauer insists Aston Martin will work hard to improve the car with the team boss hoping to be recover some of that pace deficit by round three, the Portuguese Grand Prix.
The Silverstone-based team will need to bring updates for this year's AMR02 while also focusing on next year's new generation car, and doing all of that under a budget cap.
"We haven't given up on this year," he said, "and we have things in the tunnel and the CFD, so we'll start bringing them to the track pretty soon.
"So it's a matter of clawing back the deficit that was imposed on us by the FIA through their regulation change based on safety.
"The changes were all made around the rear of the floor, around the tyre area, so that's where we have to start looking for more downforce, so it will be rear downforce we're looking to improve.
"With that comes better balance, being able to dial in more front wing and hoping it takes off.
"Hopefully, by the time we get to Portimao [race three] we will have improved the car a little bit more and we'll work hard at it."
Follow us on Twitter @Planet_F1 and like our Facebook page.