Aston Martin trying to 'reverse out of the trap'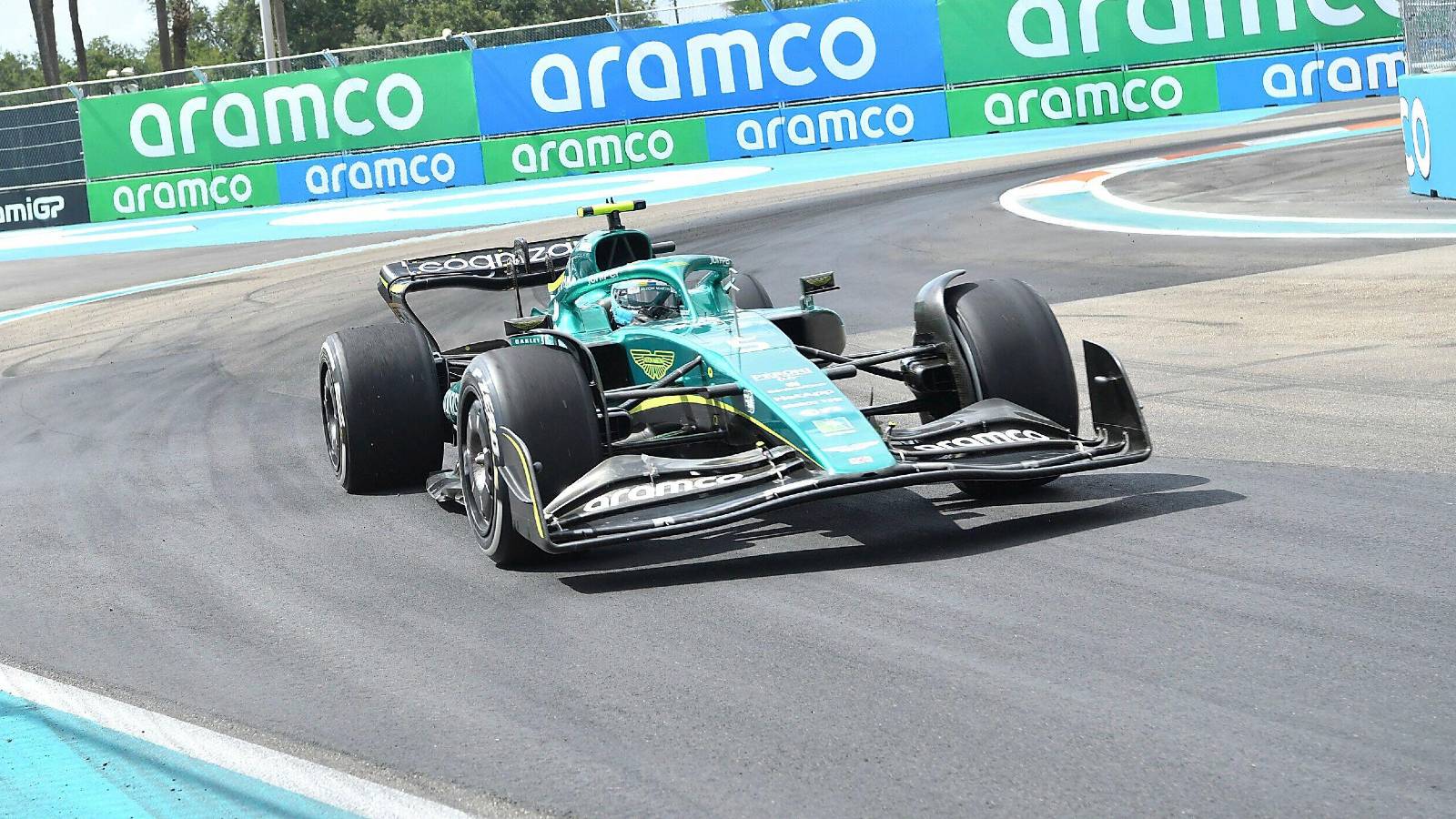 Aston Martin chief technical officer Andrew Green says his team is one of those trying to reverse out of the porpoising trap.
With Formula 1's switch to ground-effect aerodynamics for 2022, this bouncing phenomenon, known as porpoising, has caught many of the teams off-guard.
"It slowed us down," Green confirmed to Auto Motor und Sport.
Some have responded and adapted better than others, and Aston Martin are one of those still digging for a solution.
"To be honest, it slowed everybody down. Some just don't feel it as much because the flow field of their cars works with more ground clearance," Green added.
Green revealed that all the simulations pointed towards a low ride height and firm suspension being the way to go, but that did not translate when the AMR22 hit the track.
Slowly the team has shown signs of recovery since a dismal opening few races, though still only six points have been scored after five rounds.
"We went low and hard. In our simulations, this rewarded us again and again," said Green.
"The car got better with each step. We could see the goal, so it seemed the right way to go. None of our tests suggested that it would give us a problem with the instability of the car.
"Other teams that have gone our way now have big problems because our car concept loses massive amounts of lap time when it falls out of that window of car height that it was designed for.
"The problem was only identified when the cars went out on track. Now we're all trying to get back out of the trap in reverse.
"It's not a job that gets done overnight. It's a complex process because you have to leave your development concept and go a different way. By now we have all realised that this phenomenon is a legacy of these rules. Some have managed it well, others not so much. We belong to that group at the moment."
Asked if Aston Martin are at the better or worse end of the scale for teams suffering with the bouncing, Green replied: "Definitely at the worse end.
"If we set the car up so that the driver doesn't lose control, that he can brake properly, that the car doesn't get damaged and that the tyres don't wear out too quickly, we are slow."
So, if Aston Martin could run the AMR22 as they had originally wished, then Green is confident that there would be a lot more performance to play with.
"That would solve most of our problems," he confirmed.
"This car is running a setup it wasn't built for. Therefore, it doesn't produce the downforce it could and it has too much drag because it has to be set higher.
"The suspension geometry is not designed for that suspension travel, the front wing is not designed to be that low over the road. The list of compromises is very long. The result is a big loss of lap time."
That being said, Green still believes that when a solution to the bouncing is found, the 'low and hard' concept for the AMR22 can offer the intended rewards.
Asked if the solution is a higher ride height and softer suspension, or if the current concept can be made to work, Green responded: "I think there is that solution when we will be able to fully understand the phenomenon and what it does.
"But then we have to ask ourselves whether that is better than going higher and softer.
"But we still believe that we have taken the right path. When it works without restrictions, it gives us lap time, a low centre of gravity and a lot of downforce. We just have to solve this bouncing."
Green explained that Aston Martin are now "confident we can find a solution", though admits that this has used up a great chunk of resources.
But, until the porpoising is under control, he says it does not make sense to try and add more pace to the AMR22.
Asked if there is light at the end of the tunnel, Green said: "We see that, but we don't know yet if there is a train coming towards us.
"We are making a huge effort to understand the problem and get rid of it. We are now at a point where we are confident we can find a solution. Of course, this has cost a lot of resources.
"It doesn't make sense now to think about how to make the car we have faster. First we have to solve this problem.
"We know that this car can do much more. We just need to be able to deliver on that potential. Of course, some other teams are saying the same thing."
Aston Martin are expected to introduce an upgraded AMR22 at the Spanish Grand Prix, an upgrade so significant that it will reportedly make for "half a new car".
Torquing Point: Aston Martin bringing 'half a new car' to Spain
Aston Martin are arguably making bigger changes than any other team when their B-spec AMR22 heads to Barcelona.