AM adamant Vettel 'should have been reinstated'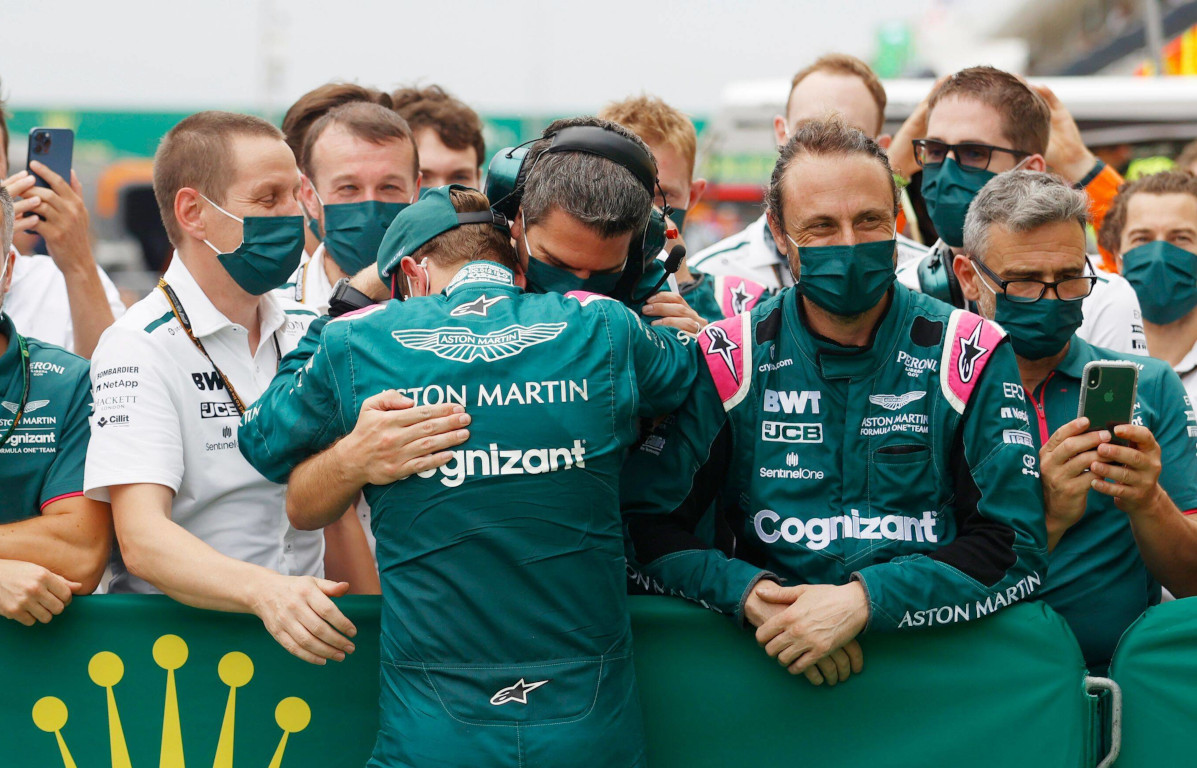 Aston Martin are considering appealing the FIA stewards' decision not to overturn Sebastian Vettel's Hungarian GP disqualification, believing he "should have been" reinstated.
Vettel brought his Aston Martin AMR21 home in second place at the Hungaroring, claiming his second podium finish with his new team.
Joy, though, soon turned to frustration when the German was disqualified after the stewards were unable to extract a litre of fuel from his car.
That, according to F1's rules, is an automatic disqualification.
Aston Martin appealed the ruling, with that hearing having taken place on Monday.
The team states that despite the stewards accepting their explanation of a fuel system failure causing a leak that resulted in an unexpected loss of fuel, they upheld Vettel's DSQ.
The stewards' ruling read: "For the assessment of whether or not the one-litre requirement was broken, it does not make a difference why there was less than one litre.
"There may be a couple of explanations why at the end of a race the remaining amount is insufficient.
"In any case, it remains the sole responsibility of the competitor to ensure the car is in conformity with the regulations at all times and it shall be no defence to claim that no performance advantage was obtained."
Team boss Otmar Szafnauer says Aston Martin are considering an appeal.
Deck yourself out in Aston Martin green via the official Formula 1 store
UPDATE: The FIA has denied Aston Martin Cognizant Formula One™ Team's petition for right of review of 2021 Hungarian Grand Prix disqualification.

The team is now considering its position in respect of its outstanding appeal.

Click below for more.

— Aston Martin Cognizant F1 Team (@AstonMartinF1) August 9, 2021
"Sebastian drove brilliantly in Hungary and we are pleased to have been given the opportunity to show significant new evidence that we discovered since the race," he said.
"We felt the evidence we presented was relevant and demonstrated to the FIA he should have been reinstated following his disqualification.
"Unfortunately, the FIA took a different view and, despite the fact that the accuracy of our new evidence was not contested, Sebastian's disqualification has been upheld on the basis that the new evidence was not deemed 'relevant'.
"That is disappointing, and we will now consider our position in respect of the full appeal process."
Former F1 driver turned pundit Ralf Schumacher reckons the "severity of the punishment is definitely justified".
"Due to the lack of weight alone, the Aston Martin was definitely three to five hundredths faster per lap. Then you can work out how much that made a difference over the entire race."