Aston Martin's warning for Mercedes and Ferrari ahead of rumoured concept changes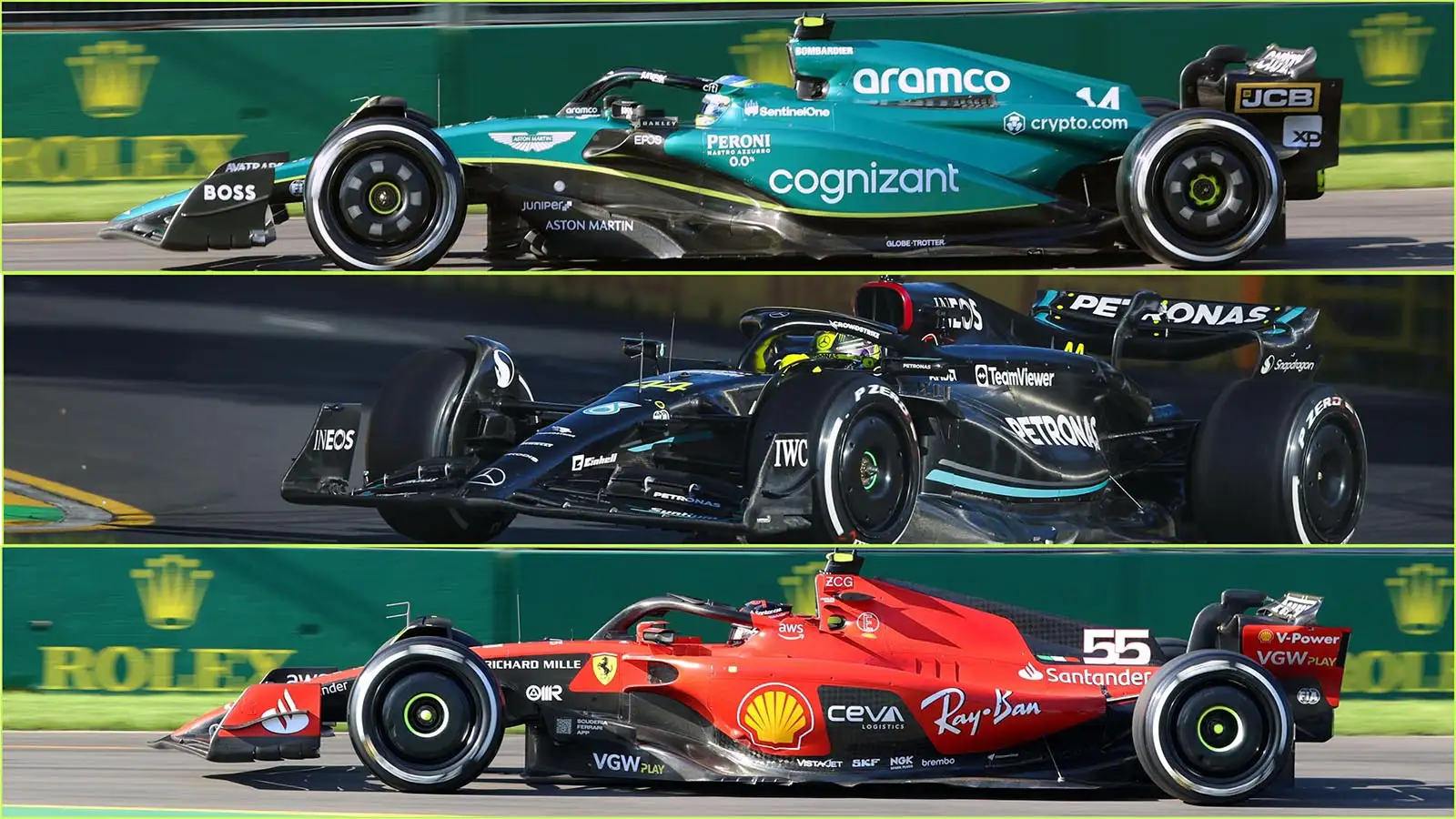 Aston Martin technical director Dan Fallows has warned Mercedes and Ferrari the longer they take to change their car's concepts, "the harder it is to do".
Last season, despite predictions Formula 1 could have 20 similar looking cars on the grid as the sport introduced ground effect aerodynamic cars, the teams surprised many especially when it came to the sidepods.
While Red Bull went with an undercut to channel airflow, Ferrari opted for baby baths and Mercedes went with no sidepods at all. As for Aston Martin, they swapped to the Red Bull philosophy at the Spanish Grand Prix.
This season has seen more teams move towards the Red Bull design, after all they did claim the 2022 championship double having won 17 of the 22 races.
Mercedes and Ferrari, however, stayed true to their own concepts. But the results suggest that has been to their detriment.
While Red Bull have raced to five wins in five races, Aston Martin, with their 'third' Red Bull as Christian Horner and Helmut Marko put it, are second in the championship with four podiums.
That's double the number claimed by Mercedes and Ferrari combined leading to speculation that the former champions are set to ditch their current concepts and go down the Red Bull route.
Although Ferrari have downplayed those reports, Mercedes are expected to unveil their new look at the next race, the Monaco Grand Prix.
But while Fallows has warned the Brackley squad that changing the design philosophy is a "very difficult" shift, he says it's best to do it sooner rather than later.
PlanetF1.com recommends
Mercedes tipped to 'soldier on' with zero-pod concept with major F1 2023 upgrade
Damon Hill on the mixed messages surrounding Mercedes upgrades
"Once you've gone down the route of an aerodynamic concept particularly, it's very difficult to shift fundamentally," he said as per The Race.
"And also, you have to really believe that that's the right thing to do.
"There are conceptual differences between us and Ferrari, for example, and Mercedes and we're actually very similar in pace at the moment.
"So, I think it would be difficult for either of those teams to say that they've gone either in the wrong direction or they don't want to change.
"It'll be interesting to see whether anybody does shift it, but the longer time goes on, the harder that is to do."
Last season Aston Martin showed what could be done by gambling on a new concept.
The team introduced a B-spec 'green Red Bull' at the Spanish Grand Prix and, having scored just six points in the first five races with the old-spec car, increased their tally to 55 by the end of the season.
This year, continuing with the Red Bull-esque look, Aston Martin already have 102 points and sit ahead of Mercedes and Ferrari in the standings.