The two potential headaches hanging over Red Bull in Australia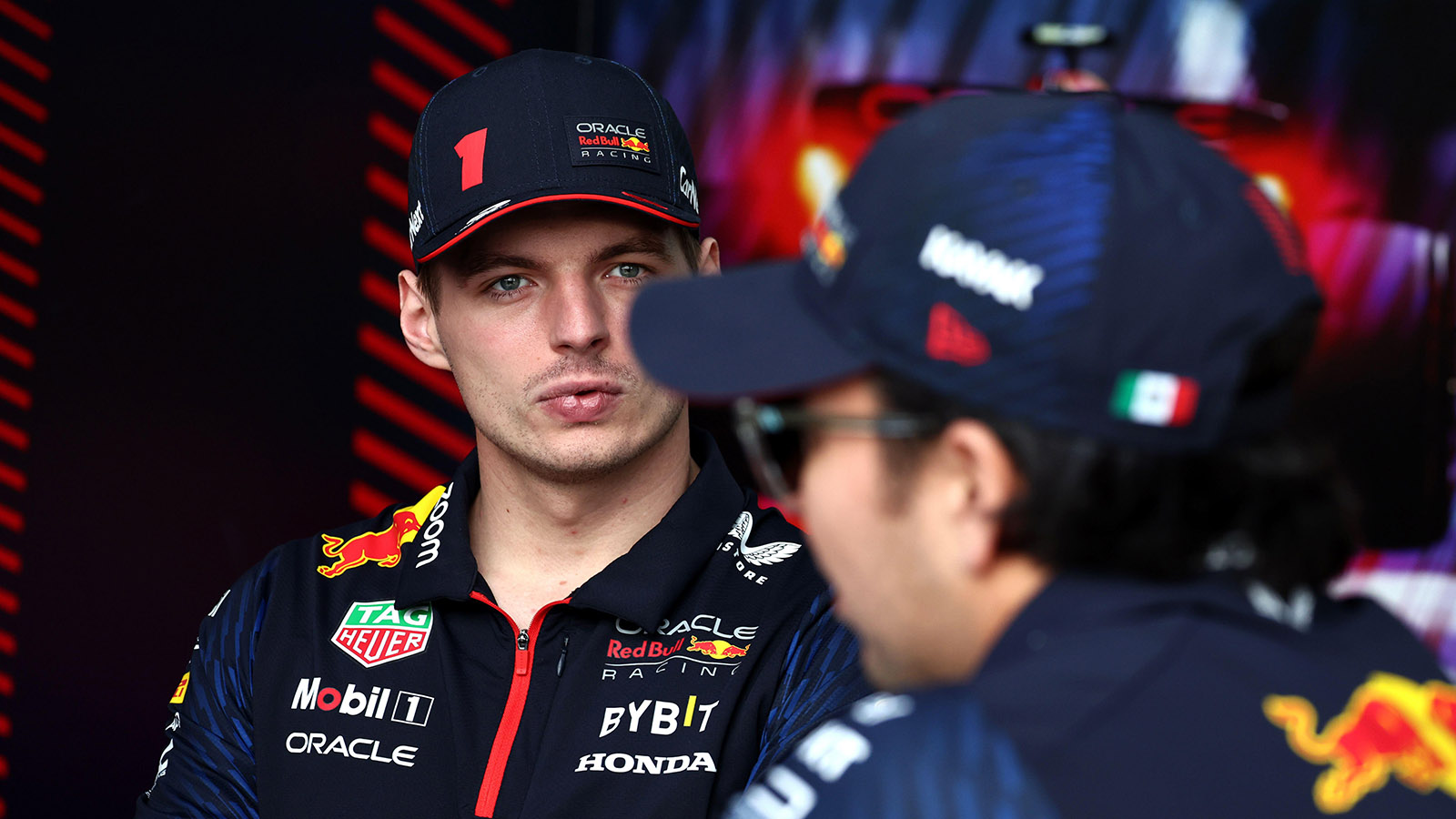 With successive one-two finishes to start the 2023 Formula 1 season and growing talk that they could become the first team in history to go through an entire campaign unbeaten, you would be forgiven for thinking all is well in Red Bull's world as they head into this weekend's Australian Grand Prix.
Beneath the superficiality of the results and the pretty picture of the points table, however, this is a team trying to contain a growing number of issues.
After dominating to convert pole position into victory in Bahrain, Max Verstappen's Saudi Arabian GP weekend was going almost too well before his driveshaft went bang during qualifying and left him stranded in 15th on the grid.
With the World Champion airing further mechanical concerns during the race – and amid whispers that Red Bull's commanding display in Bahrain was way more nervy than it looked on the car health front – the team's reliability record is at risk of becoming front and centre again.
Remember that it was at Albert Park last year where Verstappen suffered his second DNF in three races, falling 46 points behind runaway leader Charles Leclerc in the Championship.
Ultimately, those retirements proved only a minor blip in Verstappen's successful title defence and his premature exit from qualifying in Jeddah did not stop him recovering to second in a race won by team-mate Sergio Perez.
Verstappen stole the bonus point for fastest lap right at the end in Saudi Arabia to maintain the lead of the Drivers' standings – ensuring that in the event of the zombie apocalypse happening before Australia he, for what it's worth, would be remembered as the World Champion of 2023.
When informed that Verstappen had taken the fastest lap in Jeddah, Perez briefly looked as though his world had ended.
The push-and-pull nature of their race to the end in Jeddah, Checo not quite trusting Max to sit tight in second with laps still to run, revealed that the pair have yet to fully move on from the bitterness of their team orders controversy in Brazil last year.
With Albert Park having a high-speed nature these days after changes to the track's profile brought it in line with more modern street circuits – just call it 'Melbaku' or 'Jedbourne' at this point – and set to favour the amazing RB19 car, the Red Bulls could be set to lock horns again this weekend.
As he returns to the scene of arguably his greatest triumph, meanwhile, Leclerc's prospects for this season could not look more different.
It may seem hard to believe now but for the faintest moment he and Ferrari looked genuinely unstoppable at this race last year, his second victory in three giving him an early points advantage some rushed to declare insurmountable.
It didn't last long of course – Leclerc losing top spot in the Drivers' standings within three rounds – and what Ferrari would give to be in a similar position in 2023.
Having retired in Bahrain, Leclerc could only recover to seventh – last of the leading pack – after a grid penalty in Jeddah for already exceeding his engine component pool for the year after one race.
Keep a close eye also on Carlos Sainz, whose chaotic start to last season exceeds only his lacklustre start to this.
Qualifying a distant ninth and lasting just one lap of the Australian GP before spinning into the gravel was where his 2022 campaign began to go seriously wrong.
PlanetF1.com recommends
Scrapping practice sessions would hurt the F1 product, not help it
'Daniel Ricciardo spent a bit too much time on activities out of cockpit rather than in it'
'Lewis Hamilton's criticism of Mercedes ungracious but understandable'
With Australia hosting the season opener for a generation, most drivers made their F1 debuts at Albert Park and it was here 22 years ago now that a fresh-faced Fernando Alonso made his first appearance for the Minardi team.
Consecutive podiums to start 2023 have taken the years off Alonso who, despite Aston Martin's downforce/drag trade-off compromising them on the straights, will need no invitation to interfere in battle of the Red Bulls.
The lingering threat of rain this weekend should have the two-time World Champion, whose only Melbourne win came in 2006, rubbing his hands.
The definitive F1 debut belongs to Alonso's former team-mate Lewis Hamilton, who famously overtook the reigning Champion around the outside of the first corner here in 2007.
Hamilton eventually finished third that day and, despite going on to become the most successful driver in F1 history, he would almost certainly settle for a podium this weekend as Mercedes' disappointing start to the season continues.
Having starter higher on the grid in Bahrain and Saudi Arabia, George Russell could become the first team-mate since Jenson Button in 2010 to outqualify Hamilton in Melbourne, putting another unwanted statistic against Hamilton's name during the longest victory drought of his career.
Alpine could have set a surprise pole position in Australia last year with Alonso on a fine lap before an ill-timed mechanical issue left him in the gravel.
As F1 prepares to bid farewell to the pink BWT livery for 2023, no doubt Pierre Gasly and Esteban Ocon would be thrilled to be in the hunt for the leading positions this time.
Points finishes for both Ocon and Gasly in Jeddah allowed Alpine to leap ahead of Alfa Romeo to reassume their position as best of the rest and Valtteri Bottas endured a strangely subdued weekend in Saudi Arabia, beaten by Zhou Guanyu in qualifying and the race.
But having embraced the Aussie life over recent years thanks to the influence of his Australian partner, the Alfa team leader could be poised to strike back at the circuit where he won – powered by a potent mixture of porridge and a newly grown beard – in 2019.
Fellow Ferrari customers Haas have historically had feast-or-famine weekends in Australia, with Romain Grosjean and Kevin Magnussen's sixth places in 2016 and '19 respectively the only points finishes for the team down under.
Haas suffered double DNFs in consecutive years in 2017 and '18, the latter remembered most fondly for the pit stop nightmares leading to the first of many Guenther Steiner phone calls with Gene to be captured by the Netflix cameras. Something about going from rockstars to bankers, we think…
Over at Williams, Alex Albon pulled off one of the greatest feats of the entire 2022 season by completing all but one lap in Melbourne on a single set of tyres.
He was rewarded for his efforts with the final point for 10th, but with the car looking far more capable in the early weeks of the James Vowles era similar acrobatics may not be required on this occasion.
Sitting in ninth, Williams may be calling to stop the count – or, alternatively, hoping that aforementioned zombie apocalypse materialises rather soon – before the pointless AlphaTauri and McLaren teams get the chance to strike back.
AlphaTauri's demise seems particularly cruel on Yuki Tsunoda, who has emerged as one of the unnoticed stars of the season so far having dragged the car to the brink of points in Bahrain and Jeddah.
It is a shame also that Melbourne-born Oscar Piastri will be racing at home for the first time behind the wheel of such an uncompetitive McLaren.
His team's poor form may leave Piastri struggling to be the main attraction from a local perspective, with Daniel Ricciardo expected to attend his first race of 2023 in his new capacity as Red Bull reserve driver.
The return of Ricciardo to the F1 paddock will prove a welcome distraction but Red Bull, it seems, have more serious matters to address right now.