Race: Bottas beats Leclerc in dramatic Austrian GP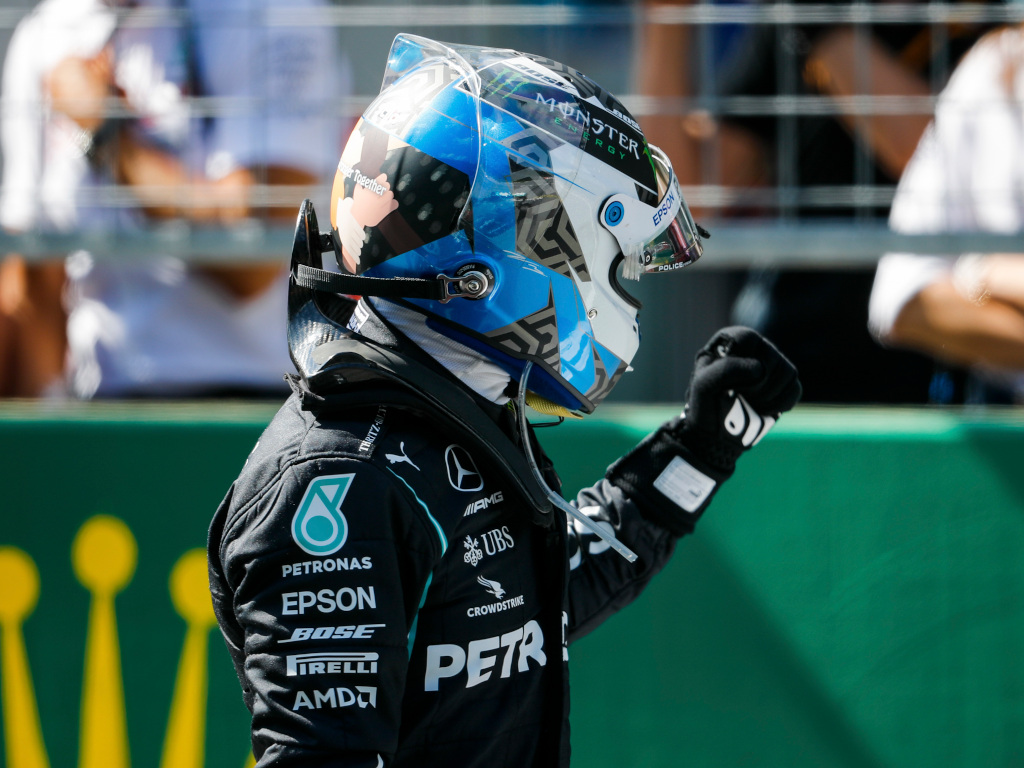 Valtteri Bottas survived the kerbs, three SC restarts and a crazy Austrian GP to beat Charles Leclerc with Lando Norris P3.
Blue skies, hot asphalt and controversy awaited Formula 1 at the start of the Austrian Grand Prix as Red Bull, clearly not done with its right to protest, protested the stewards' decision not to penalise Lewis Hamilton for ignoring yellow flags in Q3 on Saturday. Red Bull claimed to have new footage of the flag situation, which was caused when pole sitter Valtteri Bottas ran off the track on his final hot lap.
Unlike Friday's DAS protest, Red Bull won this one and, 41 minutes before the formation lap was set to leave the grid, Mercedes were informed that Hamilton had a three-place grid penalty, dropping him from second to fifth. The top six: Bottas, Max Verstappen, Lando Norris, Alex Albon, Hamilton and Sergio Perez. Ferrari drivers Charles Leclerc and Sebastian Vettel were P7 and 11.
The lights went out some 100 days after they were initially expected to with the season beginning in Austria with a flying fast start from Bottas. The Finn was helped by Norris, who challenged Verstappen in every corner on the opening lap before the Dutchman finally dropped the McLaren driver and went off in search of Bottas. Albon did the same with Hamilton, refusing to give while Perez kept Leclerc at bay. Vettel made up just one place, passing Daniel Ricciardo.
We've all missed this 😍😍

There's nothing like some wheel to wheel action! #AustrianGP pic.twitter.com/WB3bx8XrrY

— iGP Manager (@iGPManager) July 5, 2020
A race is not decided on the opening lap but with Bottas three seconds up on Verstappen on the third lap it looked as if it was his to win, and his to lose. Mercedes simply told him: "Look after that car."
Norris began to fall down the order, losing positions to Albon and then Hamilton before Perez in the pink Mercedes hunted down the British racer. He, however, wasn't able to close right now as quickly as many predicted with the RP20, based on last year's Mercedes, expected to be the faster of the two despite losing out in qualifying. One car that was notably better than the others was Hamilton in his 2020 black-liveried W11. He passed Albon for third with DRS on the run down to Turn 4.
A lap later disaster struck for second-placed Verstappen as his RB16 suffered an electrical problem and slowed down. Complaining that he kept getting "anti stall", Verstappen dropped from second to 20th by the time he returned to the pits. Red Bull put on fresh hard tyres and changed Verstappen's steering wheel but it was game over for the defending Austrian GP champ.
Press CTRL-ALT-DEL now! pic.twitter.com/aY2tf2eVn6

— Grand Prix Diary (@GrandPrixDiary) July 5, 2020
Verstappen's DNF handed Mercedes a comfortable 1-2 with Bottas leading by seven seconds ahead of Hamilton. Albon was third in front of Norris, Perez, Leclerc, Carlos Sainz, Lance Stroll, Vettel and Ricciardo. Stroll was another driver in trouble with Racing Point telling him he had an "engine problem" but was managing it. Stroll: "But it's so low on power."
Stroll was overtaken by Vettel. The Racing Point driver didn't need to worry about an attack from Ricciardo as the Aussie became the second retirement of the grand prix. He pulled into the pits with his RS20 overheating. Three laps later Stroll retired, driving straight into the garage to park his car.
As Hamilton chased down Bottas, lowering the gap to under four seconds by lap 25, he was warned by Mercedes to "look after his car" as the team voiced its concerns over Stroll's sensor failure.
Romain Grosjean was the first driver to make a mistake, spinning at Turn 4, while a few laps later his team-mate Kevin Magnussen got it horribly wrong while tussling with Esteban Ocon. In what looked like a brake issue, Magnussen went straight on at Turn 5 and spun in the run-off area. He parked his Haas and the Safety Car was deployed.
Bottas pitted ahead of Hamilton, Mercedes stacking the drivers in the pits. Albon also pitted while Norris and Perez tussled down the pit lane as the latter was released into Norris' path. Perez, put onto the mediums while the rest of the top ten was on the hards, yielded. Leclerc, Sainz, Vettel, Pierre Gasly and Daniil Kvyat made up the top ten as the entire field pitted.
The Safety Car pitted at the end of lap 30 with Bottas trying to pull away but Hamilton sticking to his rear wing. Albon held onto third with Perez fighting Norris and Sainz taking on Leclerc. Vettel tried to take advantage of their battle, stuck his nose where it wasn't wanted and spun at Turn 3. He dropped from P8 to P15.
— Out of Context F1 (@f1nocontext) July 5, 2020
Two laps later Perez took fourth off Norris, Vettel was cleared by the stewards for colliding with Sainz (he was the only one to pay a price after all) and Hamilton asked Mercedes if he could turn up his engine to fight Bottas for the win. The Mercedes team-mates were five seconds up the road from Albon.
With track limits in play, Grosjean was shown the black-and-white flag for exceeding track limits. A final warning before he could incur a time penalty. McLaren informed Norris: "This is Plan A, Plan A, maximum pace!" and Bottas was told "urgent chassis default 2-1" as Hamilton closed to within 0.6s of his team-mate.
Bottas was then told to "stay off the kerbs" after "sensor issues seen on both cars" with Hamilton told the same thing. He replied: "He [Bottas] is using a lot more kerb than me." Hamilton was then told it was a gearbox sensor issue, not suspension.
Bottas was then told that the "gearbox is critical, please stay off the kerbs, both cars". The Finn was then told that he was in "worst shape than the other car". Both drivers backed off, marginally. The team-mates were running 10 seconds ahead of Albon with only car troubles threatening Mercedes' chances of recording a 1-2.
Grosjean's day went from bad to worse as the Haas driver went off at Turn 4 and followed the escape road until such a time as he had to cut the grass to return to the track. His Haas mechanics were already out in the pits waiting for the Frenchman to park it. But as Grosjean made his way back to the pits, Williams' George Russell, who was P12, "lost power" and parked on the grass at the exit of Turn 4. Grosjean pulled into the pits to park his car and the Safety Car came out for Russell's.
Albon, soft tyres, Norris, Leclerc, Sainz, Kvyat, Raikkonen, Vettel all pitted. The Mercedes team-mates and Perez stayed out to run first to third. The Safety Car pitted at the end of lap 54 with Bottas putting metres between himself and Hamilton while Albon and Norris were all over the back of Perez. Albon easily passed Perez but the Safety Car was out again for Kimi Raikkonen having a big crash down the main straight. His Alfa Romeo's front right wheel broke off.
Something's not quite right pic.twitter.com/iB5KSQdxBk

— Ky (@FiftyBucksss) July 5, 2020
Albon gave third back to Perez but, after Red Bull spoke with race control, the Thai-British racer was permitted to retake third behind the Safety Car as he was ahead just before the yellow flag. For the third time the race resumed with the SC in at the end of lap 60.
Bottas bluffed Hamilton and went early with Albon all over the back of the reigning World Champion. Perez kept Norris at bay, running ahead of Leclerc, Gasly, Ocon, Sainz and Kvyat. Vettel, Antonio Giovinazzi and rookie driver Nicholas Latifi were the only three others in the race.
Albon dogged Hamilton for several corners, forced to go the long way around until finally he made his move. Albon's rear tyre touched Hamilton's front and the Red Bull driver spun. He dropped from third to 13th and last and immediately blamed Hamilton. Hamilton was handed a five-second penalty for causing a collision.
While that was going on Sainz overtook Ocon and then Gasly to run P6. Leclerc then made his move on the other McLaren, Norris, to slide into fourth place before setting about chasing down Perez for the podium. A late pass and Leclerc grabbed third from Perez, effectively second given Hamilton's penalty. Behind them Norris and Sainz fought hard for fifth place before the Brit dropped his team-mate and took fourth off Perez.
After 71 laps of drama Bottas took the victory at the Red Bull Ring, crossing the line ahead of Hamilton. But, given that Leclerc and Norris were both within five seconds off the reigning champion, Leclerc finished second and Norris third. Hamilton was P4.
Sainz was fifth ahead of Perez, who had a five second penalty for speeding in the pit lane, Gasly, Ocon, Giovinazzi and Vettel. Latifi was the only other driver to finish in P11.
Albon, who was running at the back of the field, retired on the third last lap with Daniil Kvyat retiring on the penultimate with a rear wheel issue.
Times
1 Valtteri Bottas Mercedes
2 Charles Leclerc Ferrari 2.700s
3 Lando Norris McLaren 5.491s
4 Lewis Hamilton Mercedes 5.689s
5 Carlos Sainz McLaren 8.903s
6 Sergio Perez Racing Point 15.092s
7 Pierre Gasly AlphaTauri 16.682s
8 Esteban Ocon Renault 17.456s
9 Antonio Giovinazzi Alfa Romeo Racing 21.146s
10 Sebastian Vettel Ferrari 24.545s
11 Nicholas Latifi Williams 31.650s
Did not finish
Daniil Kvyat AlphaTauri rear wheel puncture
Alex Albon Red Bull
Kimi Raikkonen Alfa Romeo wheel
George Russell Williams fuel pressure
Romain Grosjean Haas brakes
Kevin Magnussen Haas brakes
Lance Stroll Racing Point engine sensor
Daniel Ricciardo Renault cooling
Max Verstappen Red Bull electrical
Follow us on Twitter @Planet_F1 and like our Facebook page.