Bahrain 2023 v Bahrain 2022 compared: The huge leaps made by Red Bull and Aston Martin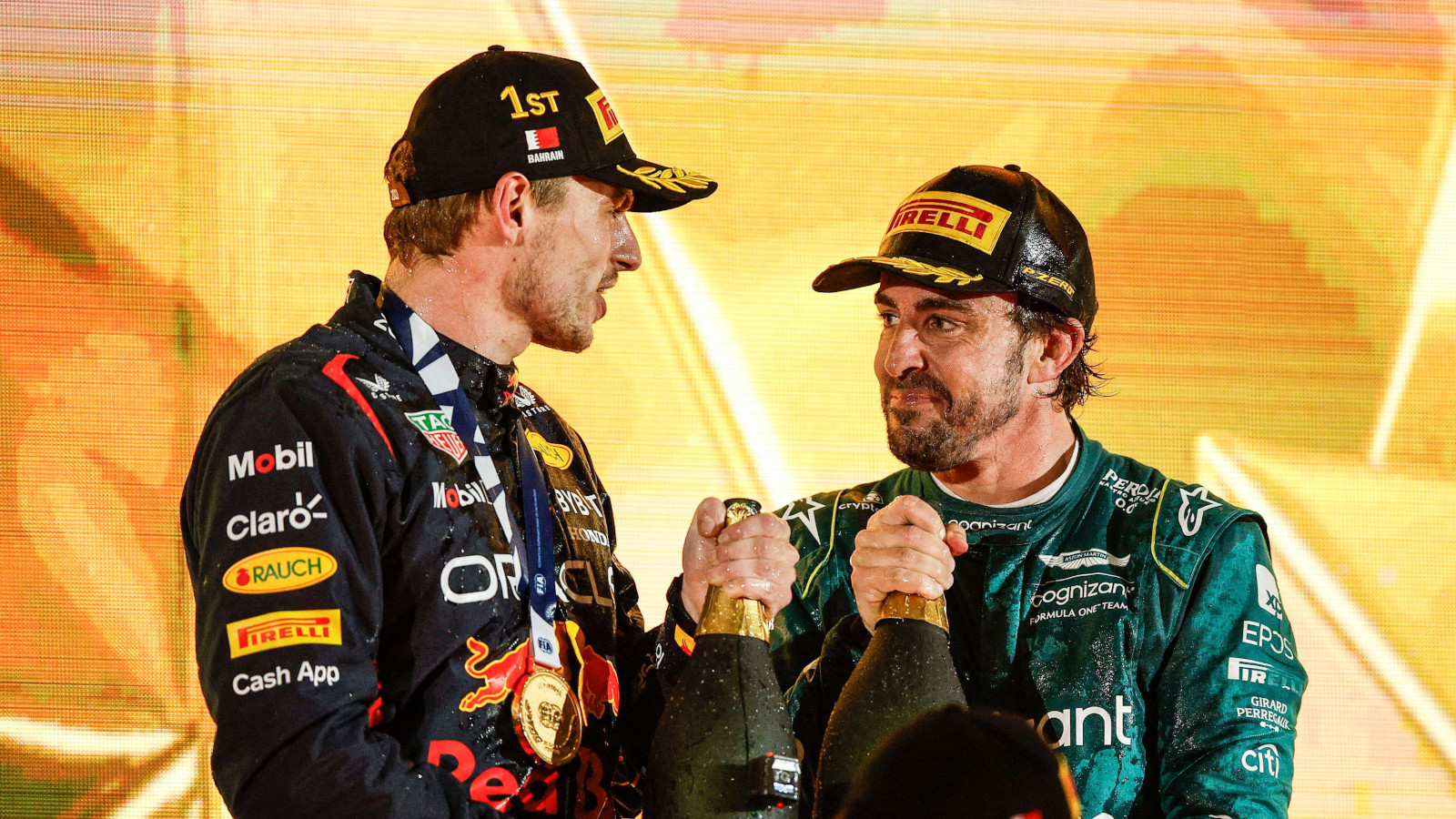 What a different a year makes.
Twelve months after retiring in a blaze of bleeps over team radio from the first race of his title defence, Max Verstappen returned to the Bahrain Grand Prix to lead a Red Bull one-two finish and make a perfect start to the 2023 Formula 1 season.
With the season opener taking place at the same Sakhir circuit where Verstappen's second Championship-winning campaign started in 2022, it provides an opportunity to establish exactly what has changed in F1 from last year to this.
Here's what the stat pack from Bahrain reveals…
2023 pole position lap was 0.850 seconds faster
F1 entered the unknown in Bahrain 2022 after a major regulation change over the previous winter, with cars trading the extreme downforce of the previous generation for ground effect aerodynamics.
With huge scope for development at the start of a new rules cycle, Charles Leclerc's 2022 pole position lap of 1:30.558 was already toppled by Sergio Perez on the final day of 2023 pre-season testing before Verstappen blew it away in Q3 on Saturday.
His time of 1:29.708 was 0.850s quicker than Leclerc's effort a year ago.
Red Bull have found almost a second in 12 months…
Red Bull may have ended up winning all but five races in 2022 and clinching the Drivers' and Constructors' titles with some ease, but they didn't exactly start the season in great shape and the RB18 was one of many cars to arrive in Bahrain overweight.
When asked last weekend to identify the areas in which the new RB19 was better than its predecessor, Verstappen delivered a chilling one-word response: "Everywhere."
It showed, with his pole position lap 0.973s faster than the time he set for P2 on the grid last season.
…and start 43 points better off
Who could have known what was to come when Red Bull's Bahrain 2022 race crumbled in almost comical fashion within sight of the chequered flag, Verstappen and Perez both retiring in the space of three laps?
That, quickly followed by another DNF in Melbourne, left Verstappen refusing to even contemplate the possibility of defending his title after three rounds.
Compared to that, Bahrain 2023 was pretty ominous with only the denial of the fastest lap point (claimed by Zhou Guanyu) preventing a perfect score for Red Bull.
Only five times (Imola, Barcelona, Baku, Spa, Suzuka) did the team achieve a one-two finish last year.
Perez starts 2023 closer than ever to Verstappen
After falling in Q2 on his Red Bull debut in 2021, last season was a marked improvement for Perez as he qualified 0.240s behind Verstappen.
That, however, was still only good enough for a distant fourth on the Bahrain 2022 grid with the Mexican detached from the battle for pole between Verstappen and the Ferraris.
Red Bull have made a concerted effort to give Perez enough rope in 2023 – giving him the most representative running in testing and tailoring the RB19 to the different needs of both drivers – and it paid off on Saturday.
That work has ensured Perez starts a season closer than ever to Verstappen – alongside him on the front row and with the pace deficit trimmed further still to 0.138s.
PlanetF1.com recommends
Bahrain GP conclusions: Believe Aston Martin hype, Wolff's biggest challenge?
Bahrain Grand Prix driver ratings: Alonso and Gasly shine, Ocon has a nightmare
Ted Kravitz apologises for 'stupid and insensitive' comments made about Valtteri Bottas
Aston Martin have gained 2.4 seconds from 2022's false start
Fernando Alonso's return to the podium with Aston Martin – the team's first top-three finish in almost two years – was the feel-good story of Bahrain 2023 and couldn't have been more different from the way the Silverstone outfit started 2022.
With Sebastian Vettel missing the race through illness, both Astons were out in Q1 last season as substitute Nico Hulkenberg outqualified regular driver Lance Stroll in an AMR22 visibly out of step with other car concepts on the grid.
After seeing his car pipped to P5 on the grid Saturday, Mercedes boss Toto Wolff provided the quote of the year by claiming Aston Martin "gained two seconds in half a year and their car is half ours."
Well actually, Toto, the data says they've gained 2.441 seconds in a whole year.
Ferrari have made fewer gains than Mercedes, Red Bull
"We started last year with [a deficit of] six tenths and we started this year with six tenths," was the other key soundbite to come from Wolff's press briefing on Saturday night, but perhaps the Mercedes boss was being a little harsh on his team.
Compared to Red Bull's 0.973s gain from Q3 at Bahrain 2022, Mercedes went 0.898s faster a year after the discovery of the bouncing monster – both figures towering over the relatively modest 0.558s step made by last year's Bahrain polesitters Ferrari.
Yes, we hear you say, but Charles Leclerc only did one run in Q3!
So did George Russell and Lewis Hamilton. The difference was that Leclerc sat out the end of the session to save a set of tyres rather than the beginning, so his was more noticeable.
McLaren's lack of progress in midfield battle exposed
Applying a similar comparison to the midfield battle also exposes the lack of progress made by McLaren from last season to this.
Aston Martin's leap of almost two-and-a-half seconds completely overshadows the impressive 1.211s gain made by Alonso's former team Alpine.
McLaren? Their qualifying pace jump from 2022 to '23 stands at just 0.627s.
That's despite the team having to run in an incapacitated state, carefully managing a chronic issue with overheating brakes, throughout last year's opening weekend.
Williams already on the scoreboard and in much better shape
Alex Albon claimed after qualifying that only Aston Martin had made more progress than Williams from last season and even though his team had most to gain in 2022, the early evidence supports that stance.
Having waited until round three for their first point of 2022 and added only seven more across the remainder of the season, Williams are off the mark immediately this time thanks to Albon's outstanding drive to P10, but the FW45's qualifying pace was particularly noticeable here.
With Albon failing to set a time in Q2 following a track limits breach, his Q1 lap made for the most relevant reading – 1.265s faster than in the corresponding session of 2022 and, with all cars on softs, good enough for ninth, within half a second of P1.
The encouraging performance of debutant Logan Sargeant – only two tenths further back and out in Q1 despite setting an identical time to Lando Norris's McLaren – confirms Williams are in much better shape in 2023.