Race: Max Verstappen untouchable but the Bahrain GP was the Fernando Alonso show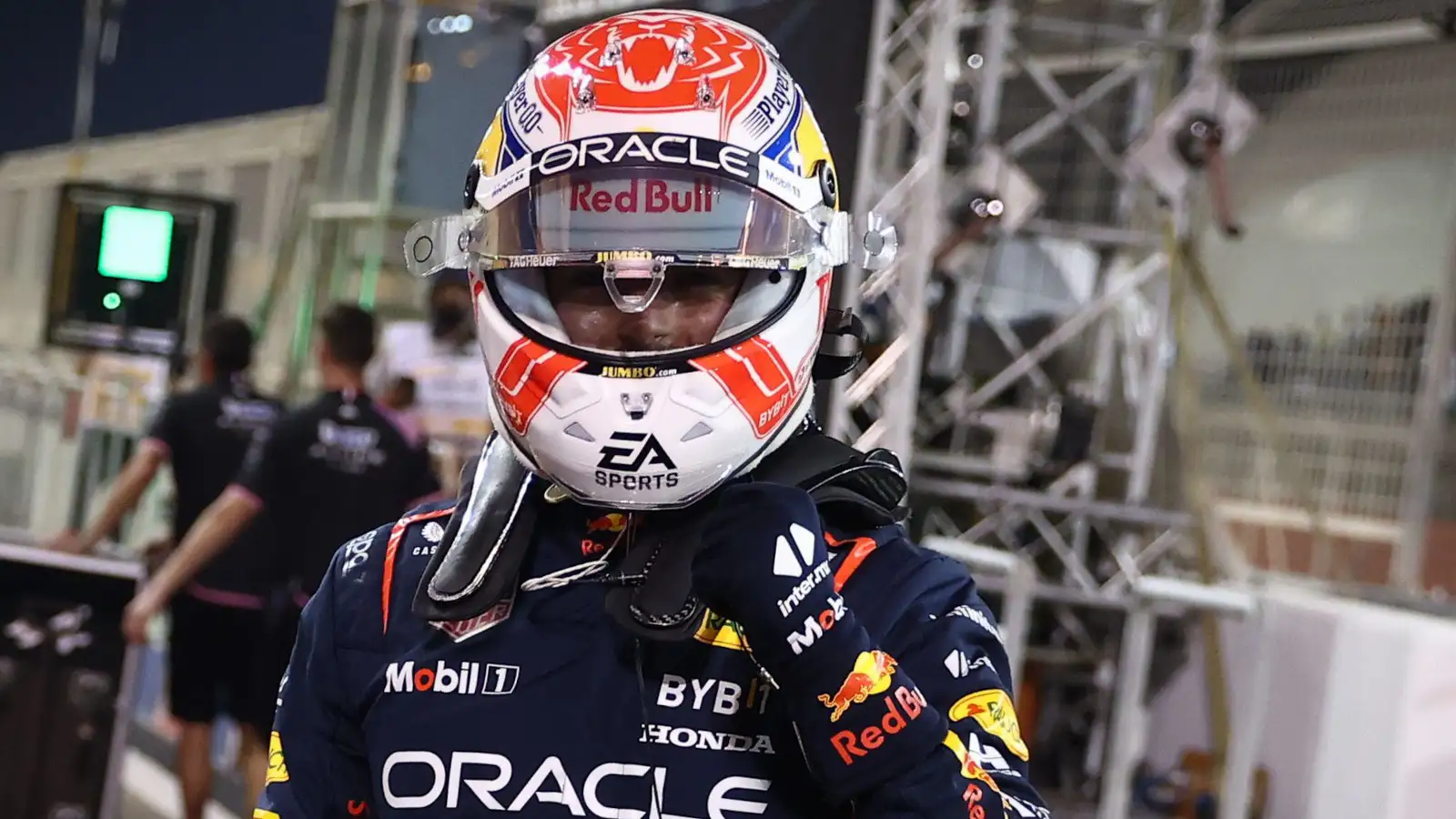 Max Verstappen and Red Bull gave their rivals a masterclass, the Dutchman untouchable as he began his title defence with a victory at the season-opening Bahrain Grand Prix.
Leading from start to finish, none of his rivals were able to match his pace with Sergio Perez making it a Red Bull 1-2 ahead of Fernando Alonso.
The Aston Martin driver was the star of Sunday night's race as he raced, overtook and beat Carlos Sainz, Lewis Hamilton and George Russell to grab his first podium for his new team.
As the flood lights lit up the Sakhir circuit, the gantry lights when out for the first time in the 2023 championship with Verstappen making a good start and Charles Leclerc taking second place after a brief battle with Perez in which the Mexican driver was pushed towards the wall.
A bit further back there was drama for Aston Martin as Lance Stroll tagged the back of his new team-mate Alonso, the Spaniard falling back to seventh place and Stroll P9. Alonso was told by Aston Martin that his car was fine, can't imagine his mood matched that. "I've been hit in Turn 4," he said.
There was also contact in the back half with Nico Hulkenberg making contact with Esteban Ocon, the Haas driver losing a piece of his front wing and falling from 10th down to 15th. His team-mate Kevin Magnussen, the only driver to start on the hard tyres, fell to the back of the field.
As the tyre management phase set in, Verstappen built up an advantage ahead of Leclerc who in turn was keeping Perez at bay with Sainz right behind them as were the Mercedes team-mates with Hamilton ahead of Russell.
Stroll made up on position by passing Valtteri Bottas, the Canadian once again within punching distance of his team-mate. The stewards declared no further action in his lap 1 incident with Alonso.
"Is Lewis managing or is he slow," Russell asked Mercedes after he got a little too close to his team-mate and locked up. "Struggling," is the answer from Mercedes. Race leader Verstappen also wasn't entirely happy, informing Red Bull "downshifts are giving me a little bit of rear locking." He told told to switch to "Strat 8".
Pierre Gasly kicked started the first round of pit stops, coming in on lap 10 for a set of hard tyres. But it was Lando Norris who had a long stop, the McLaren driver into the pits for new tyres and to have his pneumatic system topped up. And one by one the midfield came flooding in.
With Russell urging Mercedes to pit him, Alonso closed right up on the W14's rear wing and seemed set to pounce. That had Mercedes stopping Hamilton on lap 13 while Alonso made his move on Russell, the two side-by-side with the Aston Martin winning that battle to run P5.
LAP 12/57

Russell ⚔️ Alonso – get the popcorn out! #BahrainGP #F1 pic.twitter.com/hCI2J53KsV

— Formula 1 (@F1) March 5, 2023
Ferrari brought Leclerc and Sainz in for hard tyres, Russell then also pitting. The Red Bulls stayed out running 1-2 with Verstappen 11s ahead of Perez. Rookie driver Oscar Piastri was the next in, reporting he had "lost the gearbox". He was told it was the steering wheel and to stop for a new one. He couldn't get the car going again, his race over.
Verstappen pitted a lap after Ferrari for soft tyres, definitely a two-stopper for the Red Bull driver, with Alonso then in. Only Perez and Magnussen had not stopped by lap 16.
Meanwhile race control announced a five-second penalty for Ocon for being in "an inaccurate grid position". He came into serve that, grabbed a new front wing, and was noted by the stewards for not serving it properly. He was later hit with another 10 second time penalty… and then found himself under investigation for speeding in the pit lane. That one earned him another five seconds.
17 laps in and Perez swapped softs for softs, Verstappen went back up into P1, and Norris returned to the pits for a pneumatic refill. Verstappen led Leclerc by 10s, Perez three behind, and ahead of Sainz, Hamilton, Alonso and Russell. Bottas was P8 ahead of Stroll and Alex Albon, make that P9 with Stroll once again overtaking the Alfa Romeo driver.
With faster soft tyres on his RB19, Perez hunted down Leclerc who was all but told not to panic as the degradation on his hard tyres was "less than expected". At the same time Alonso was chasing Hamilton, the Spaniard eating into the Mercedes driver's advantage.
Perez caught Leclerc on lap 26 and with DRS overtook him into Turn 1 to run 1-2 with Verstappen who was 14s up on the road. With Alonso 1.7s behind Hamilton the Mercedes driver received the message to up his pace, his tyre degradation was good and it was time to push.
Bottas kicked off the second round of pit stops for the top ten, coming in on lap 30, with his former team-mate Hamilton following him in, Stroll in next, followed by Sainz and Russell. Russell came out of the pits metres ahead of Stroll but with his already up to temperature tyres the Aston Martin got the jump through Turn 4 to take the position off the Mercedes.
Leclerc came in on lap 34 for a new set of hard tyres with Perez in a lap later with Alonso also coming in. Perez stayed ahead of Leclerc and Sainz. Hamilton was fifth, running just ahead of Alonso with Stroll and Russell four seconds behind them. Bottas and Albon were again holding down the final points-paying positions. Verstappen put on new hards on lap 37, in from first, out in first.
Alonso caught Hamilton and challenged the Mercedes driver. He briefly got ahead but Alonso oversteered and slid the back end of his AMR23 with Hamilton back again. Alonso tried again, catching and passing Hamilton down into Turn 10 to run P5. This time Hamilton wasn't able to fight back. "Yes, let's go!"
LAP 39/57

This is EPIC! 🍿

What a battle, and it's advantage Alonso! #BahrainGP #F1 pic.twitter.com/Z42Z331vVa

— Formula 1 (@F1) March 5, 2023
Make that fourth for Alonso as Leclerc with a cry of "no" retired from the race as his Ferrari's power unit gave up the ghost. Parking well out of the way it only required a Virtual Safety Car for the marshals to clear the car. Pierre Gasly, Albon and Yuki Tsunoda all pitted under the VSC, the trio passing Nyck de Vries in the fight for the final points.
The fight for the podium also wasn't sorted. While the Red Bulls ran 1-2 with Verstappen 10s up on Perez, Sainz came under attack from Alonso. With the Ferrari driver worried about his tyres not going the distance, Alonso tried the switchback and almost whacked the Ferrari. He tried again, up to P3 on his Aston Martin debut. Alonso pulled away from his compatriot while Hamilton closed up on the back of the Ferrari. "Why am I bouncing so much?" Sainz asked Ferrari.
As the leading trio raced to the chequered flag, Alonso told Aston Martin "this is a lovely car" and it was also a podium finishing car as Verstappen took the victory, leading Perez in a Red Bull 1-2, with Alonso third. Sainz held onto fourth ahead of Hamilton.
Stroll, despite his wrist injuries and broken toe, was sixth ahead of Russell and Bottas with Gasly, who also earned the fastest lap point, P9 ahead of Albon in the Williams.
Norris with five pits stops for his pneumatic refills was the final classified runner in 17th place. As for F1's rookies, Logan Sargeant was 12th, De Vries was 15th and Piastri retired.
PlanetF1 recommends
Two race weekends in 2023 set aside for additional revised qualifying format
Max Verstappen has 'no desire to deny' that Lewis Hamilton is 'one of the greatest drivers ever'
Bernie Ecclestone: Felipe Massa was cheated out of 2008 title, Lewis Hamilton got lucky
Result
1 Max VERSTAPPEN Red Bull Racing
2 Sergio PEREZ Red Bull Racing +11.987
3 Fernando ALONSO Aston Martin+38.637
4 Carlos SAINZ Ferrari +48.052
5 Lewis HAMILTON Mercedes +50.977
6 Lance STROLL Aston Martin +54.502
7 George RUSSELL Mercedes +55.873
8 Valtteri BOTTAS Alfa Romeo +72.647
9 Pierre GASLY Alpine +73.753
10 Alexander ALBON Williams +89.774
11 Yuki TSUNODA AlphaTauri +90.870
12 Logan SARGEANT Williams +1 lap
13 Kevin MAGNUSSEN Haas F1 Team +1 lap
14 Nyck DE VRIES AlphaTauri +1 lap
15 Nico HULKENBERG Haas F1 Team +1 lap
16 Guanyu ZHOU Alfa Romeo +1 lap
17 Lando NORRIS McLaren +2 laps
Did not finish
Esteban Ocon Alpine lap 43 – penalties
Charles Leclerc Ferrari lap 41 – engine
Oscar Piastri McLaren lap 16 – electrical