Bahrain Grand Prix: What the drivers said ahead of the 2023 season opener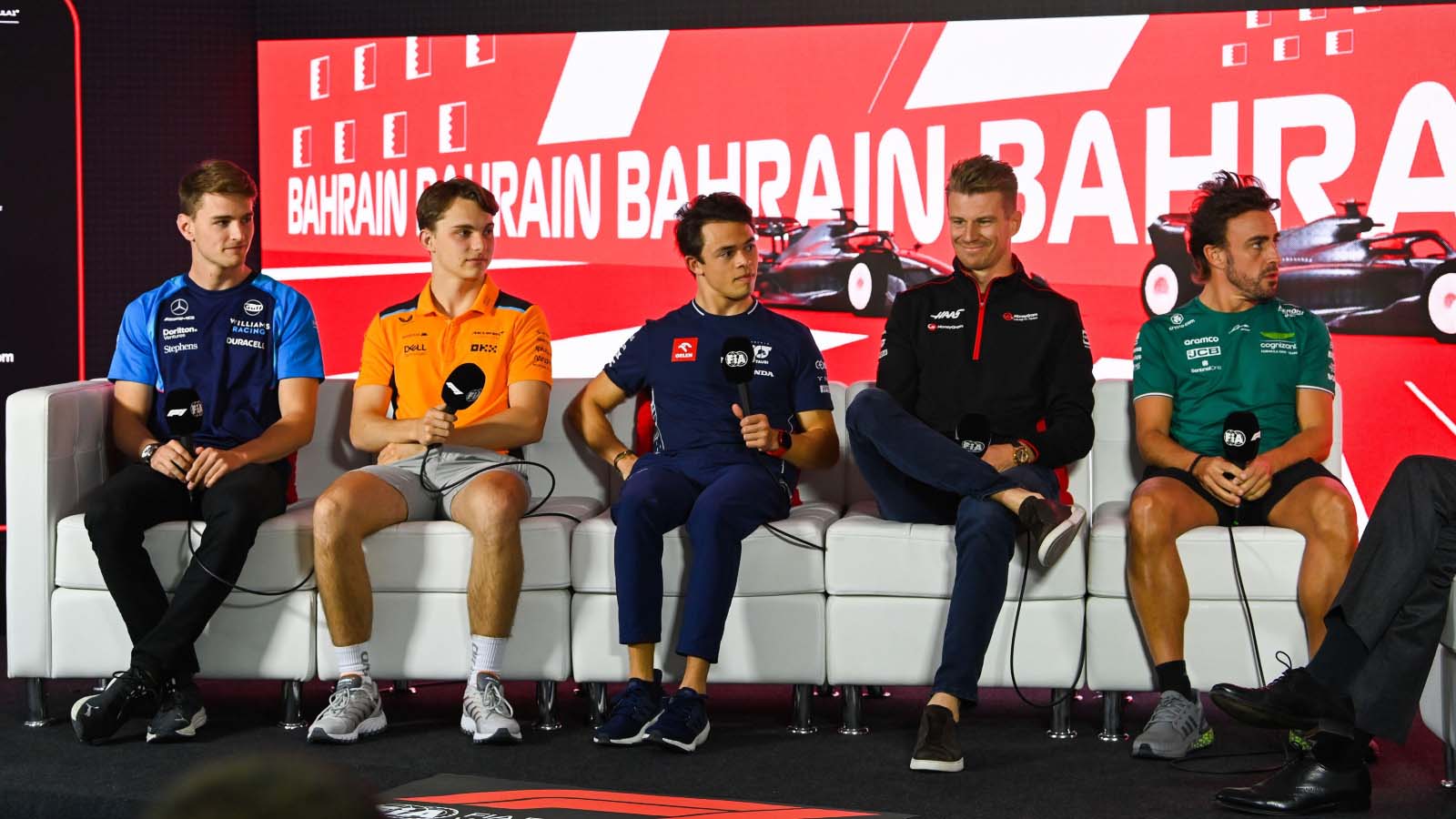 The Bahrain Grand Prix weekend is upon us, and the drivers spent their Thursday speaking to the media as they got themselves back in the zone in time for the new season to start.
Friday practice will set the scene for the race weekend, with keen eyes set to be on Sakhir as the pace-shielding from testing finally falls away, and the drivers fully unleash their full potential in their new cars.
PlanetF1.com's Thomas Maher is on the ground in Bahrain this weekend, and he was in the thick of the action as the drivers gave their pre-race thoughts ahead of the season-opening Bahrain Grand Prix – here is just a selection of what they had to say.
George Russell: Red Bull 'in a league of their own' this weekend
George Russell believes Red Bull were in enough of a strong place that it is them against the rest of the field this weekend. Though their gap at the front may not be enormous, it could be enough to secure victory at the Bahrain Grand Prix.
The reigning World Champions looked in ominous form throughout pre-season testing, with the RB19 running without a hitch and looking like it had pace to boot.
Speaking to media including PlanetF1.com, Russell said: "I think it's definitely fair to say Red Bull are in a bit of a league of their own this weekend here in Bahrain, but I think it will probably be a nice fight for second place – probably between Ferrari and Aston Martin.
"The mood in [Mercedes'] camp is good. It was a good test, we learned a lot. I think we learned that Red Bull are looking really, really strong, but equally we feel like we've got a lot of room that we can improve.
"We've probably brought a little bit more pace this weekend after the marathons of testing, but it's going to be for sure a challenge and difficult to try and fight for that victory at first. We probably knew that ahead of the season starting off properly.
"I think the fact is we'll find out this weekend where we've fallen out. I think testing is obviously a good indication for all of us, but the fact is until we get to qualify and get to race we'll have no idea."
Rivals agree Aston Martin right 'in the mix' at the front for Bahrain Grand Prix
Aston Martin raised plenty of eyebrows during pre-season testing for how much they seem to have improved with the construction of the AMR23, with their hiring of some of the grid's finest minds appearing to start to pay dividends in pre-season testing.
Of course, how much of a step they will have made is unknown until their ultimate one-lap pace in qualifying comes out, but front-running teams have all got their eyes on the Silverstone-based team for the weekend ahead.
"Yes, we do," Ferrari driver Carlos Sainz told media including PlanetF1.com when asked if they see Aston Martin as 'genuine contenders' in Bahrain.
"Mainly because it's already been since December that everyone hears the rumours that Aston Martin is going to be quick this year.
"We all know their numbers were very good in the wind tunnel in the simulator. They were I think even struggling to hide the excitement of what they were seeing.
"So it was arrive [in] Bahrain and [it] kind of confirmed that they are in the mix again with us, and I think it's great news for Formula 1, great news for obviously Fernando, and I'm excited to have one more team in the battle this year."
Charles Leclerc added: "Yeah, I think they will be in the mix, they will definitely fight up the front this weekend."
Max Verstappen agreed, saying: "They looked very positive. I mean, in general, they have a good team, they have a good designer of course, they're hiring a lot of good people.
"So it will be interesting to see where they will be, and also not only now, also in the coming races and years."
Lewis Hamilton added to Sainz's belief that it's good to see another team make forward strides, adding: "I'm really happy to see that Aston have taken such a step forward and they are, as far as we know, fully in the fight.
"It's difficult, through all the data we have, you don't know what fuel those people were on, and all these different things. So it's a bit all over the place but it looks like they're very, very strong, and they could be fighting right at the front. We'll find out the next day or so.
"I can't say whether they're ahead of us or we're behind them, we'll find out, but I've always hoped that there's going to be more than just two teams, more than three teams in the mix. So I think you're seeing that finally, which is a positive."
Lance Stroll reveals broken wrist from cycling injuries
Staying on the Aston Martin theme, the team confirmed Lance Stroll will be in the car for the Bahrain Grand Prix as he recovered from what he revealed was a broken right wrist, having had surgery and physiotherapy to try and be ready in time to race.
He will be racing through "discomfort", but he will come into the weekend having spent 20 hours on the Aston Martin simulator in recent days as he looks to get himself up to full speed again.
Both Felipe Drugovich and Stoffel Vandoorne remain on standby in case the Canadian is unfit to drive, but Stroll is pleased with how he has been able to recover.
"The first few days were rough, it looked like it was going to be tough but then in the last four, five days it's really been improving every day," Stroll admitted.
"I was feeling good in the sim yesterday, full lock, whole range of motion, so it feels good.
"They [his doctors] are confident that I can go racing and that the bones are looking good. I fell off my bike and broke my wrist and I had surgery on my right wrist.
"It was just a small procedure and it was just physiotherapy and rehab to get me here."
PlanetF1.com recommends
Mechanical grip gains set to be a key technical battleground in F1 2023
Lance Stroll confirms he broke wrist in cycling accident, will drive through 'discomfort' in Bahrain
Watch the Bahrain Grand Prix for free with F1 TV Pro!
Lewis Hamilton: Damon Hill and Jenson Button 'creating rumours without facts' on future
Seven-time World Champion Hamilton was not best pleased when presented with recent comments from Damon Hill and Jenson Button about the delay in signing a new Mercedes contract, with their belief being that he wants to see how well the W14 performs before committing to a new deal with the Silver Arrows.
"Not at all," Hamilton explained. "I mean, it's ultimately people creating rumours without facts. It's never helpful – you would have thought that they would both know me by now.
"I've been with Mercedes since I was 13. Having a difficult year, we had last year, I'm still here. Whether or not we have a difficult year this year, I'll still be here.
"I'm a fighter, and we fight as a team. I love the challenge of finding solutions, and in trying to still believe I'm able to put the car in places that perhaps others are not able to – and I love that challenge.
"Of course, I wish that we start the season with a great car, but it's the journey I think that really counts.
"So there is no hold up with our contracts. I've always been very, very relaxed. I don't feel like I have to get it done right this second. I'm in a very fortunate position. It will get done when we're ready."
Additional reporting by Thomas Maher