Bahrain marshals promoted for Grosjean rescue
Two marshals who were at the scene of Romain Grosjean's horrifying crash in the Bahrain Grand Prix have been recognised for their bravery with a promotion.
Grosjean speared into the safety barrier at 137mph when his Haas clipped Daniil Kvyat's AlphaTauri and after splitting in two, the front end of the car that contained the driver burst into flames.
Miraculously, the Frenchman was able to clamber out and escaped with only burns to his hands and a sprained foot.
Marshals were on the scene, one with a fire extinguisher, as F1 chief medical officer Dr Ian Roberts and medical car driver Alan van der Merwe quickly arrived to assist.
Bahrain's Crown Prince, Salman bin Hamad Al Khalifa, has now decreed that two civil defence personnel who aided the rescue effort will be promoted due to their "courage and swift response".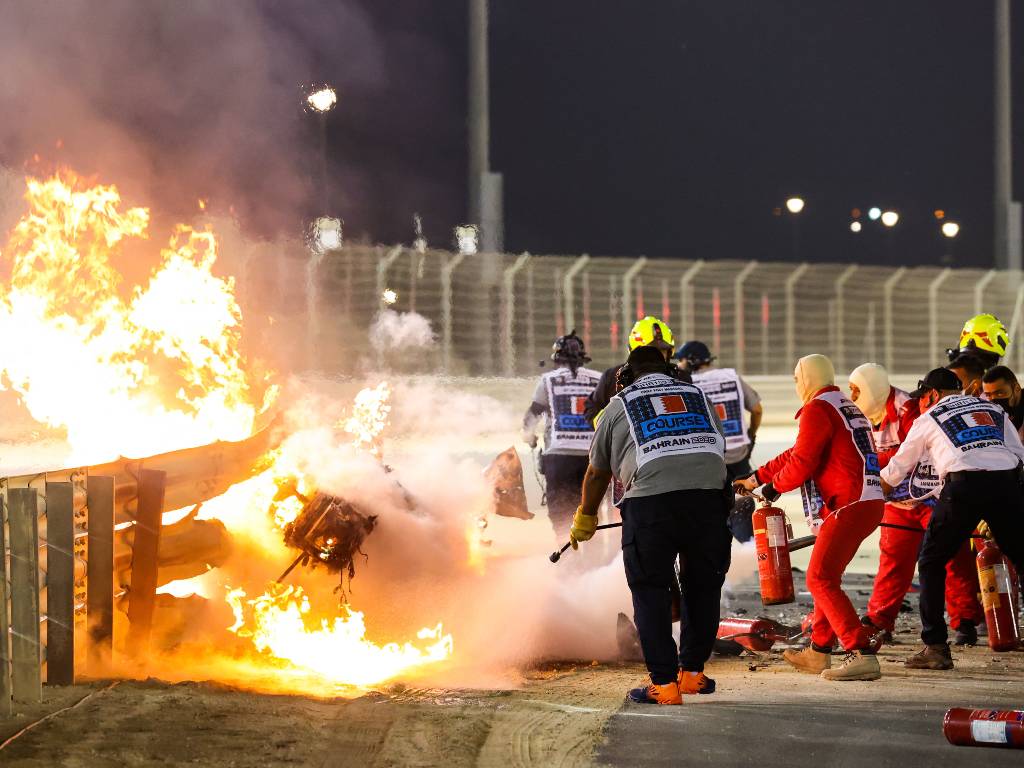 A statement from the Ministry of Interior, quoted by Motorsport Week, read: "As part of the directives of His Royal Highness Prince Salman bin Hamad Al Khalifa, the Crown Prince and Prime Minister, to reward two civil defence personnel for their professional performance during the last round of the Bahrain Grand Prix (Formula 1), His Excellency Interior Minister Shaikh Rashid bin Abdullah Al Khalifa ordered exceptional promotion for the two of them.
"They have proven the preparedness and capability of police personnel in dealing with sudden accidents. HE Interior Minister received the two personnel in the presence of Chief of Public Security and Director-General of Civil Defence.
"He conveyed to them the thanks and appreciation of HRH Crown Prince. He hailed their professionalism in rescuing one of the participants in the race who met with an accident.
"He also hailed the competency of civil defence personnel for their courage and swift response, expressing best wishes for all in serving the nation."
There will be another opportunity for the Bahraini marshals to display their professionalism when the Sakhir Grand Prix takes place at the same venue this weekend, albeit on a shorter configuration of the circuit with fewer braking zones.
However, not all marshals were commended for their actions. Later in the race, one was spotted running across the track with a fire extinguisher in front of Lando Norris' McLaren after Sergio Perez's Racing Point had set on fire.
Norris' team boss Andreas Seidl urged action from FIA race director Andreas Seidl and said: "It's clearly something that absolutely should not happen."
Follow us on Twitter @Planet_F1 and like our Facebook page