Norris fastest on Day 1, Hamilton makes track return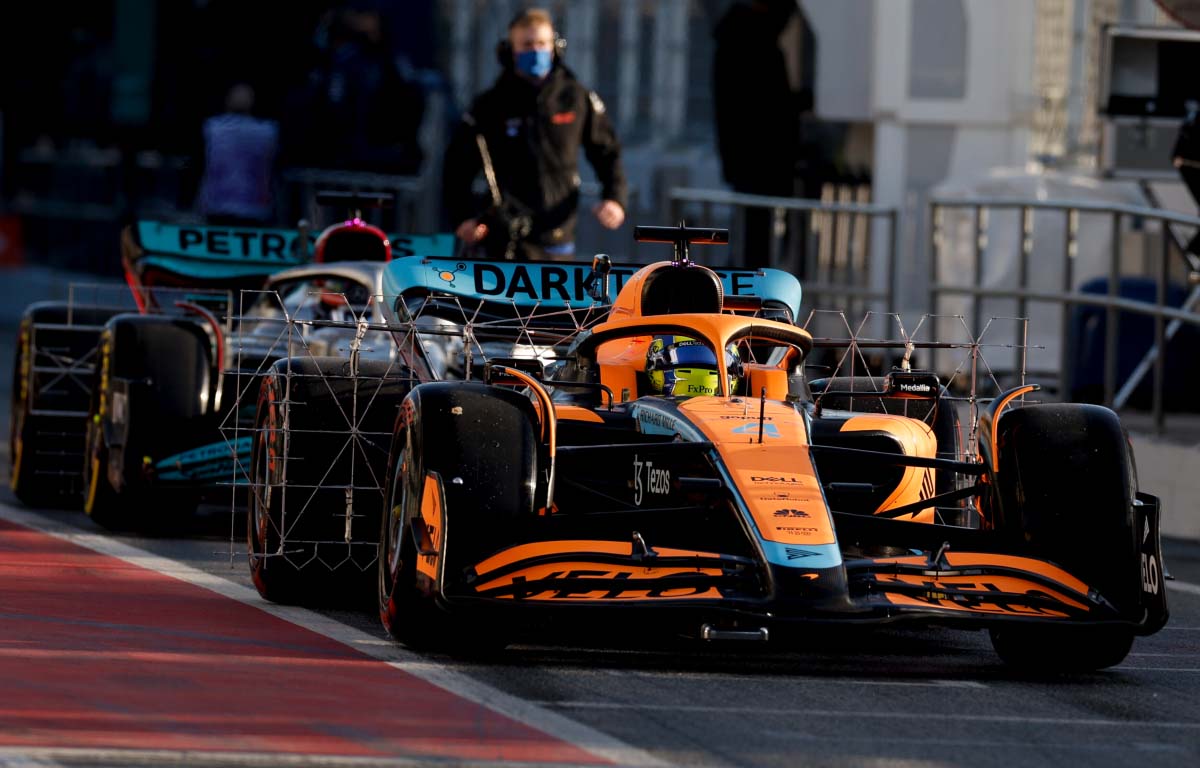 Lando Norris topped the first day of pre-season running in Barcelona, with Lewis Hamilton out on track for the first time in 2022 during the afternoon session.
Norris was more than half a second clear at the top, running on softer tyres than those around him, putting the Ferrari drivers into second and third in the standings respectively followed by the Mercedes pair of George Russell and Hamilton.
Charles Leclerc had been top of the pile in the morning, but a spot of lunch and several driver changes left the slate clean again for the afternoon's running to take place.
Following a troublesome morning in which Robert Kubica and Alfa Romeo had only managed nine laps, Valtteri Bottas was first out on track as he got his time with the team under way officially, with others soon following.
There was a slight hint of trouble for Norris in the afternoon though as his MCL36 had to stop at the end of the pit lane through a reported power unit problem, his crew subsequently wheeling him back into the garage after their false start, but it did not hinder their running too much.
Thinking of planning a trip to an #F1 race weekend this year? 🤔

In association with @sportsbreakscom , we've picked out five GPs you really should experience! ✈️

Three and four night packages from the UK available now: https://t.co/Qx2BZRKM93 pic.twitter.com/QMv9wRpTEt

— PlanetF1 (@Planet_F1) February 23, 2022
Elsewhere, others began to feel their way around as Lance Stroll lapped in the 1:26 region in his first taste of the new Aston Martin in the afternoon, while Hamilton was quickly up to speed by lapping in 1:21.197 in the first hour, around four tenths shy of Russell's quickest time in the Mercedes.
The Silver Arrows, Ferrari and Red Bull were all able to keep pounding around the circuit gathering vital data, with all three teams passing the 100-lap count for the day in relatively quick succession – although nobody had been able to pip Leclerc's quickest lap from the morning at that point.
But struggling to get on track were Haas, with Mick Schumacher clocking only eight laps before the team confirmed he had suffered floor damage, compounding a difficult day for the team after Nikita Mazepin had managed only 20 laps in the morning.
Schumacher's Haas mechanics were able to finish their repairs and get their driver out on track with around 30 minutes remaining, but they were still left with a significant shortage of mileage which they will hope to make up in the rest of the week.
The same unfortunately applies to Alfa Romeo as despite Bottas being first out on track in the afternoon, he could manage only 23 laps in the end – which led to the lowest combined lap count of any team on the day.
There was plenty of reliability throughout the grid on the first day of pre-season overall though, with eight of the 10 teams getting their lap count into three figures. Impressive stuff considering the completely new specifications on the cars.
One man who went slightly under the radar on Wednesday was the new World Champion. Max Verstappen was ninth in the standings, but put 147 laps on the board – getting over two grand prix distances under his belt as he got back to work on an extremely productive day for Red Bull.
At the top, Sainz popped in a lap of 1:20.416 with an hour remaining on the mid-range C3 tyres, putting him behind only his team-mate as Ferrari backed up their pace from the morning by going 1-2 in the standings.
But that did not last until the end of the session, with Norris putting on a set of softer C4 tyres to be the first driver into the 1:19s for the day, putting himself and McLaren at the top of the pile, later shaving another four tenths from his previous best to clock a 1:19.568 – around 2.8 seconds shy of the 2021 pole position time around Barcelona.
Any indicators of performance should be taken lightly on this first of six days of pre-season running, but there are signs most of the grid has managed to hit the ground running in 2022 – with two more days to come in Spain.
Day 1 Leaderboard
Lando Norris (McLaren), 1:19.568, C4 [tyres] – 103 laps
Charles Leclerc (Ferrari), 1:20.165, C3 – 80 laps
Carlos Sainz (Ferrari), 1:20.416, C3 – 73 laps
George Russell (Mercedes), 1:20.784, C3 – 77 laps
Lewis Hamilton (Mercedes), 1:20.929, C3 – 50 laps
Sebastian Vettel (Aston Martin), 1:21.276, C3 – 52 laps
Yuki Tsunoda (AlphaTauri), 1:21.638, C3 – 121 laps
Fernando Alonso (Alpine), 1:21.746, C2 – 127 laps
Max Verstappen (Red Bull), 1:22.246, C2 – 147 laps
Valtteri Bottas (Alfa Romeo), 1:22.572, C3 – 23 laps
Alexander Albon (Williams), 1:22.760, C3 – 66 laps
Mick Schumacher (Haas), 1:22.962, C3 – 23 laps
Lance Stroll (Aston Martin), 1:23.327, C2 – 67 laps
Nicholas Latifi (Williams), 1:23.379, C3 – 66 laps
Nikita Mazepin (Haas), 1:24.505, C2 – 20 laps
Robert Kubica (Alfa Romeo), 1:25.909, C3 – 9 laps
Leclerc quickest in day one morning session
Charles Leclerc has set the quickest time of the day one morning session in Barcelona.