Leclerc quickest on Day 2, Mazepin brings out red flags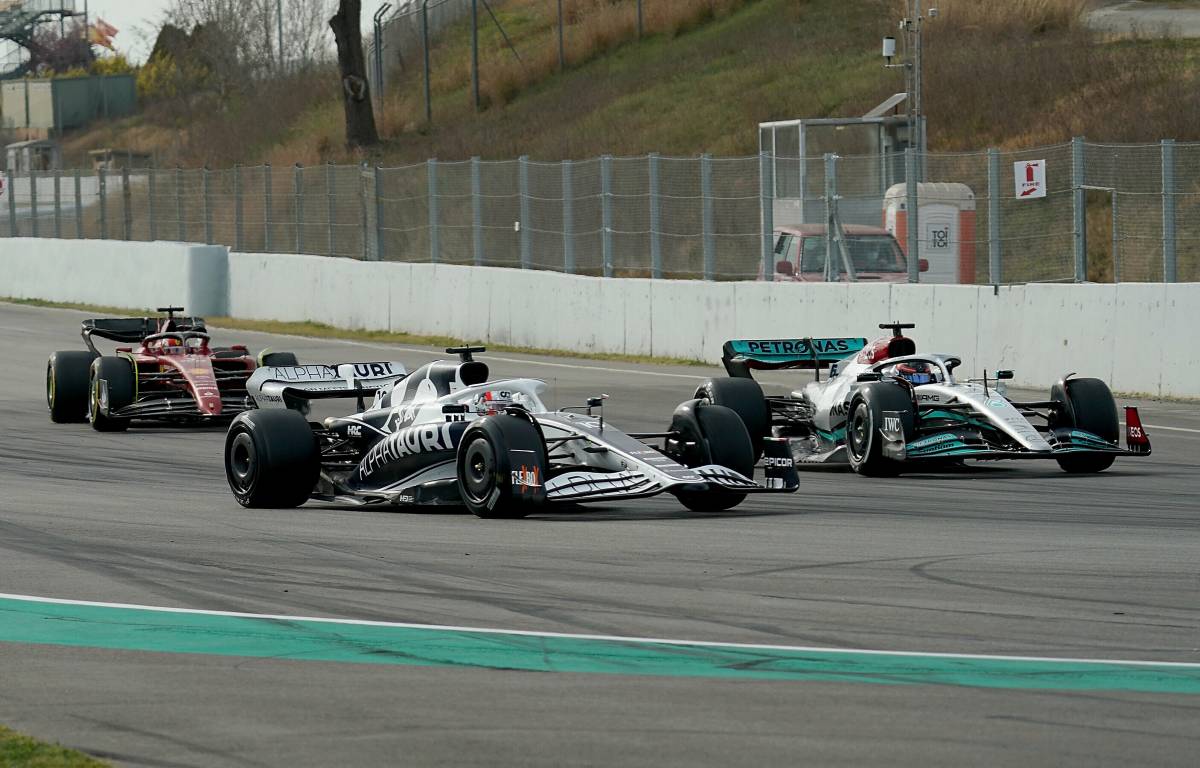 Charles Leclerc continued a promising pre-season test for Ferrari by setting the fastest time on Day 2 in Barcelona.
Ferrari and McLaren, who fought it out for P3 in last year's Constructors' Championship with the Scuderia coming out on top, will both be happy with how their preparations for the 2022 campaign are taking shape as they aim to carry the fight to Mercedes and Red Bull.
Leclerc's fastest Day 1 time had been beaten only by McLaren's Lando Norris, but he went one better on Thursday as the F1-75 continued to not only look the part, it was clearly reliable too having completed 150 laps on the day divided between the Monegasque and his team-mate Carlos Sainz.
One of the main visual aspects, meanwhile, was the emergence of 'porpoising' by the new cars due to their ground-effect aerodynamics, appearing to bounce their way along the straight at the Circuit de Catalunya.
Bumpy road to the top for Charles Leclerc! 🤕#F1 pic.twitter.com/Z6a5e6d3bo

— Formula 1 (@F1) February 24, 2022
In the morning, Daniel Ricciardo had kept McLaren in the P1 spot following the encouraging running put in by his colleague Norris on day one.
The Australian had the MCL36 to himself on Thursday, but his pre-lunch fastest lap was eclipsed after the break by Leclerc, who clocked a 1:19.689.
It took 13 minutes of the four-hour afternoon session for a car to appear on track and the first one that did was the Aston Martin with Sebastian Vettel at the wheel.
Into the light! #SV5 heads out for this afternoon's session. 💚 pic.twitter.com/R64W49JtTq

— Aston Martin Aramco Cognizant F1 Team (@AstonMartinF1) February 24, 2022
The four-time former World Champion had already made headlines earlier in the day without even climbing into the AMR22, stating he would boycott the Russian Grand Prix if it is still held this year due to that country's invasion of the Ukraine.
A few minutes later came the 2022 debut for F1 rookie Guanyu Zhou, who had half a day's running taken away from him on Wednesday by Alfa Romeo's decision to send out test driver Robert Kubica on the initial data-gathering exercise with the C42.
As the second hour approached its midway point, out came the red flags as Nikita Mazepin, who had only been on track for nine laps following a delayed start to his running, stopped in sector two to cause a hiatus that lasted for 15 minutes.
Haas confirmed a damaged fuel pump was the cause of the problem and the Muscovite was off the circuit for almost another hour before reappearing.
Nikita is in the car this afternoon but he's had to stop out on track after nine laps.

The session is Red Flagged 🚩#HaasF1 pic.twitter.com/tz75oSr4B2

— Haas F1 Team (@HaasF1Team) February 24, 2022
At least, once he did start building up the mileage, Mazepin was producing times comparable to and eventually better than his team-mate Mick Schumacher, indicating Haas may well be capable of the improvement with the VF-22 for which they are hoping.
Esteban Ocon and Pierre Gasly – the latter being supported at the circuit by Barcelona forward Memphis Depay – were the first drivers to reach 100 laps for the day, but the Alpine's comparative lack of pace was possibly a concern, still two and a half seconds off the fastest time.
Sergio Perez had a troubled morning in the Red Bull RB18 and the afternoon was following a similar pattern until some late improvement, but things were going much more smoothly at Ferrari as Leclerc moved to the top of the timesheets with a 1:19.804 on the C3 tyres.
Moving into the final hour, Gasly, who had surged clear at the top of the lap count with his full day's running, began to threaten Leclerc's fastest lap on the red-marked C4 rubber – to which he had shifted after spending most of the day on the medium and hard tyres.
The Frenchman could not quite match his friend's best time, however, and entering the final 25 minutes of action the Ferrari driver went faster again, knocking just over a tenth off his previous best.
Most unusually, Lewis Hamilton, who turned in 40 laps during the morning in the Mercedes W13, found himself bottom of the pile – two seconds down on new team-mate George Russell in P4.
Day 2 Leaderboard
1 Charles Leclerc (Ferrari) 1:19.689s, C3 – 78 laps
2 Pierre Gasly (AlphaTauri) 1:19.918s, C4 – 146 laps
3 Daniel Ricciardo (McLaren) 1:20.288s, C4 – 126 laps
4 George Russell (Mercedes) 1:20.537s, C3 – 65 laps
5 Carlos Sainz (Ferrari) 1:20.546s, C3 – 71 laps
6 Sebastian Vettel (Aston Martin) 1:20.784s, C3 – 73 laps
7 Sergio Perez (Red Bull) 1:21.430s, C3 – 78 laps
8 Nikita Mazepin (Haas) 1:21.512s, C3 – 41 laps
9 Alex Albon (Williams) 1:21.531s, C3 – 47 laps
10 Guanyu Zhou (Alfa Romeo) 1:21.885s, C3 – 71 laps
11 Nicholas Latifi (Williams) 1:21.894s, C3 – 61 laps
12 Lance Stroll (Aston Martin) 1:21.920s, C3 – 55 laps
13 Mick Schumacher (Haas) 1:21.949s, C3 – 66 laps
14 Esteban Ocon (Alpine) 1:22.164s, C3 – 124 laps
15 Valtteri Bottas (Alfa Romeo) 1:22.288s, C3 – 21 laps
16 Lewis Hamilton (Mercedes) 1:22.562s, C2 – 40 laps
Teams are 'hiding their true form' in testing says Ferrari
Charles Leclerc believes that teams are hiding their true form.