Belgian GP: Max Verstappen cruises to the win from 14th on the grid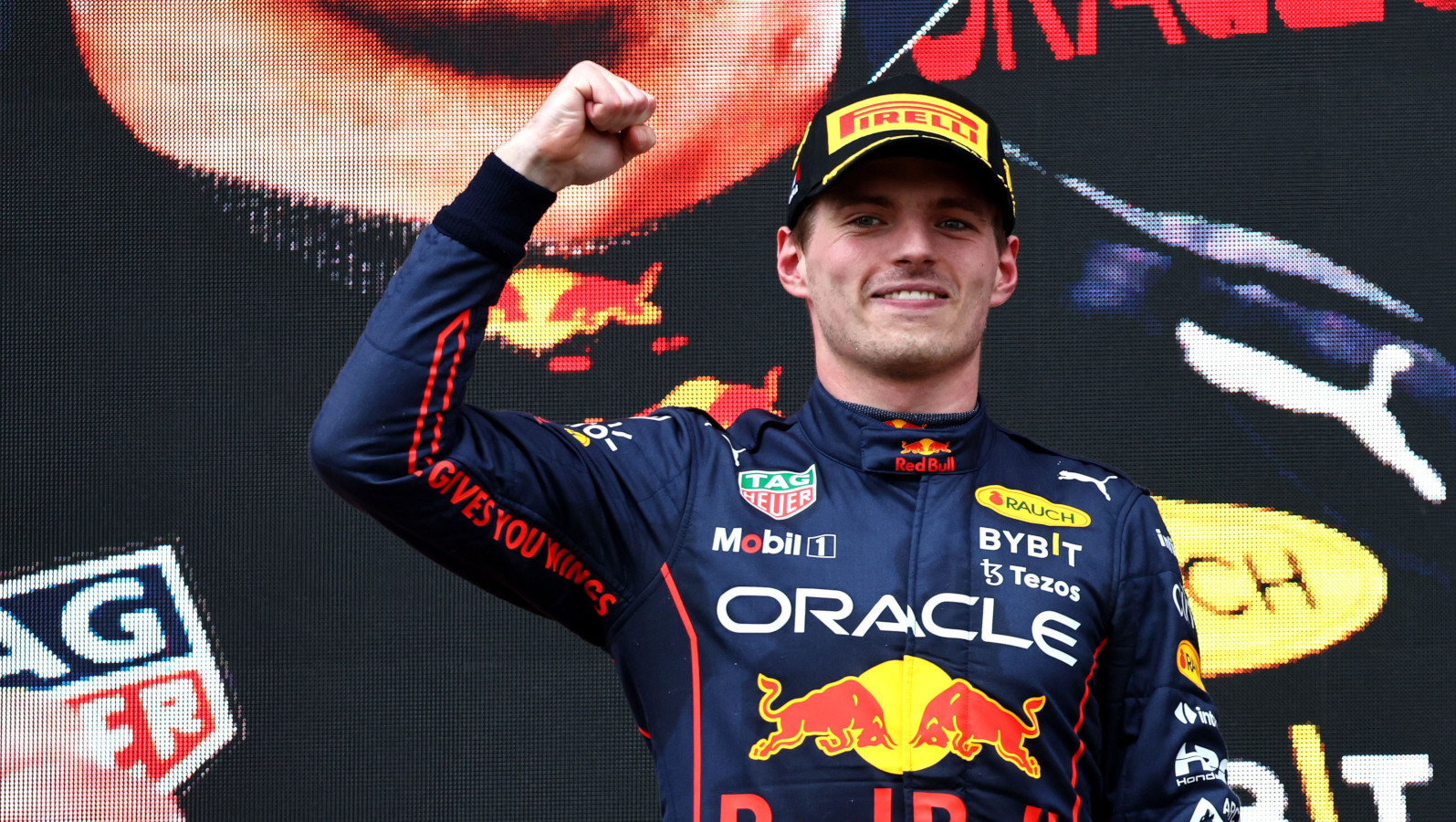 Max Verstappen did exactly what everyone predicted he would do after qualifying, winning the Belgian Grand Prix despite starting the race outside the top ten.
It took the championship leader all of eight laps to work his way onto the podium having started P14, and another 10 to take the lead on merit as Ferrari were left scratching their heads as to what to do.
The Dutchman led home a Red Bull 1-2 with pole-sitter Carlos Sainz third while Charles Leclerc, undone by an early issue when his brake cooling was blocked by a visor tear-off, didn't have the pace to even come close to matching Verstappen's performance. And then to make matters worse got a five-second time penalty for speeding in the pit lane.
Lewis Hamilton crashed out on the opening lap, the Briton trying a chancy pass on Fernando Alonso that went wrong, his first DNF of the season.
Carlos Sainz lined up P1, the Ferrari driver handed pole position by Max Verstappen's engine penalty, with Sergio Perez P2. The Red Bull driver set his car to cut Sainz but instead did himself in as he lost ground to Fernando Alonso and also the Mercedes drivers.
Lewis Hamilton tangled with Fernando Alonso, the Mercedes sent airborne before landing heavily, his car damaged. Hamilton was told to "stop, stop, stop". Alonso: "What an idiot, closing the door from the outside."
The Safety Car was out before the end of Lap 2, Hamilton stopping on the side of the track and Nicholas Latifi spun in front of Valtteri Bottas, the Finn off into the gravel and barriers as he avoided the Williams. Lance Stroll came off second best in his wheel-to-wheel fight with Sebastian Vettel, the Canadian also eating dirt.
As the Safety Car led the field, Leclerc informed Ferrari of "smoke" from his front right tyre and he pitted for fresh medium tyres. P9 to P17. Ferrari let him know it was a tear-off in his front brake cooling, adding they wanted to finish the race on this set of tyres.
Air Hamilton 😳🪁#BelgianGP pic.twitter.com/h5MuXFoeOO

— CANAL+ F1® (@CanalplusF1) August 28, 2022
The restart top ten: Sainz, Perez, Russell, Alonso, Vettel, Daniel Ricciardo, Alex Albon, Verstappen and Stroll.
Despite a small lock up Sainz held onto P1 thanks in part to Perez locking up even harder. Alonso tried to attack Russell for third, pulling alongside him, but the Mercedes driver held firm. Verstappen took seventh off Albon, then sixth off Ricciardo, fifth off Vettel and P4 off Alonso with DRS before Les Combes. P14 to P4 in seven laps, five seconds off the lead. Leclerc was P16. And Albon straight-lined his way past Ricciardo.
A lap later Verstappen was on the virtual podium, another DRS overtake as he sped past Russell for third. Four seconds off the lead as he clocked yet another fastest lap time. Leclerc was P14 having overtaken the two AlphaTauris.
Albon and Pierre Gasly began the first round of pit stops on lap 11, Sainz was the next in from the lead, Perez and Verstappen running 1-2. Alonso also stopped, and Verstappen took the lead off Perez on lap 12. 14th to first in 12 laps. Leclerc was up to P9, 19s behind Verstappen but having already stopped.
As Verstappen stayed out, Perez pitted on lap 14 with Sainz up to second, the Mexican driver coming out just ahead of Leclerc, who tried to fight him for the position but the Red Bull driver had his elbows out and Leclerc stayed fourth. "He didn't leave any space and we touched," said Leclerc.
And then Verstappen pitted from 13s up Sainz. He came out P2, five seconds down on the Spaniard and six ahead of Perez. Russell used DRS to power his way past Leclerc, the Ferrari driver unable to defend. Alonso was P6 ahead of Albon, Vettel, Ocon and Ricciardo.
Verstappen wasn't second for very long, using his RB18's superior speed to retake the lead on lap 18 on the Kemmel Straight. He did it with yet another fastest lap of the race.
LAP 18/44

And quick as you like Verstappen gets past Sainz to retake the lead #BelgianGP #F1 pic.twitter.com/izNXHfsjzO

— Formula 1 (@F1) August 28, 2022
Alas Verstappen's cruise to P1 was about where the excitement ended for several laps, just a brief tussle between Ricciardo and Stroll through Eau Rouge adding to the storyline.
Ferrari came in for their second round of stops on lap 26, Sainz stacking up ahead of Leclerc. They came out P4 and P7 respectively. Perez stopped a lap later, and then Russell. Stroll, Albon and Norris – all with a hope of a top-ten finish – pitted as Leclerc moved up to P6 and then P5, passing Ocon and then Vettel.
Race leader Verstappen stopped on lap 31, fresh mediums and back out into the lead… 10 seconds up on Perez with Sainz P3. The latter told by Ferrari to "try your best", and all the while Russell was closing in. Behind them Ocon, Vettel and Gasly tussled for seventh position, the Alpine driver coming out on top of that one. They lined up behind Alonso, but the latter was a comfortable seven seconds up the road. Albon was in the final points-paying position heading into the final five laps but had five cars on his rear wing.
With it clear Leclerc would not finish on the podium Ferrari pitted him on the penultimate lap for the fastest lap point, only for the Ferrari driver to get attacked by Alonso – and overtaken! Leclerc snatched back the position on the final lap.
Verstappen raced to the win, his ninth of this season, by 18 seconds ahead of Perez, Sainz joining the Red Bulls on the podium. Russell was fourth ahead of Leclerc and Alonso only for the Ferrari driver to be hit with a five-second time penalty for speeding in the pit lane. He also didn't get the fastest lap point, that went to Verstappen.
Ocon, Vettel, Gasly and Albon complete the points.
Result
1 Max Verstappen Red Bull
2 Sergio Perez Red Bull + 17.841
3 Carlos Sainz Ferrari + 27.055
4 George Russell Mercedes + 29.707
5 Fernando Alonso Alpine + 73.860
6 Charles Leclerc Ferrari + 74.936
7 Esteban Ocon Alpine + 76.169
8 Sebastian Vettel Aston Martin +78.631
9 Pierre Gasly AlphaTauri + 92.655
10 Alex Albon Williams + 102.326
11 Lance Stroll Aston Martin + 103.078
12 Lando Norris McLaren + 104.896
13 Yuki Tsunoda AlphaTauri + 105.217
14 Zhou Guanyu Alfa Romeo Racing + 106.252
15 Daniel Ricciardo McLaren + 107.163
16 Kevin Magnussen Haas + 1 LAP
17 Mick Schumacher Haas + 1 LAP
18 Nicholas Latifi Williams + 1 LAP
Did not finish
Valtteri Bottas Alfa Romeo spin – lap 2
Lewis Hamilton Mercedes damage – lap 2