Deja vu as Belgian GP is red-flagged a second time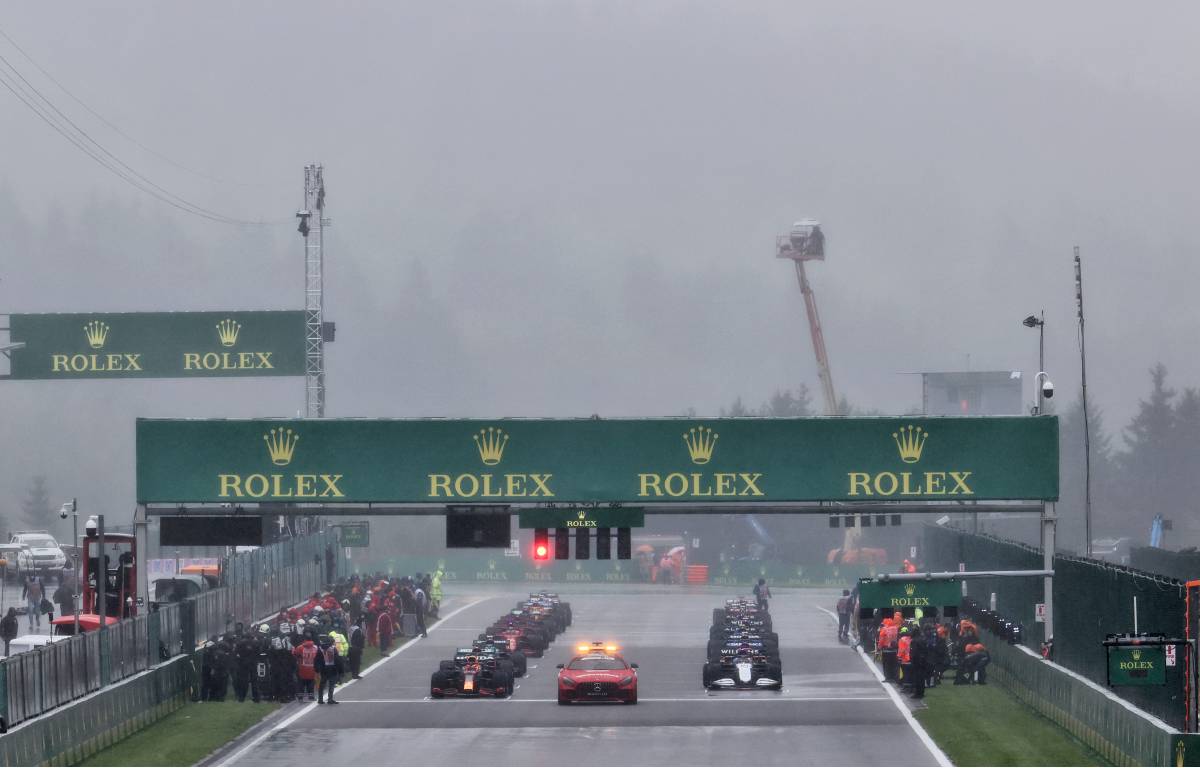 Rainy conditions at the Belgian Grand Prix meant the race was red-flagged before it had even begun in earnest – on two separate occasions.
Wet weather has affected the whole weekend at Spa-Francorchamps and if anything, was at its most inclement on Sunday afternoon.
Initially, the start was delayed by 25 minutes, but even before then Sergio Perez had appeared to be ruled out of the reckoning after he crashed on the way to the grid.
The Red Bull driver, who had extended his contract with the team for another year earlier in the weekend, slid off into the barrier and his car sustained suspension damage.
That left a space in Perez's P7 grid slot when the race was allowed to start behind the Safety Car, but it quickly became apparent that racing was impossible in the prevailing conditions.
Several drivers, including George Russell and Lewis Hamilton, who had qualified second and third respectively, reported over team radio that visibility was nowhere near adequate as the rain continued to fall and the cars kicked up spray.
Pole-sitter Max Verstappen, however, did not think it was too bad, but it was a completely different story for the field running behind him.
After two formation laps, the Safety Car brought the field back into the pits and the race was red-flagged, until such time as the weather showed distinct signs of improvement.
F1 TV Pro is half price for two months! In order to claim this fantastic discount, click the following link and use the promo code SPA50 at checkout!*
*Offer expires at 23:59 on Sunday, August 29. Offer only available on Pro. Customers will need to take out a monthly subscription and this offer can only be redeemed on web. Offer not available in NL, FR or NZ.
During the hiatus, Red Bull decided they wanted to try and repair Perez's car and get it back into the race, arguing there had been no official start, although the FIA appeared to be taking a different stance.
Red Bull asking the FIA if they can get Sergio Perez back in the race due to the delayed start #F1 pic.twitter.com/C2I9Z0UspY

— PlanetF1 (@Planet_F1) August 29, 2021
Several hours of daylight remained in Belgium, but a radical suggestion was starting to emerge – could the race be delayed until Monday?
If the weather does relent on Sunday, however, the grand prix would become a shortened version because, in conversation with Mercedes sporting director Ron Meadows, FIA race director Michael Masi confirmed the race clock was already running.
The three-hour duration in which the race must be completed started ticking at 15:00 local time (14:00 BST) and with no start imminent, all of the 43 remaining laps would be impossible to fit in.
To all the fans getting soaked out here at Spa right now, sorry to keep you waiting and thanks for braving the weather! We know it's frustrating for you all, but safety has to come first. Fingers crossed we can get a result today one way or another. 🤞

— George Russell (@GeorgeRussell63) August 29, 2021
Mercedes team principal Toto Wolff admitted that, due to the unusual circumstances, he was unsure about whether it was within the rules for Perez to take part having been officially withdrawn by his team.
"I think that's probably a first, so everyone is looking at the regulations right now," Wolff told Sky F1.
Regarding a potential race start, he added: "I have the same information like everyone else. In my personal opinion, it it continues like that, you can't start.
"It's just too dangerous through Eau Rouge, Raidillon and on the straight. From the second or third car, you have almost no visibility.
"As much as I love racing and I love the risk of racing, this is maybe a step too far.
"I think the first two laps are the most dangerous, actually. It's the start, so I don't think that's going to happen. As for postponing, let's see. I don't know."
Asked whether a Monday race was viable considering the Dutch Grand takes place next weekend, the Austrian added: "I think it would be very difficult with Zandvoort.
"What we would like to do is race for the spectators here because they have been sitting in the rain since three days.
"I doubt people would be able to sit there tomorrow on a work day, but it's all very complex."
As the rain showed no sign of relenting, it emerged via a team radio conversation between Masi and Ferrari that the race timeframe clock had been stopped with an hour remaining.
In doing so, the stewards had applied authority within Article 11.9.3.o of the FIA International Sporting Code to pause the grand prix on the grounds of force majeure.
Vale 🤦🏽‍♀️

Si no vale solo el reglamento deportivo de F1 y pasamos al internacional … pic.twitter.com/twblWU3vCZ

— Noemí de Miguel (@Noemidemiguel) August 29, 2021
That meant if the weather allowed it, up to an hour's racing would be possible – depending on the amount of daylight, of course.
Finally, some positive news arrived. A resumption of the race at 18:17 local time was announced – rewarding, most of all, the hardy spectators who had braved the rain for hour upon hour.
However, just like the first time, the action was short-lived. Track conditions were clearly no better behind the Safety Car than the first time, over three hours earlier, and back the cars came into the pits once more to prolong the agony.