Stewards explain why Lewis Hamilton wasn't penalised for Fernando Alonso crash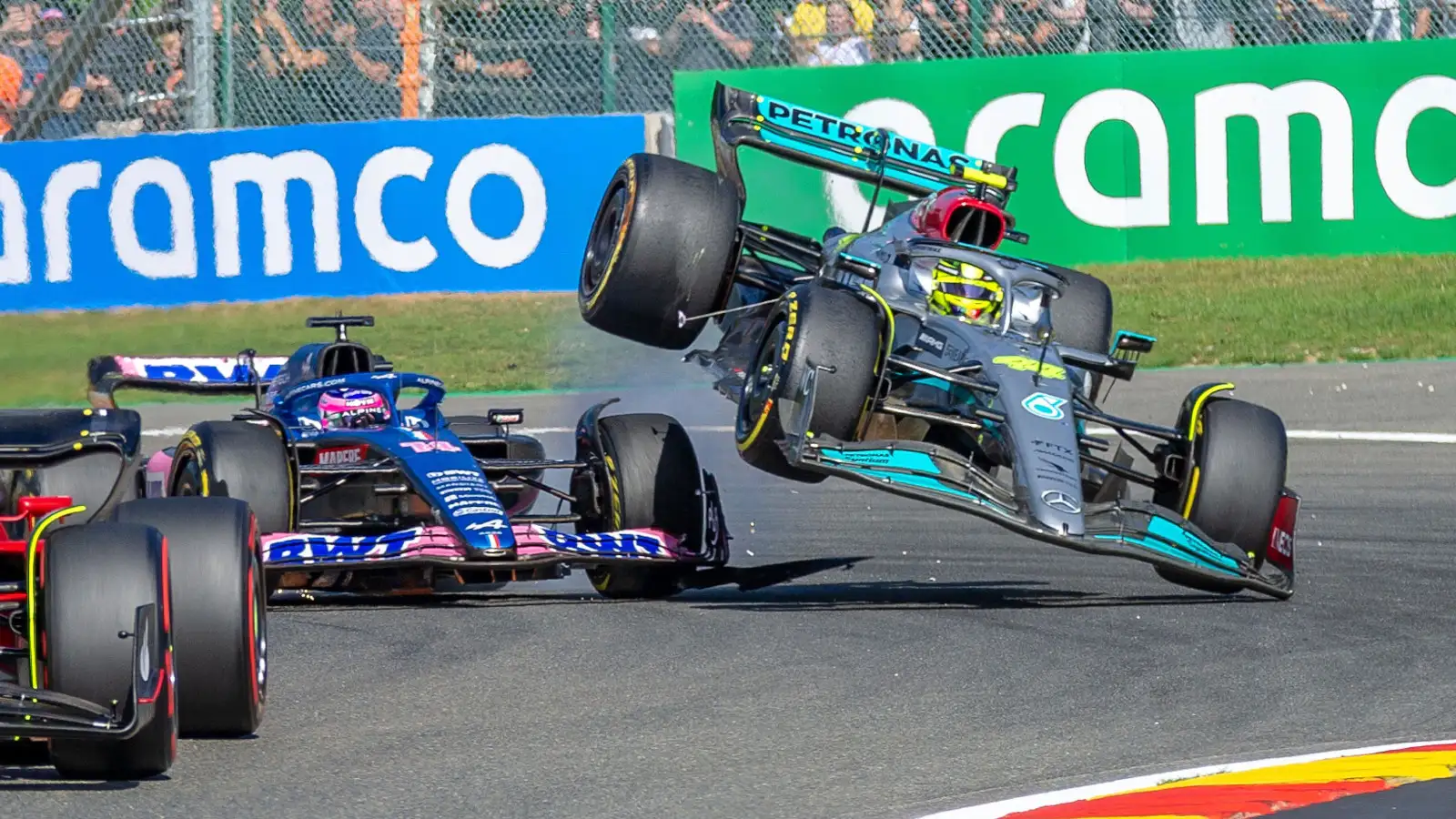 The Belgian Grand Prix stewards have explained Lewis Hamilton wasn't penalised for crashing into Fernando Alonso because they ruled it a "first lap incident".
Hamilton recorded his first retirement of this year's championship when he made contact with Alonso's Alpine on the opening lap at the Spa-Francorchamps circuit.
Trying to pass the double World Champion around the outside of Les Combes, Hamilton turned in on the Spaniard and it was game over.
His W13 was launched into the air, Hamilton lucky to escape without injury as he came down hard.
Alonso was not at all impressed with his rival's antics.
"What an idiot closing the door from the outside!" he raged. "We had a mega start, but this guy only knows how to start and finish first."
While the incident was noted by the stewards, they declared that no further action was necessary.
That came as a surprise to many as Hamilton was solely to blame for the contact, the stewards even noting that Alonso didn't do anything wrong.
However, explaining their decision it seems they applied first lap leniency.
"The Stewards reviewed the video evidence and determined that Alonso was on the inside at Turn 5," read the stewards' statement.
"Hamilton's front wheels were ahead of Alonso's at the entry to the corner. Alonso moved his car off line to the inside with both right side tyres fully on the kerb and even somewhat inside the kerb.
"At no point did Alonso appear to lose control or understeer. Hamilton turned into towards the apex of the corner with Alonso still alongside and the collision occurred.
"The Stewards considered that this was a first lap incident with a lot of movement relative to other cars in the first few corners, and thus take no further action."
📀 *Record scratch*

*Freeze frame*

"Yep, that's me. You're probably wondering how I got into this situation…"#BelgianGP 🇧🇪 #F1 pic.twitter.com/eKPyMwU50i

— PlanetF1 (@Planet_F1) August 28, 2022
Alonso, feeling a bit better after the race as he was still able to finish inside the points in fifth place, was happy to hear that Hamilton accepted responsibility.
He too felt a penalty would have been harsh.
"I was surprised," he said. "He now saw the incident and takes responsibility, which is nice from him.
"A lap one incident, nothing more to say. It's a tricky corner. I was frustrated for sure."
"The stewards didn't say anything because these things happen, especially in that corner."