Mercedes receive warning over Lewis Hamilton v George Russell dynamic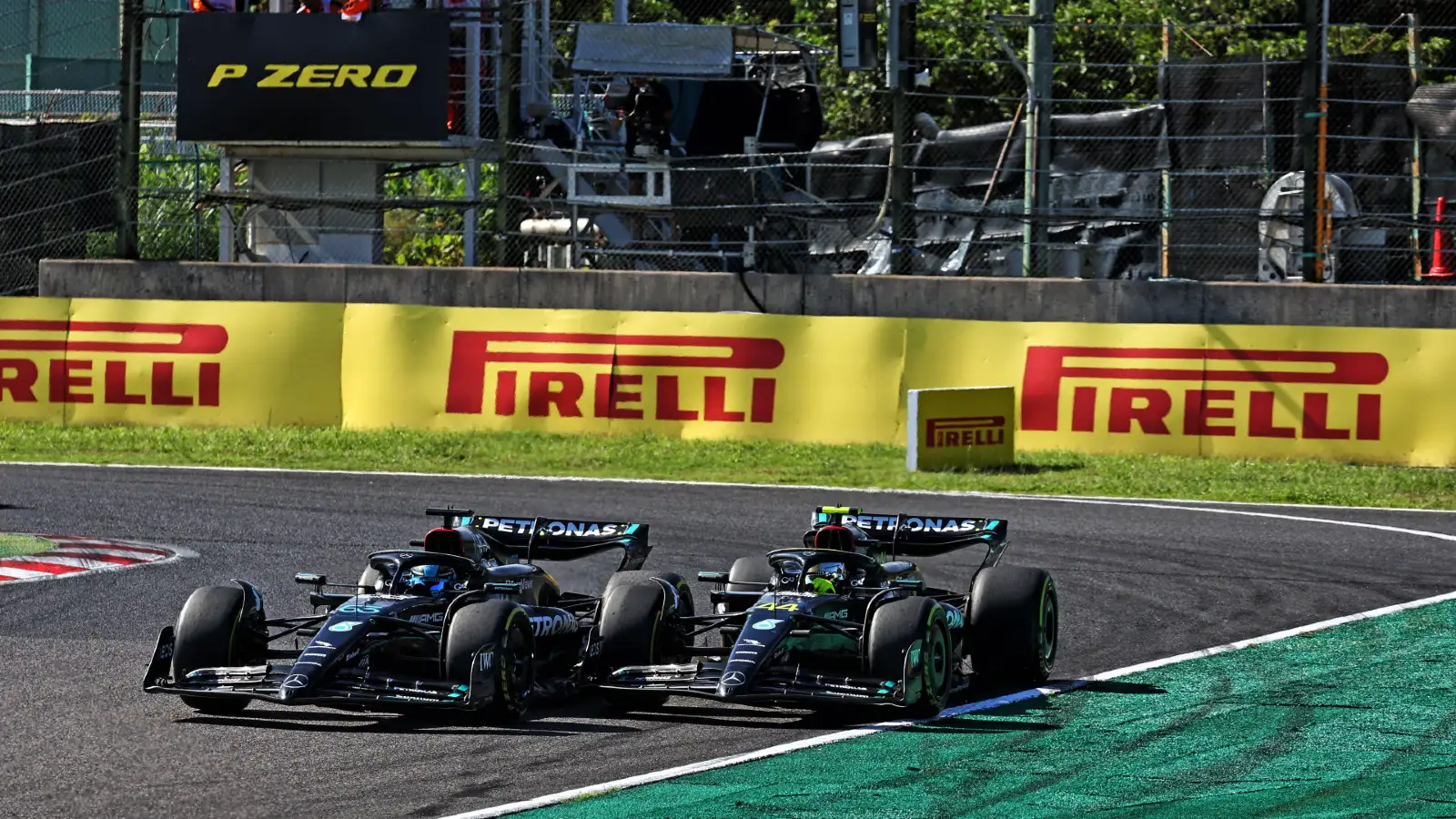 Mercedes have been warned that they need to be "very careful" with how they handle the dynamic of Lewis Hamilton and George Russell, with two drivers getting close together on track in both Singapore and Japan.
Team orders came into play when Russell was told to move aside for Hamilton at Suzuka last time out, while Hamilton was pushing for the same to take place at Marina Bay at the race beforehand, when both drivers were pushing for victory in the final stint.
But former McLaren and Aston Martin strategist and performance engineer Bernie Collins explained that, behind the scenes, the team will need to manage the situation carefully to avoid tensions rising – and will also be the case at other teams on the grid.
Mercedes 'have to be very careful' as drivers duel closely
In response to former F1 driver and fellow Sky Sports F1 podcast panellist Anthony Davidson believing Russell is still Hamilton's "understudy" to a degree as per the current Mercedes dynamic, Collins spoke from experience from how drivers work behind the scenes to try and establish superiority.
With the Mercedes drivers being closely matched overall, she explained the measures that teams can take to try and quell any tensions building – and how racing drivers are a part of a team but ultimately racing for themselves.
But with that comes a balance Mercedes have to strike with their drivers.
"I think there's a few interesting battles, the Mercedes we're speaking about, obviously, but there's a few," Collins elaborated.
"The Ferrari boys, the McLaren boys, it's all the same, they're very, very close. It's interesting, Fred Vasseur [Ferrari team principal] actually said something very interesting on the grid, he said: 'They're never both happy, whichever one's ahead is happiest', which is very, very true.
"I find that interesting with Lewis' comment, particularly after qualifying, I don't think he actually qualified too differently to the position he qualified in Singapore.
"But in Japan, he was ahead of George, and in Singapore, he was like five positions behind George, but I think actually, his qualifying position was pretty close – and he was much happier with qualifying in Japan.
"So it's very interesting, that, and you have to be very careful, because motorsport is one of the only sports where you've got an individual sportsperson that's competing for their own interest, but not necessarily always aligned with the team.
"That goes for their crew as well, their engineers in the pit wall, you've got this dynamic of where you've got a central person, but then you've got someone to your left with one agenda, and someone to your right with another, and you need to be very careful with all the information that comes through.
PlanetF1.com recommends
Lotus 78: The revolutionary car that changed Formula 1 forever
Revealed: How McLaren have made one second per lap difference from Bahrain to Japan
"You particularly don't believe the 'I'm faster than him' information [during a race], and even when you ask the 'how much?' You always get a number that's incorrect – so you just need to be very careful.
"You have some teams come up with a lot of internal rules of how they're going to manage that strategy situation where two drivers are competing, is it that the lead one always gets preference at pitstops? Is it that if they undercut accidentally, they'll switch the cars later on? There's lots of different things.
"You really want your two guys to be working together as much as you can, but you have to remember in the back of the mind their vested interest, the first person they want to beat on track, is their team-mate – and that's not necessarily the first person the team wants to beat.
"Everyone in the team's bonus, championship points, garage slot [in the pit lane] next year is based on team finishing position, but the driver doesn't care so much about that.
"He just wants to beat the guy because he knows that we, as people watching the sport, the first thing we judge them on is how they perform against their team-mate.
"So it's a very interesting dynamic in the team and there are things you can do to try and help, put them in different parts of the track, put them in different run plans in qualifying and put them in different things in the race.
"But ultimately, we don't want to overall hurt your race in that situation either."
Read next: F1 set record straight after reports of sharp social media decline