'Schumi had to drive himself, Hamilton has help'
As Lewis Hamilton closes in on Michael Schumacher's all-time grand prix win record, the question of who is the best is dominating Formula 1 headlines.
Jackie Stewart waded in when he told the 'In the Fast Lane podcast' that Hamilton cannot be rated as one of the best because "the car and the engine are now so superior that it's almost unfair on the rest of the field."
He added that to say "Lewis is the greatest of all time would be difficult for me to justify."
It is also one that is tripping up former F1 supremo Bernie Ecclestone.
The Brit was at the helm of Formula 1 through Schumacher's years of dominance with the German adding titles number three to seven from 2000 to 2004 while racing for Ferrari.
While many thought at the time that the German's records would never be matched, never mind broken, Hamilton is on the cusp of doing so.
This weekend the Mercedes driver could equal Schumacher's tally of 91 race wins at the Eifel Grand Prix while his 44-point lead in the Drivers' standings has him well on his way towards equalling the record of seven World titles.
Ecclestone was asked for his thoughts on who out of the two is the greatest.
"Schuey was driving on his own more or less when he was racing in his car," he explained to AFP.
"Hamilton has got God knows who helping him, telling him what his tyre pressure is, speeds through corners.
"In the old days Alain Prost, who I have great admiration for, when the flag went to start the race he was on his own and it ain't like that any more."
He continued: "You cannot say anything bad about Lewis, you cannot say he is not good, that is not the point.
"How good he is compared to somebody else, well he is super, super talented and would be amongst the top five drivers for the last 30 years.
"Was he better than Michael? Would Michael have been better in that car (Mercedes)? You can't say."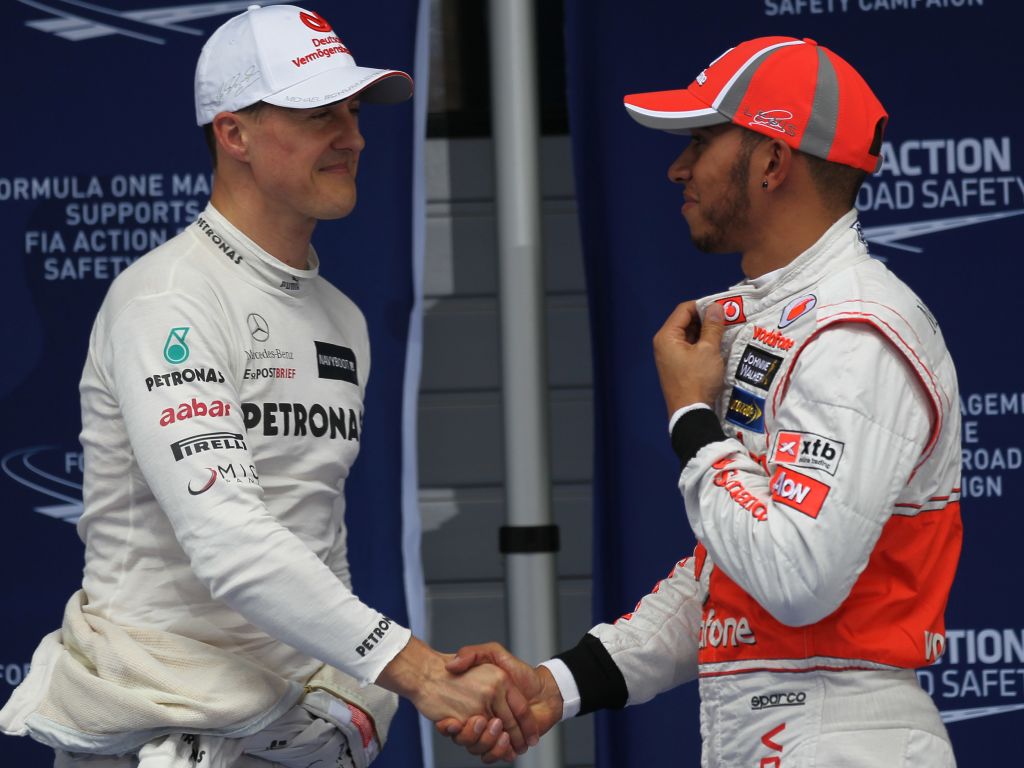 Get your hands on the official Mercedes 2020 collection via the Formula 1 store
The 89-year-old believes it is off the track where Hamilton really stands apart from other drivers.
The Brit has embraced life outside Formula 1, embarking in a career in fashion while also dabbling in music.
"In general I would say he is limitless in what he gets up to," Ecclestone said.
"The way he dresses, if you did not know Lewis was a race driver you would never say he was a racer whereas with Nelson (Piquet) and Schuey, if you saw them you would say they were race drivers, they dressed for the role.
"Their life was what they did, which was racing and for Lewis racing is not just racing, which is probably an easier way of trying to explain it. A different way of living."
Follow us on Twitter @Planet_F1 and like our Facebook page.