Big benefit for Fernando Alonso revealed after Taylor Swift rumours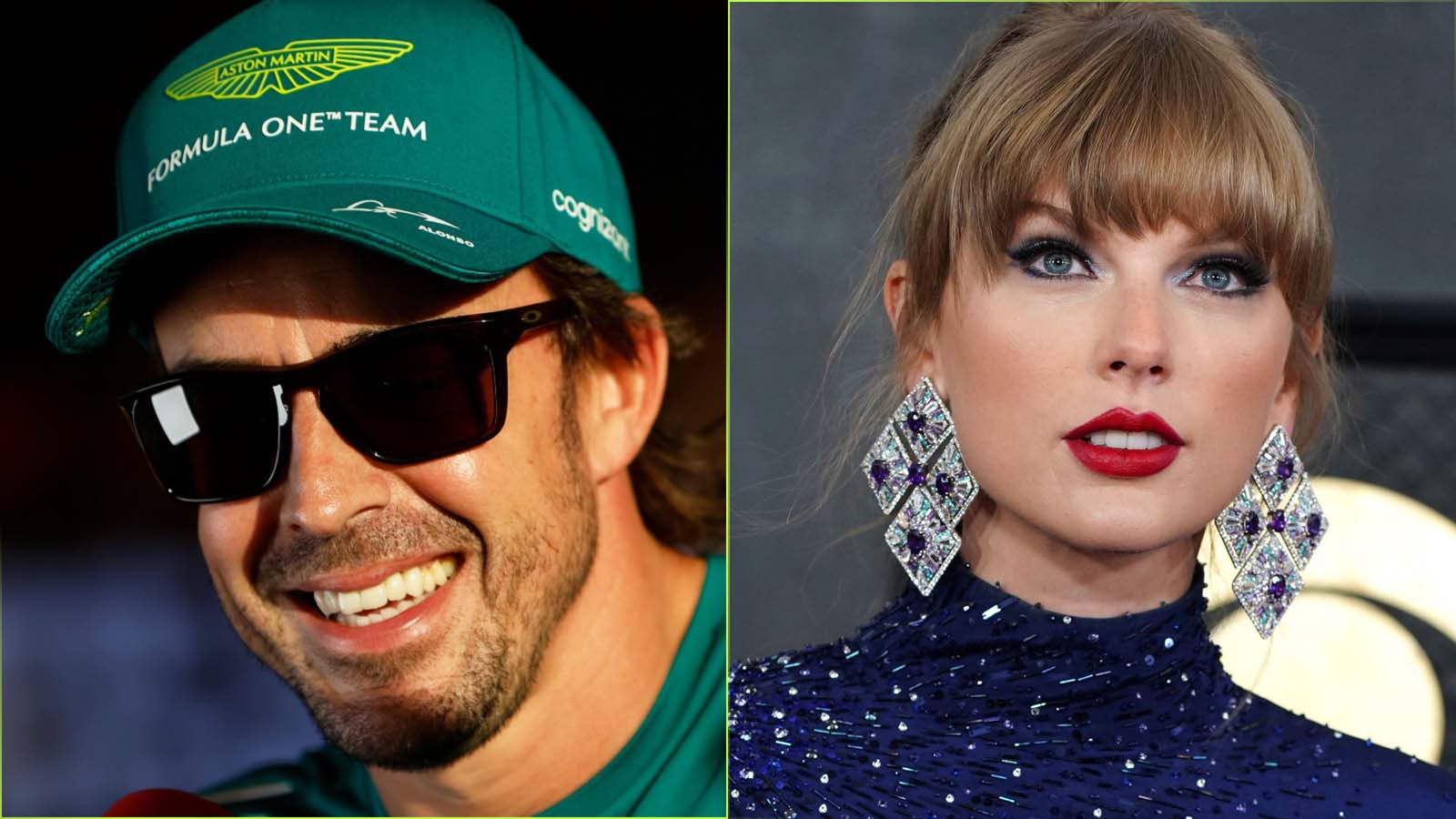 Rumours linking Fernando Alonso to pop singer Taylor Swift have made the Spaniard "more popular than ever", according to some pundits.
Last month, rumours swirled that Fernando Alonso was dating pop icon Taylor Swift, with Alonso not doing much to deny the rumours as he opted against answering questions about his personal life, while also poking fun at the situation by using a Swift song on one of his social media posts.
The short video saw the Aston Martin driver scrolling through his phone to the soundtrack of 'Karma', sung by Swift', before Alonso looked at the camera and winked.
However, the rumours appear to have been just that, as Swift is now said to be dating The 1975 frontman Matty Healy.
Natalie Pinkham: People are intrigued by Fernando Alonso
Alonso's handling of the rumours have earned the praise of Sky F1 broadcaster Natalie Pinkham, who said he's managed to become very relevant and visible to a whole new generation of fan as a result.
"I think he's more popular than ever. He's so canny at the moment as well, that whole Taylor Swift thing," Pinkham said on the F1 Nation podcast.
"Talk about pulling in a younger generation of fans – he's suddenly exploded in popularity as well!
"Any kind of association with Taylor Swift is enough to pique the interest of a younger generation of fan, and it did exactly that.
"He gave a wry smile, and he was incredibly charming and batted it off beautifully. But then he was trending everywhere with Taylor and the memes were bursting out of our ears.
PlanetF1.com recommends
Daniel Ricciardo names F1 driver he feels Taylor Swift would date…and it's not Alonso
Fernando Alonso quizzed on Taylor Swift rumours: 'I knew you were trouble!'
"My six-year-old and my eight-year-old vaguely know who Fernando Alonso is because it's some bloke who Mummy interviews at the track. The minute they heard he was associated with Taylor Swift, they asked me who he was in the race in Miami!
"His growth on social media online, his presence, has been exponential. And he has been driving well, he is on the podium. But people are intrigued by Fernando Alonso – I think it's the best he's ever driven. I know that's a bold statement. But I also think it's the best he's ever been.
"I find him utterly charming and engaging in the pen. He's making time for people, he understands from his two years out how tough it is to be the middle person as well, i.e. us.
"So he makes more time for us. He understands that we offer him a platform to talk directly to his fans. He used to hate all the media stuff, and now respects and appreciates it. He understands we're a necessary evil in the whole scheme of things. I feel like he's just more relaxed and, as a result, he's great value."
Damon Hill: Fernando Alonso has had an epiphany
Host Tom Clarkson broadly agreed with Pinkham, but disputed that 2023-vintage Alonso is a superior driver to the Alonso of a decade ago.
"I agree with you about the whole package. I think this is the best overall package that Fernando has ever had," he said.
"I'm not gonna say he's driving better now than he was 10 years ago. I'm not convinced by that. I think he's driving brilliantly, and he's got those three-tenths over Lance Stroll pretty much every race.
"This year is so good for Fernando Alonso's legacy, isn't it? We're gonna come away from 2023 thinking he's a great team player and brilliant for a quote. It's been a very good year."
1996 F1 World Champion Damon Hill suspects Alonso is taking a very different approach to his life at Aston Martin for his twilight years in F1, having burned bridges all around him in the past.
"He's the prodigal son, isn't he?" he said.
"He basically overplayed his hand when he was at McLaren, and he did something similar at Ferrari. Then he basically insulted Honda, because he called it a GP2 engine and he lost a lot of friends.
"I think he's had an epiphany, a bit of a turnaround, and I think he's the prodigal son, he's come back and gone, 'Listen, ok, I get it, I've upset people, it's hurt my career, I've missed opportunities, I've only got two World Championships when I should have four or five'.
"So yeah, he's on his best behaviour or maybe he's a changed man. I think that he's changed and he's matured and he's become a massive asset to the sport."
Signing off, Pinkham exclaimed: "I would love to see how he'd get on in a Red Bull right now..!"