Binotto confronted Horner after US Grand Prix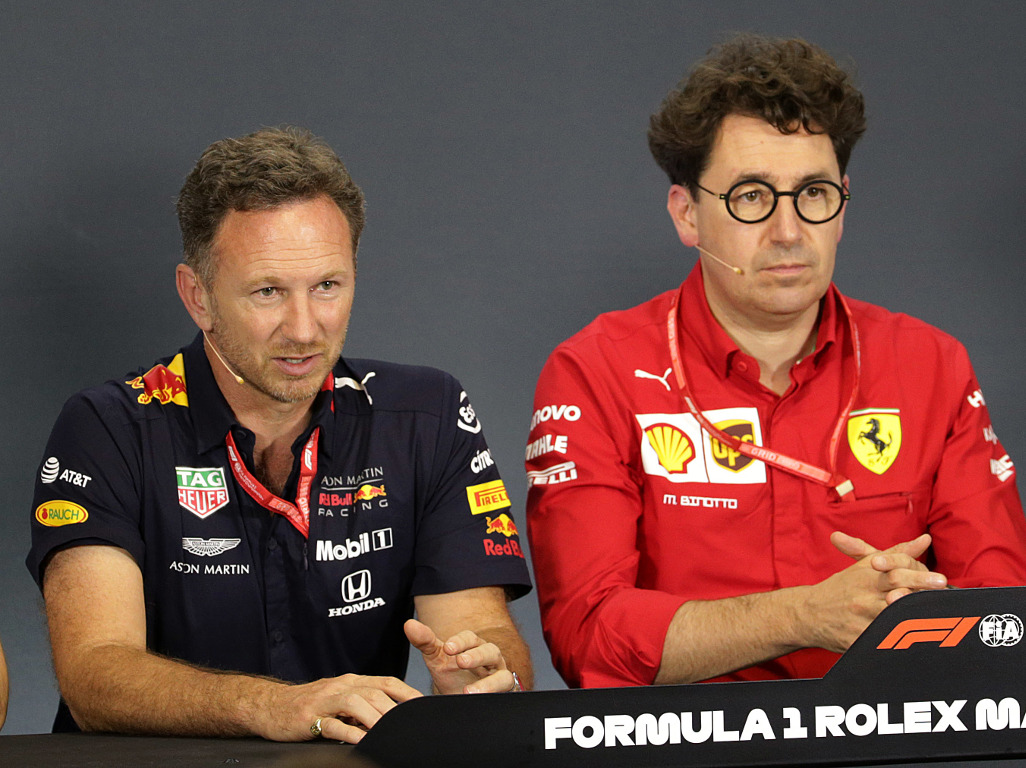 Ferrari boss Mattia Binotto had a 'firm discussion' with Red Bull chief Christian Horner after the United States Grand Prix in Austin, Texas.
Tensions between the two teams are on the rise and it all stems from the FIA issuing a Technical Directive on the engine after rivals asked the governing body for clarification on a specific ruling, suspecting that Ferrari's intercooler was bleeding oil into the combustion process to create power boosts.
Lewis Hamilton believes that the TD did have an impact on Ferrari's poor performance in Austin, while Red Bull's Max Verstappen outright accused Ferrari of cheating.
Verstappen's comments drew a response from both Binotto and Ferrari's Charles Leclerc, with the latter saying Verstappen had "no clue" about what he was saying.
Ferrari have consistently said that they have not broken any rules and Binotto himself has offered his own explanation about the sudden lack of pace at the United States Grand Prix.
But as reported by Spanish outlet, MotorLat, Binotto went to confront Horner in the midst of the cheating allegations.
Esto fue lo que sucedió después del GP de los Estados Unidos. Christian Horner se sentó a conversar con varios periodistas de varias publicaciones especializadas. pic.twitter.com/EswHSOfnof

— Gustavo H Motta (@TavoMotta) November 4, 2019
"We saw the English journalists in a meeting with Christian Horner and the tension in the air was cut with a knife," reported Yhacbec Lopez, an accredited report for MotorLat.
"I was standing outside the Red Bull hospitality when I saw Mattia Binotto pass in front of a group of journalists and Horner. Mattia watched on closely before he returned to his own hospitality but came back a few minutes later. Horner said goodbye to the journalists present and then Mattia headed inside the hospitality and looked for Horner, who was at the entrance and began a clear, blunt exchange.
"Mattia demonstrated why he is a leader. He spoke firmly with Horner and there were complaints, what I managed to hear was a warning about legal actions.
"Horner explained that he only shared his opinions and Mattia replied in a strict tone, the level of the discussion went up.  Evidently the discussion was full of tension."
Binotto está molesto por toda la serie de acusaciones que últimamente se han hecho alegando la legalidad del motor Ferrari. Y si a esto le sumamos las declaraciones de Verstappen acusando a Ferrari de hacer trampa, pues no es para menos el estado de ánimo del italiano. pic.twitter.com/x1IYfU7qnY

— Gustavo H Motta (@TavoMotta) November 4, 2019
Follow us on Twitter @Planet_F1 and like our Facebook page.