'Blonde American' saved AlphaTauri from blunder
AlphaTauri team manager Graham Watson has revealed that his "blonde American" saved Daniil Kvyat from joining Lewis Hamilton on the naughty list at Monza.
Hamilton lost the victory at last Sunday's Italian Grand Prix when he pitted when the pit lane was closed.
The Mercedes, who was leading the race when the Safety Car came out for Kevin Magnussen's stricken Haas, dived into the pits to make his one stop of the day and rejoined back in the lead.
The only other driver who pitted was Antonio Giovinazzi with the rest of the field, including Kvyat, staying out.
After some confusion as to why the rest of the field was taking the free pit stop, it became clear that the pit lane was in fact closed as the marshals recovered Magnussen's car.
That raised the question of was it already closed when Hamilton and Giovinazzi pitted.
It was, by 12 seconds in Hamilton's case, with both drivers hit with 10-second stop-go penalties for the infringement.
AlphaTauri's Watson says it was only a "blonde American" that saved Kvyat from making the same mistake.
"I guess Mercedes don't have anything similar, because otherwise they would have known," Watson told Motorsport.com. "But on our pit wall about three years ago I instigated a computerised voice-over on all messages from the FIA.
"So when the FIA – that message comes up on page three – says 'pit lane is closed', I get a computer-generated voice telling me.
"It is a woman, I call her the blonde American, because of the accent. She was saying 'pit lane is closed'.
"Engineers were saying we could bring Daniil [Kvyat] under the Safety Car, and I started screaming 'no, don't come in, don't come in, don't come in'. And they all looked at me, and I said 'the pit entry is closed, the pit entry is closed'.
"So we stayed there. But then I saw Hamilton coming in. I was like 'have I f*****d up, as sporting director, have I made a massive mistake here?' Because a team like Mercedes don't make these sorts of errors.
"And then I looked at the screen again. 'No, no, 100 percent guys, don't come in. You've got to stay out'."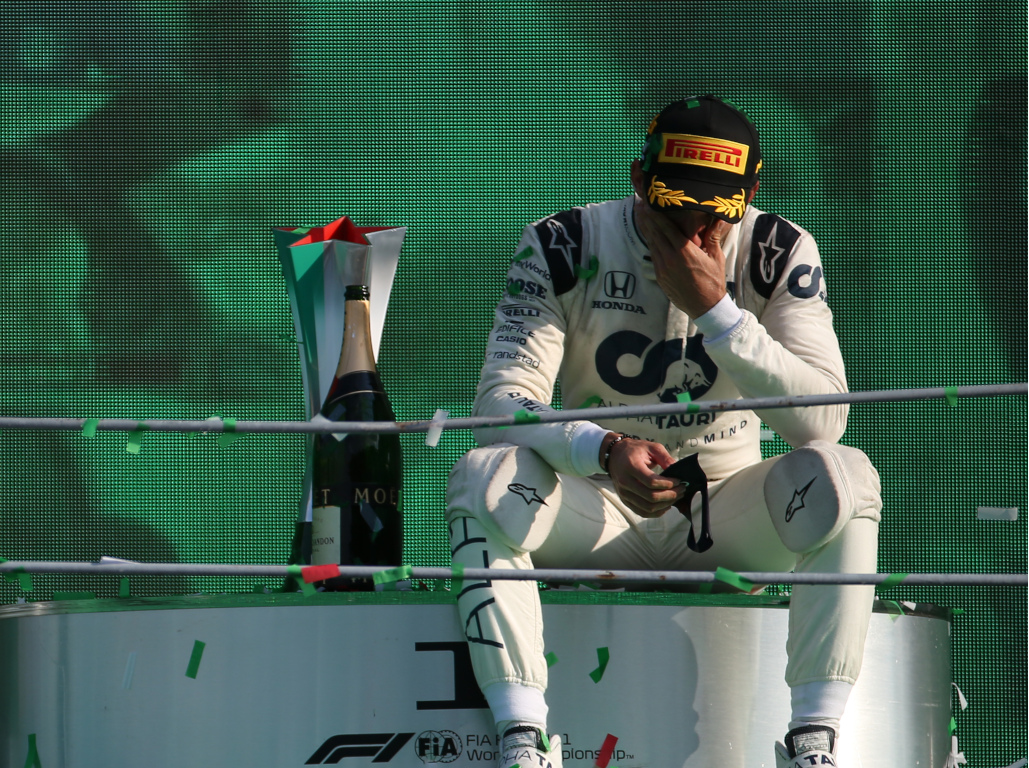 Kvyat was P9 in the grand prix while his team-mate Pierre Gasly went on to win the grand prix, taking the chequered flag by 0.4s ahead of McLaren's Carlos Sainz.
Hamilton recovered to seventh after his penalty with Andrew Shovlin, Mercedes' trackside engineering director, saying the team will now put systems into place to avoid a repeat.
"In reality, he's not the best-placed person to spot this. We should have seen this on the pit wall. The team takes responsibility for it," said Shovlin in Mercedes' latest post-race debrief video.
"We will put systems in place to make sure we don't do this again.
"It's just Lewis' way of working that whenever anything goes wrong he will always want to improve and to put it right himself and that was probably why he took the blame for this.
"But really we need to put it on our shoulders."
Follow us on Twitter @Planet_F1 and like our Facebook page.