Valtteri Bottas insists he feels "no pressure" despite a disappointing weekend at the Canadian Grand Prix.
The Finn could manage only P6 in qualifying after spinning on his first Q3 run and then completing a scruffy lap on his second attempt.
He would be compromised in the opening stages of the race by Renault's Nico Hulkenberg after losing out to the German at the start and ultimately crossed the line P4, 50 seconds down on team-mate Lewis Hamilton who took the win in controversial fashion.
After initially leading the Drivers' Championship, Bottas is now 29 points behind Hamilton and will have to mindful of a 2018 repeat where he fell well short of the title battle.
However, the 29-year-old is feeling "no pressure" and remains very happy with how 2019 has begun for him.
"I have no pressure," he told reporters in Montreal. "I'm happy about the situation, how things have been going since the start of the year and really enjoying it.
"Yesterday I made a mistake and at the end of qualifying I was maybe trying too much to recover, but that can happen. I wouldn't say that anything from the last couple of races had anything to do with pressure, including this weekend, so I can't confirm that.
"I don't think that's what happened and I can say there's no pressure."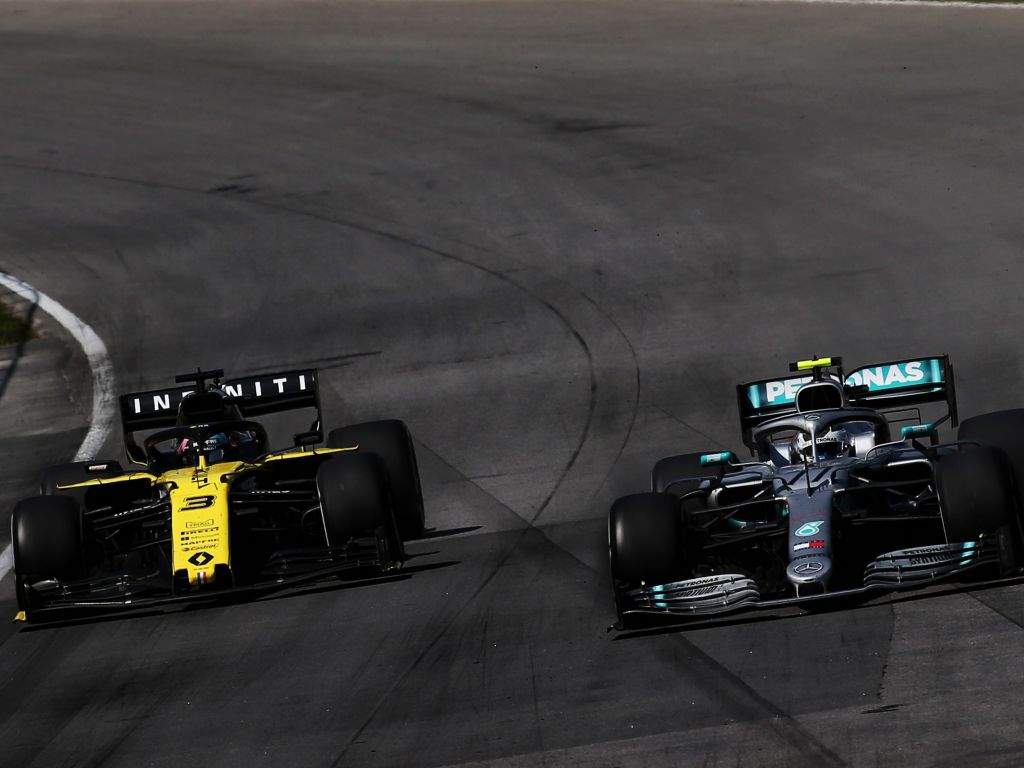 After stopping on lap 30, Bottas came up behind both Renault's and got involved in a scrap with Daniel Ricciardo which he described as "on the limit".
"It was actually a pretty good fight with Daniel," he confirmed.
"Sometimes he was defending quite at the limit of the regulations, because he was kind of waiting for me to make the move and then he would kind of block me after, at pretty high speeds.
"I wasn't complaining, because I like hard racing, so it was on the limit. It was some good defending from him and definitively didn't make it easy for me to get past. But it was all OK."
Bottas eventually cleared Ricciardo and pitted at the end for softs to claim a point for fastest lap, but the Aussie admitted he thought "let's have some fun" when he saw Bottas approaching.
"When he came up behind me I thought he was going to get me easily," Ricciardo admitted.
"I was going to try to defend for one lap but if he got me I wasn't really going to fight to the edge.
"But I kind of held him off for one lap and then saw in my mirrors 'maybe he'll start to hurt his tyres' a bit.
"So from that point I was like 'let's have some fun'.
"I think I hurt my tyres a bit doing it but it was worth it.
"I didn't think I'd hold him off for that many laps.
"By that point you could tell he was getting a bit agitated and I was just enjoying it, enjoying making life difficult."
Follow us on Twitter @Planet_F1 and like our Facebook page.