Britain FP1: Bottas P1 after a flurry of late activity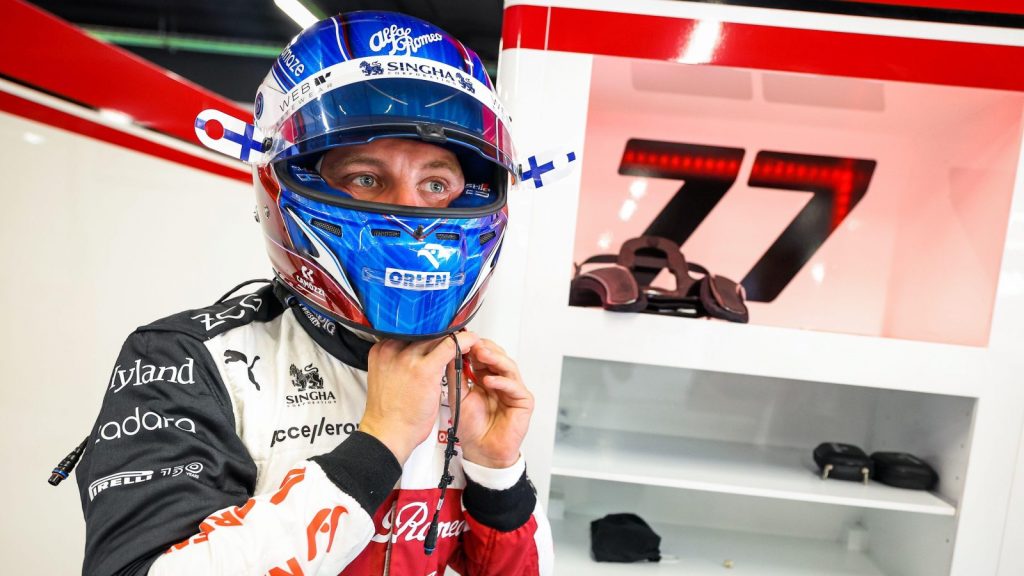 Valtteri Bottas topped the timesheet in the opening practice for the British GP but it was anything but representative given that only 10 drivers posted lap times in a damp squib of a practice hour.
Any suggestion that F1's development war had slowed down was quashed in Friday's opening practice at Silverstone as pretty much every team brought an update or three, some going big.
Williams' Alex Albon debuted a Red Bull-styled FW44, Alpine had significantly different sidepods and Mercedes also went with a substantial update with a new front suspension, floor and sidepod inlets.
As for the title contenders, Red Bull ran a new engine cover and floor while Ferrari trialled a revised undercut to their sidepods and engine cover.
The rain, though, meant the teams weren't able to get in the running they had wanted.
Nuevo fondo para Mercedes en Silverstone

New floor for @MercedesAMGF1 in Silverstone pic.twitter.com/oK5SQizBrB

— Albert Fabrega (@AlbertFabrega) July 1, 2022
It was a very slow start to Friday's action at the British Grand Prix with only nine drivers posting lap times in the first half of the session.
Charles Leclerc set the early pace on the intermediate tyres, the Ferrari driver clocking a 1:43.801.
His team-mate Carlos Sainz edged ahead with a 1:42.967 with Bottas up to second place ahead of Leclerc.
But with the track still wet, not quite intermediates but definitely not ready for slicks, the action dried up faster than the circuit did.
The raft of upgrades on the grid meant running was limited, the teams not wanting to risk damaging their new parts, tight on spares.
There might not be much track action currently 😖

But Lewis is doing his best to cheer the crowd 😃#BritishGP #F1 pic.twitter.com/zC5Zxk6YdT

— Formula 1 (@F1) July 1, 2022
While the fans packed the grandstands starring at a silent circuit for some 15 minutes, hoping that it would soon yield to more action, instead there came more rain.
Hamilton went from waving at the fans to climbing into his car to venturing out onto the circuit, the seven-time World Champion breaking the silence.
The Briton added his name to the timesheet, an aero run putting him P7 of 10 runners. He headed back to the pits for a set of soft Pirellis, the first driver to move onto slicks.
That saw pretty much the rest of the field head out one by one on slicks for the final five minutes only for their action to be curtailed as Lance Stroll brought out a late flag as he beached his Aston Martin at Copse.
Bottas, his time set on the intermediates, finished P1 ahead of Hamilton on the softs and Sainz on the intermediates.
Times
1 Valtteri Bottas Alfa Romeo Racing 1:42.249 9 laps
2 Lewis Hamilton Mercedes 0.532s 10 laps
3 Carlos Sainz Ferrari 0.718s 8 laps
4 Charles Leclerc Ferrari 1.552s 7 laps
5 Mick Schumacher Haas 1.646s 3 laps
6 Guanyu Zhou Alfa Romeo Racing 3.922s 4 laps
7 Kevin Magnussen Haas 5.912s 3 laps
8 Lance Stroll Aston Martin 8.994s 5 laps
9 Yuki Tsunoda AlphaTauri 9.124s 5 laps
10 Sebastian Vettel Aston Martin 16.919s 5 laps
11 George Russell Mercedes 2 laps
12 Sergio Perez Red Bull 3 laps
13 Esteban Ocon Alpine 2 laps
14 Fernando Alonso Alpine 1 lap
15 Alex Albon Williams 1 lap
16 Daniel Ricciardo McLaren 4 laps
17 Pierre Gasly AlphaTauri 3 laps
18 Lando Norris McLaren 4 laps
19 Nicholas Latifi Williams 1 lap
20 Max Verstappen Red Bull 3 laps