FIA remove sausage kerbs after scary F3 crash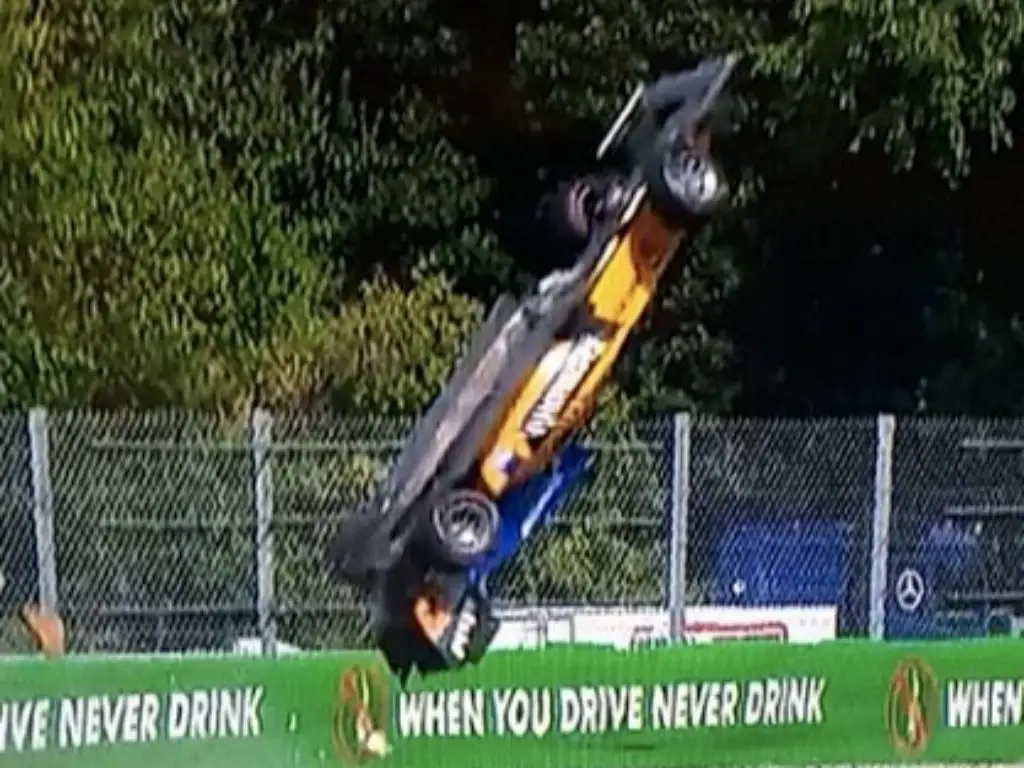 F3 driver Alex Peroni has been taken to hospital for checks having suffered a terrifying crash in which he was launched airborne in Saturday's race at the Monza circuit.
Peroni, racing for Campos Racing, was trying to hold off rival cars when he ran wide at the Parabolica.
The 19-year-old hit a sausage kerb and was launched into the air.
Unbelievable. #fiaformula3 pic.twitter.com/9kZ6P42cKw

— DarcyF1 Multimedia (@darcyf1) September 7, 2019
Peroni's car was stopped by the catch fence, flying into it cockpit first with the Halo undoubtedly playing a role in his safety.
The marshals were quickly on hand to assist the Australian, who appeared unhurt but was taken to the track's medical centre for checks.
Campos issued the following statement: "Alex is in the medical center of the circuit. Looks like he's ok.
"He will go to the hospital for more tests."
The race was won by Robert Shwartzman, who led home a Prema 1-2-3 behind the Safety Car.
There were immediately calls on social media for the removal of Parabolica's sausage kerbs.
Also, what the hell is that curb doing there?

— Giedo van der Garde (@GvanderGarde) September 7, 2019
So glad Alex is okay. I dont know who's bright idea it was to put that kerb there, just put the gravel trap back in for god sake……that was the biggest crash I've seen through the visor. #FIAF3 #ItalianGP

— Jake Hughes (@JakeHughesRace) September 7, 2019
The idea of putting a sausage kerb at the final corner… yeah not your best thought! I know the drivers will abuse it, but you can't have that!!! Grass or gravel. That'll make sure the drivers don't abuse the track limits #F3

— Aaron Gillard 🏳️‍🌈🏁 (@AaronGillard_17) September 7, 2019
Awful crash in F3 today! Glad to see driver is okay. knew it would happen one day, was just a matter of when. Sticking a random kerb on the exit of Parabolica going at that speed is just ludicrous. Copying the Redbull ring T1 kerb would solve all issues. #FIA #F3 #Monza

— Jake Dennis (@JakeDennis19) September 7, 2019
Who the hell thought it was a good idea to plant a sausage kerb on the outside of the parabolica? Just put grass and gravel back for god sake. Good to see Peroni walk away from that, scary accident #F3

— Mitch Evans (@mitchevans_) September 7, 2019
The FIA has subsequently decided to remove all the sausage kerbs from around Parabolica before F1 takes to the track for third practice.
Saturday's terrifying accident comes just a week after F2 driver Anthoine Hubert was killed in a crash during the Feature race at Spa.
Juan Manuel Correa remains in Intensive Care having suffered serious injuries.
Follow us on Twitter @Planet_F1 and like our Facebook page.