Can Hamilton overtake Schumacher to become most decorated driver ever?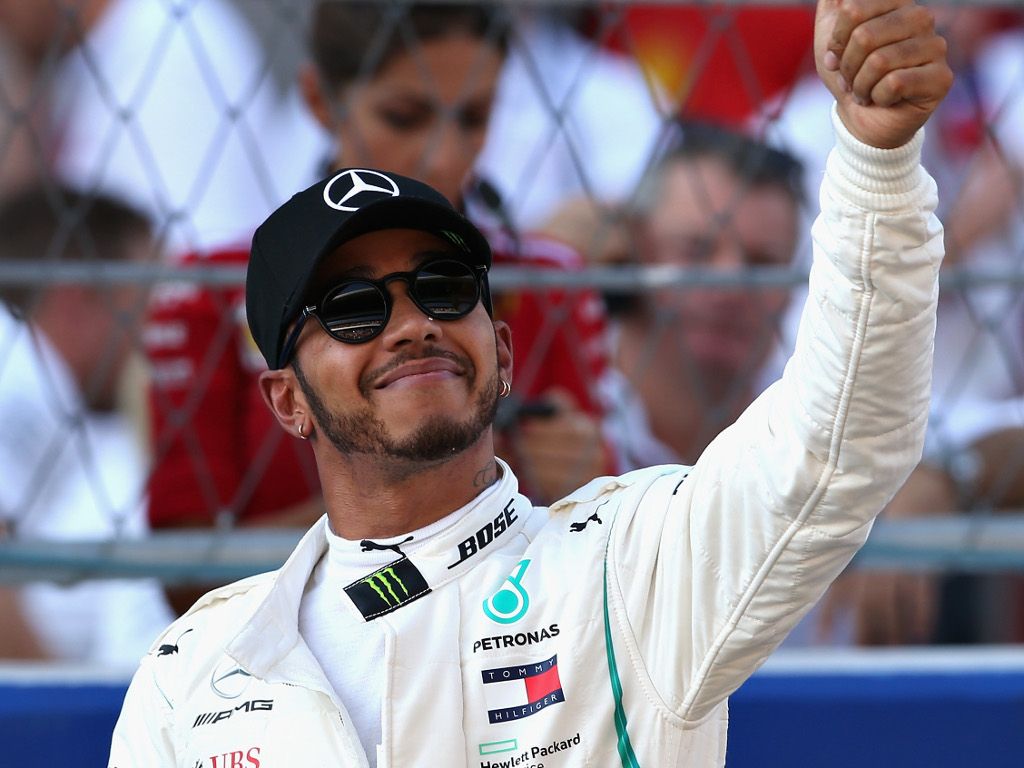 Lewis Hamilton has been tipped to overtake Michael Schumacher as the most decorated driver in Formula 1 history after obliterating Ferrari in recent weeks.
The Brit has won six of the last seven races and he now stands on the brink of securing a fifth Drivers' Championship.
That would move him past Sebastian Vettel and Alain Prost and level with 1950s Argentinian superstar Juan Manuel Fangio in the all-time stakes. Then only Schumacher would have more titles than Hamilton thanks to the seven that the German legend racked up between 1994 and 2004.
Hamilton has already secured more pole positions during his glittering career than Schumacher ever managed, and he is now just 20 behind Schumacher when it comes to race wins. "I never thought I would be able to say it, but Hamilton really is the one who could beat Michael Schumacher's records," said F1 director of motorsports Ross Brawn, who knows a thing or two about world championship success. "He's got everything under control. The quality that unites him with Michael and the great guys is that he knows how to win races that he should lose."
Hamilton won his first title back in 2008 with McLaren, but his career really exploded when he moved to Mercedes. After a four-year period of dominance from Red Bull and Vettel, he won titles in 2014, 2015 and 2017.
If he wins the US Grand Prix on Sunday, and Vettel finishes outside the top three, Hamilton will win the Drivers' Championship with three races to spare. That would see him move clear of his fierce rival as the most decorated driver of the current era, and that would be a fair reflection of the manner in which he has constantly upstaged Vettel over the past two years.
Hamilton has been more driven, more consistent and brutally effective at the wheel for Mercedes, winning races he had no right to win and delivering wonderlaps with alarming regularity in qualifying. The Brit would be even closer to Schumacher's all-time tally had he not been usurped by the pesky Nico Rosberg during a tempestuous 2016 season. But his former teammate believes that he has the ability to soon overtake Schumacher. "He has practically never put a foot wrong," said Rosberg. "I think this title could give him the right push, the motivation to try to match Schumacher's record of seven World Championships. He has a two-year contract. Maybe he could even beat it."
At several points over the past couple of seasons, Ferrari have looked like romping to silverware. Their car has often looked faster than the Mercedes, and the team has had momentum at key times. But every time Mercedes have found the answer: last season Hamilton emerged from the summer break in devastating form, eviscerating Vettel, and so it has proved this time around.
Hamilton has won the last three consecutive races, benefiting from team orders in Russia and then delivering a composed victory in Japan. His brilliance has clearly knocked the stuffing out of Ferrari, and Valtteri Bottas has also secured consecutive top-two finishes.
The Finn is certainly playing second fiddle to Hamilton at Mercedes. Rosberg was not content to adopt such a role, but the Bottas seems like a less confrontational sort.
It is hard to imagine any team overtaking Mercedes next season, and it is just as hard to imagine Bottas stealing Hamilton's thunder, so the Brit can certainly seize further glory. At 33 years of age, he still has time to secure his legacy by breaking more of Schumacher's records and it will be intriguing to watch him try.