Sainz 'believes' Leclerc can hold off the Red Bulls in France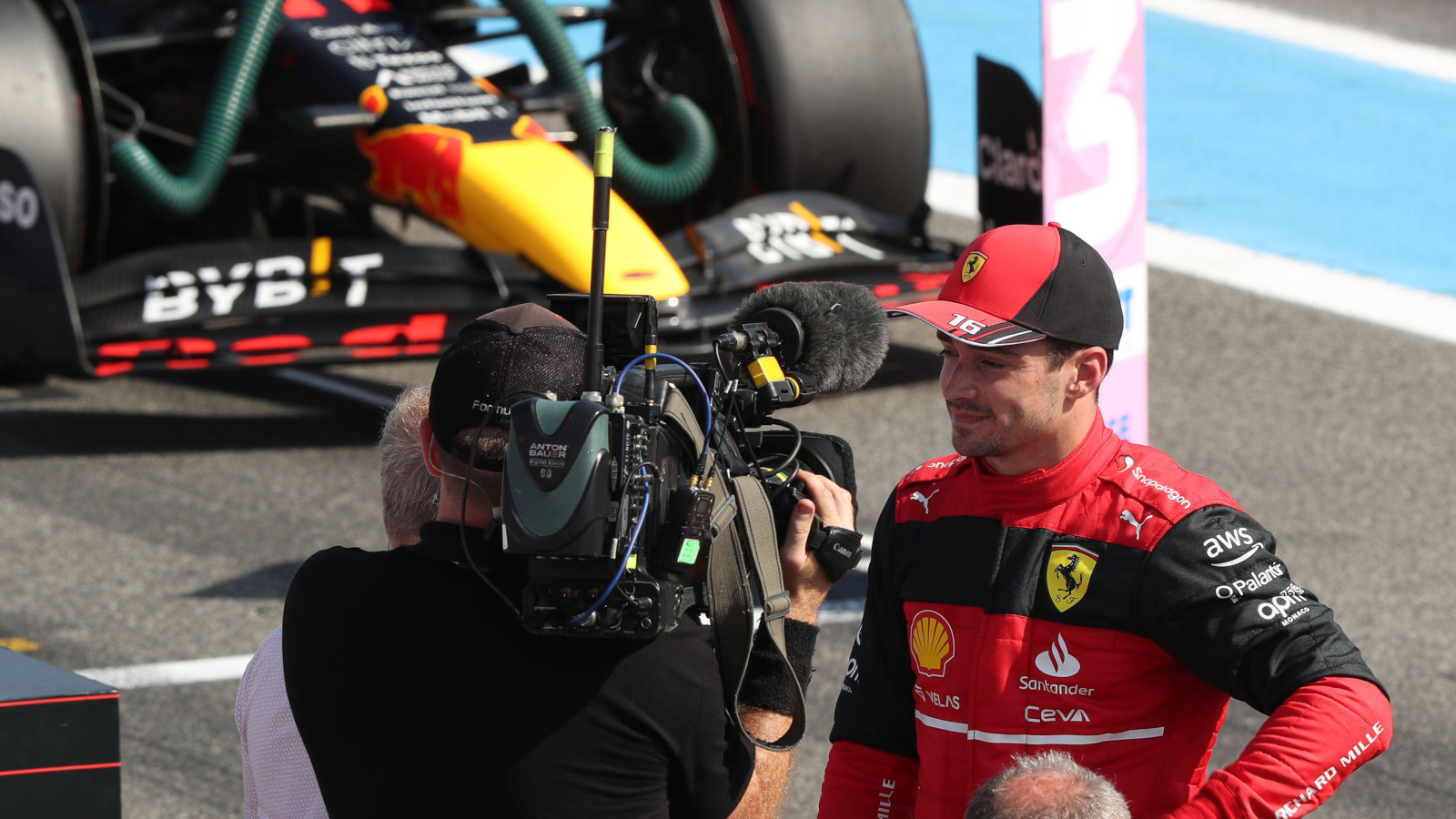 Having done as much as he can in qualifying, Carlos Sainz is backing Charles Leclerc to keep Max Verstappen behind him in the French Grand Prix.
Leclerc claimed pole position at the Paul Ricard circuit, his 16th in car No.16, thanks in part to his team-mate Sainz towing him in Q3.
With Sainz facing a back-of-the-grid start due to engine penalties, the Spaniard had nothing to gain by being out in track in qualifying.
But he put in the laps to help Leclerc, towing the Monégasque driver to pole position by three-tenths ahead of Verstappen.
Now it's up to Leclerc to finish the job on Sunday.
"He will have to fight on his own against Max but I believe he can do it," Sainz told Sky Sports television.
"I think this car in every race we go to is very quick.
"It's all about nailing the start and nailing the strategy, which I'm sure the team will do well."
A qualifying masterclass from Charles (with a cameo from Carlos 💪) #FrenchGP @pirellisport pic.twitter.com/fbNtJvztui

— Formula 1 (@F1) July 23, 2022
Leclerc was quick to thank Sainz, appreciating the helping slipstream.
"Without Carlos, it would have been much more close," he conceded. "So huge thanks to Carlos and I hope he can join us back in the fight for the win."
Leclerc and Ferrari, though, will have to fight two Red Bulls on Sunday as Sergio Perez is P3 on the grid.
That means the Milton Keynes squad will likely play a strategic game against the sole Ferrari at the front as Leclerc can only cover one of the two drivers.
"I think it will be tricky because the Red Bull guys seem to be very, very quick in the race simulations they've done," he said. "So we've worked a little bit on the car for the race.
"Hopefully, it will go better for us but tyre management will be a thing.
"We were good in Austria, we struggled a bit more on Friday, but I think we did a significant step-up in performance since then so hopefully we can show that in the race."
Leclerc lines up on the grid 38 points behind Verstappen in the race for the World title.
Charles Leclerc is a 'flawed magician'
There is no doubting Charles Leclerc is a supreme driver, but he is not without his flaws.