Carlos Sainz confident Singapore struggles will prove to be a 'one off'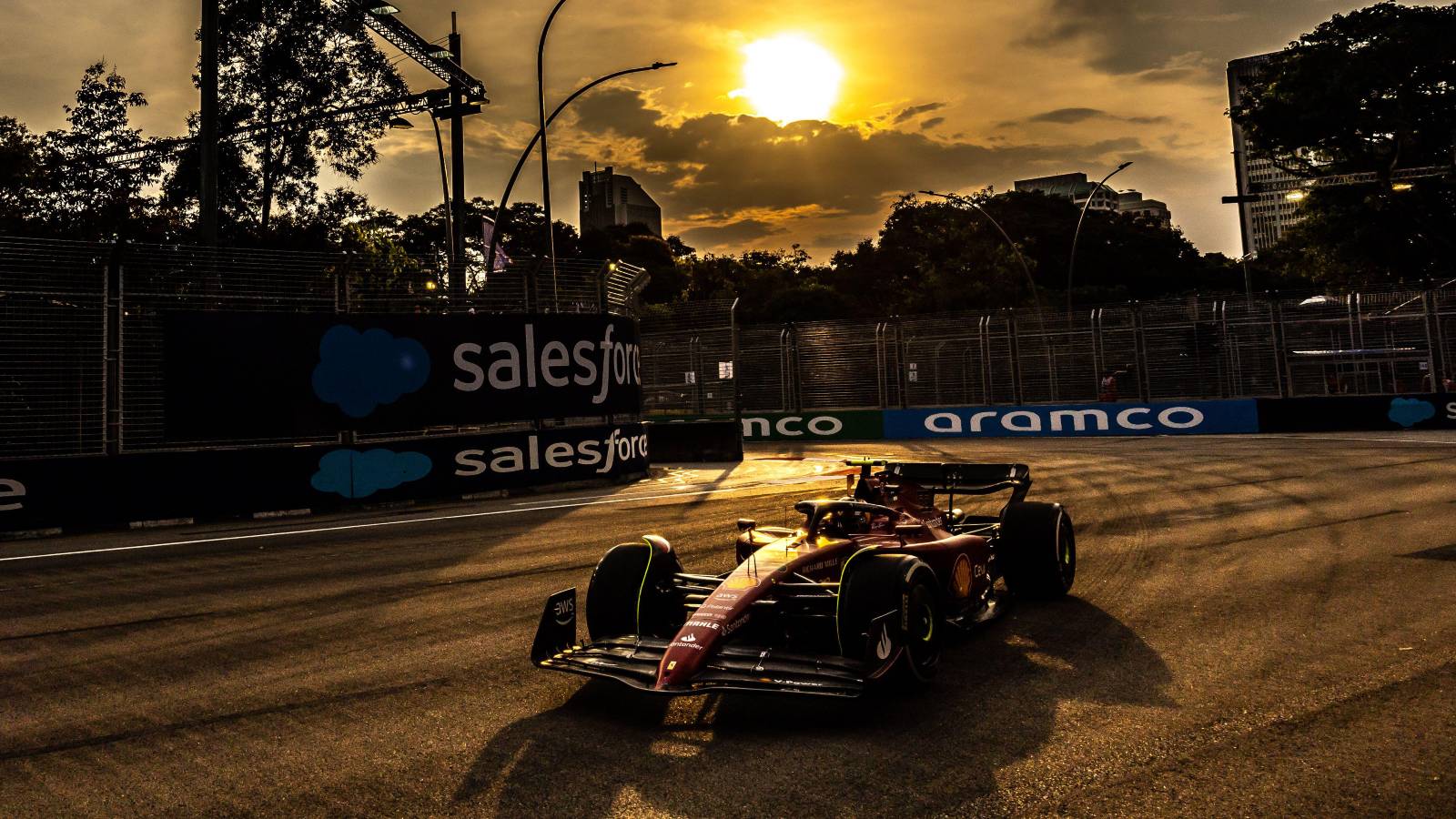 Having struggled in the conditions in which he usually thrives at the Singapore GP, Carlos Sainz is confident it will not happen again.
The Singapore Grand Prix began on a damp and slippery track as it dried following a torrential downpour which pushed the start back by over an hour.
The drivers armed with intermediate tyres, these are usually the sort of conditions where Sainz would be expected to shine, though it turned out to be quite the opposite.
Jumping Lewis Hamilton to take P3 at the start, Sainz quickly became detatched from team-mate Charles Leclerc and leader Sergio Perez, then coming under pressure from Hamilton and McLaren's Lando Norris later in the race which transitioned to dry tyre running.
Speaking in the post-race press conference after his P3 finish, Sainz said it is a "confidence thing" that he must work on, but does not expect competing in these slippy conditions to become a long-term weakness.
Asked if the physicality of the race and the conditions added to his loss of confidence in the pace, Sainz replied: "No, no especially on the wet, I don't feel like the track is physical at all, it's usually warm in the car but this is not a problem because the physicality of it is much lower, it was just a matter of pure pace and confidence.
"I think here confidence is key and when you have a couple of moments, it snowballs and then you have to take a bit more margin and then you start losing extra pace compared to other tracks because next time around, you might be in the wall and you might look like an idiot.
"So it's a confidence thing that I will work on, I will have a good look with my engineers to see what I could have done better, what we can do in these sort of conditions because as you said, it is one of my strongest points as a driver. And I think it's going to be only a one off."
2022 has certainly been an underwhelming season for Ferrari who failed to take advantage of an F1-75 challenger which was good enough to make them title contenders.
Instead, Red Bull's Max Verstappen now goes into the Japanese Grand Prix with the ability to secure his second World Championship in his own hands, while only a Ferrari-shaped miracle would stop Red Bull from winning the Constructors' crown.
Ferrari did though manage to have a clean race in Singapore, Leclerc finishing P2 ahead of Sainz as both Ferraris made the podium for the first time since Miami.
"It's good news to see that the race was well executed on both sides," Sainz reflected.
"There are still things I'm convinced that we need to keep improving and do better. But the team is taking massive steps forward. And we're learning from every situation.
"And as Charles said, these last five races, or these last six counting with this one, they are going to be great preparation for us in order to be better at the front next year, because it's clear that the car is there, the drivers we're there, we just need to keep improving the execution and whenever we have the opportunities, nail them."
Read more: Conclusions from a rollercoaster of a Singapore Grand Prix