Sainz: Racing Point should have P3 already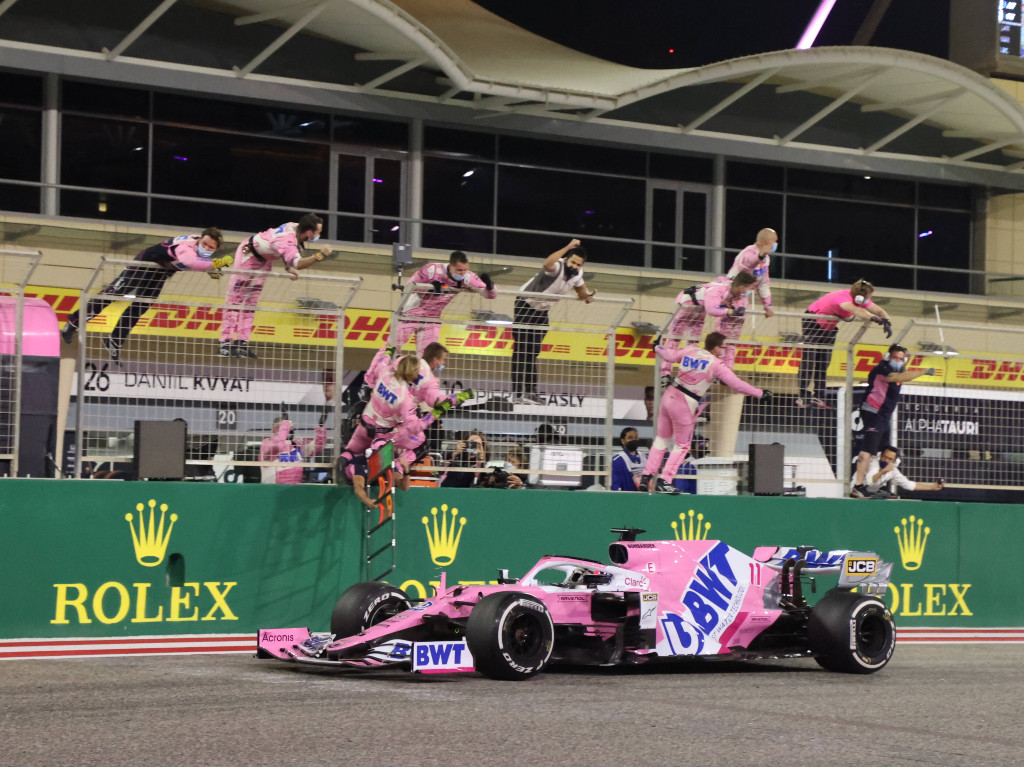 Heading into the final race of 2020, Carlos Sainz is not sure how Racing Point have not already secured P3 in the Constructors' Championship.
Racing Point boosted their total in the Constructors' to 194 points courtesy of Sergio Perez's victory and Lance Stroll's P3 at the Sakhir Grand Prix.
That meant they reclaimed P3 in the standings with just Abu Dhabi to go, but P4 for Sainz and P10 for Lando Norris meant McLaren are only 10 points adrift of their rivals heading into the final round.
Renault also cannot be ruled out in the battle for P3, but Sainz is not quite sure how that position is not already signed, sealed and delivered for Racing Point.
"I guess we were a bit unlucky with the timing of the stops, people on a one-stop doing a clever one there and executing a good race," Sainz told reporters when asked if he was disappointed to miss out on a podium in Sakhir.
"But for us obviously with how bad we've been all weekend, to be most of the race running in P3 and then getting a bit unlucky there, putting a good race together was honestly one of my best.
"So I cannot really complain. I was out there trying to do everything I could, but in the end we didn't make it to the top three which would have been nice. But obviously I don't feel like this weekend we fully deserve it because we just didn't have the pace.
"Simply even with the fresher tyre I couldn't keep up nearly with the Racing Point, which exposed a bit our limitations right now.
"I honestly don't know how the Racing Points haven't sealed that P3 in the Championship yet with the car they have, but we are doing everything we can to stay in the fight and today we've done a massive step forward.
"And I would like to congratulate Checo because I think he deserves that win. He deserves to be in the sport next year. I hope he gets a seat.
"From our side keep pushing, but at the same time a car that is two or three tenths a lap quicker on this short track should always finish ahead."
That was a tough one. @Carlossainz55 finishes in P4 with @LandoNorris in P10. #SakhirGP 🇧🇭 pic.twitter.com/ditnAhmsOn

— McLaren (@McLarenF1) December 6, 2020
Get your hands on the official McLaren 2020 collection via the Formula 1 store
After starting from P19 due to a penalty, Norris pulled off a mega start to improve to P10 on the opening lap, but from there it was a let-down as he made no further progress.
"Really good launch, and I reviewed a lot of videos, probably every single on-board from last weekend for both starts, the first one and the one after the red flag, to try to figure out what's the best line to do and where people generally try to go," he explained.
"I did my homework and all of it paid off on the first lap and I was P10, so things were looking very hopeful at that point, but after not so much.
"I struggled for pace throughout the race, not quick enough, and I just had to try to hang on to P10 more than anything.
"So disappointed considering Lap 1 was so good and there was all of a sudden a lot of potential, but after that we didn't have the pace to do anything else so a bit disappointed with that."
Asked if the lack of pace was a surprise, Norris replied: "I wouldn't say so, I think when we had clean air it was not bad, so when I was on my own I was quite comfortable with the car.
"And the final few laps where I only had one car that was close ahead of me then the car was good.
"The problems occur when we're following a lot of people. When it was the first half of the race and there were nine cars ahead of me effectively, like a six or seven-car train ahead of me, then it disturbs the air flow a lot and the aero of the car and that's when all of the problems really start to happen.
"It felt like if I was in Carlos' position, let's say, if you're third then I could hang on to that and the car would be good enough to stay there, but it's the pace advantage you need when you're behind to do the attacking which is what we struggled with today."
Follow us on Twitter @Planet_F1, like our Facebook page and join us on Instagram!